An often forgotten contributor to the financial crisis is a company called Fair Isaac Corporation (NYSE:FICO), or better known as FICO. FICO Scores are part of the Scores department; these scores are the familiar retail credit scores, graded on a scale of 300 - 800, that provide consumers a credit rating to obtain financing for mortgages and credit cards. This unit provides 26% of the revenue for FICO while contributing 45% to the total operating income for Fair Isaac. I propose that FICO stock is being undervalued due to the antithetical operating results of their three business segments, Applications, Tools, and Scores. FICO is worth considerably more than the current price of $57.00 ($1.97B) due to possible catalysts of increased earnings power and the potential for a spin-off of the Scores Unit. A spin-off of the Scores Unit would likely realize a higher multiple for each of the new operating entities as the market is currently valuing large-moat market leaders with 25x to 30x P/E and the remaining Applications and Tools Units (Essentially a software company) with double-digit growth would also see 20x to 25x P/E. Each unit will also be able to optimize their capital structure to better reflect the capital return methods each of the new entities should embrace.
The Scores Unit (SU) would greatly benefit from a spin-off as they earn outsized returns with minimal capital investment requirements which would allow the unit to consistently support a large payout ratio. The SU has an incredibly power brand name, network effects as consumers have limited trust for credit scores which leads to every bank required to provide an independent and trusted credit score. With patent protection and the robustness of FICO's research team compared to the size of the nearest competitor, the technological advantage which is the cost to duplicate FICO's software is vastly greater than the $825mm of Goodwill and Intangible assets listed on the balance sheet. Warren Buffett (NYSE:BRK.A) lectures that a high tangible assets to pre-tax operating income will ultimately lead to outsize returns as these types of companies generally have pricing power and the ability to return a significant amount of excess cash. The Scores company of FICO is the best or a better example than even See's Candy of a small company with an incredible moat and large ROE that is fairly valued with stocks at an all-time high. The SU generated $129.0mm (46.8% of FICO) in operating income off $180.8mm in revenue (24% of FICO) for a gross margin of 71% (which has expanded from 70% and 67% in 2012 and 2011, respectively). Even though they face customer risk with "Equifax, TransUnion and Experian, collectively accounted for approximately 16%, 18% and 18%", I feel these companies exist as an oligopoly where if any would fail the other two would pick up the slack of a new entity would replace them. The overall revenue stream for the SU is more dependent on consumers increasing their demand to borrow which leads to an exponentially larger amount of credit score requests which lead to royalties for the SU. Given FICO's -$70mm "unallocated corporate expenses" charge against all 3 segments reported operating incomes, I assign the charge proportionally across each unit. Therefore, the SU would report $95.7mm in operating income for 2013 with past growth rates in the high single digits annually over nearly any significant time period. The SU would see FCF and Owner's Earnings which are greater than the $95.7mm in operating income due to the structure of the company, which we can estimate at ~$110mm. At a 35% corporate tax rate, we can estimate the SU's 2013 net income at $71.5mm and growing perpetually at 8%. This would imply a market capitalization of $1.79B to $2.15B at 25x to 30x P/E that still has potential to surprise due to the SU being highly leverage to a housing recovery that can help offset the current deleveraging of the consumer, which will ultimately help the SU in the long-run. This means the SU currently represents the entire market capitalization of FICO and you are getting a Software unit that's both profitable and growing at 15% - 25% over the past two years for free!
What I term as the 'Software Co' (SC) is merely the remaining units of FICO, Applications and Tools (A&T). I would imagine a spin-off of the SU would mean the FICO name would go with them and the Applications and Tools Units would be renamed. Although SC would no longer benefit from the cross sales opportunities provided to them by the SU, I feel that the products of the A&T units are mature enough in the market to survive and thrive without the benefit of the SU. A Deutsche Bank Technology Conference on SEP-13-2013 provides us with a breakdown of the leading products for the A&T units which you can see here. You can see that FICO A&T has a favorable mix of products with lower market share in some of the larger market sizes which provides a greater potential for growth as FICO A&T has a market lead in two very fragmented Sub-Segments, Fraud and Customer Management, and they are one of the few companies that provides the suite of products which allows customers purchasing the software to get everything they need from the same company. This saves time on training and costs on support for the customer and gives FICO A&T the potential to continue their current cross-selling opportunities at similar ratios to today. FICO A&T would also be valued at a premium to competitors given their market leads in multiple sub-products. Since FICO A&T's reported growth of 11% to 12% over the past 2 years is larger than the market growth for each sub-segment, it stands to reason that FICO A&T's market share is expanding in at least one of the sub-segments substantially or, more likely, that they are gaining share in most of the sub-segments below. As they move towards #1 in each of the below categories, cross-selling becomes easier and easier, allowing for the possibility of revenue measured in the billions in the near future. Currently, A&T accounts for $562.6mm (76% of FICO) and operating profit of ~$105mm after taking a proportional charge for "Unallocated corporate expenses". FCF and Owner Earnings would likely approximate net income for A&T, which means a 35% corporate tax rate would lead to net income of $68.25mm and a possible market capitalization of $1.02B (15x P/E) to $1.71B (25x P/E). Not bad for a free operating unit!
Thus far, the most important assumption we have made is that multiple expansion will occur for the P/E ratio due to market comps being higher than the current 19.5 P/E for TTM (15.83 P/E = $57/$3.60 based on recent quarterly results). By my 'back-of-the-envelope' calculations above, FICO's total intrinsic value is likely in the range of $2.81B to $3.86B. This means there is potential for share appreciation of 42.6% to 96.0%. Couple that share appreciation just to reach intrinsic value with the consistent 12% - 18% ROE that have been posted over decades and you have a long-term buy that has potential to provide excess returns beyond the S&P 500 even after the significant rally in FICO shares over the past 3 years. Also, the SU would have the capacity to return $50mm in dividends annually if spun-off. If the SU was spun-off 1 share for each FICO share (34.57mm shares outstanding), then the SU would be able to return $1.45 in dividends annually with copious availability in the payout ratio and earnings grow to become a dividend grower. This would be a 2.5% yield at current prices and an even higher yield considering the SU would trade lower immediately after the spin-off then FICO as a whole.
I hope management investigates the possibilities of spinning off FICO just as Dun & Bradstreet (D&B) did with Moody's ((NYSE:MCO)) in 2000. FICO today is actually in a very similar position to D&B, whose software for corporate information could be cross-sold with the Moody's credit scores but, each was able to operate successfully by themselves and Moody's was finally able to pass their excess returns on to shareholders more easily by not being weighed down by other companies that lacked their competitive-advantage. FICO has been my longest holding in my personal account at well over 2 years (Since Day 1) without selling a single share. Being able to hold with confidence, even with large unrealized profits, is what has driven my returns higher since I can continue to defer taxes, gaining the interest on the deferred amount, and having my money tied up efficiently (with high expected returns) decreases transaction costs or frictional costs. The result has been 40%+ annualized returns over the past two years (sadly, without BOFI contributing its tremendous rally). Obviously, as I mentioned in my results article, these returns are somewhat buoyed by the increase in the S&P 500 and some luck. However, I feel confident that picking strong operating companies with a competitive-advantage, competent management, and a history of stable growing earnings will lead to returns that beat most indexes. This information is not a secret, as Warren Buffett preaches this endlessly. May this article serve as a reminder that buy-and-hold is not dead and situations/companies like FICO are what provides alpha.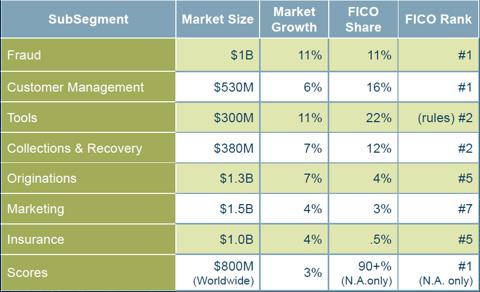 Disclosure: I am long FICO, MCO, BRK.B. I wrote this article myself, and it expresses my own opinions. I am not receiving compensation for it (other than from Seeking Alpha). I have no business relationship with any company whose stock is mentioned in this article.