This is the first part of the article which will investigate which emerging markets are likely to produce the best performance next year. The second part, which will be published shortly, will review specific investments.
Summary
This year has been exceptional for investors in US equities: S&P 500's nearly 25% return was 8th best since 1947. This week Barron's survey of "top market strategists" cheerfully proclaimed another 10% market rise next year. I am most fearful when "market Oracles" are most cheerful as they expect S&P earnings to miraculously rise about 10% next year, even with projected 2.5% GDP growth. So far this year the earnings have only grown about 4% and with a backward P/E multiple of 18.4, we would need another market bubble to hit their lofty targets. I'm also hesitant to turn to the fixed income, despite the already higher rates, fearing volatility once the end of QE is announced. Finally, a possible end of "commodity supercycle" and near-zero savings rates seem to leave few palatable choices.
Fortunately, the history gives us an excellent lesson where to look for superior returns next year: a country which just experienced a crisis resulting in the currency devaluation.
Let's take a look at two examples, which have had a chance to fully play out in the last decade: Russia post 1998 default and Argentina post 2002 default.
Argentina 2002
I recommend a very good, if a somewhat ideologically-biased primer, on Argentinian economy post-default to understand the full dynamics of its quick recovery and revival.
I'd like to start with a graph showing Argentina remarkable market performance post-crisis. If one "caught the market bottom" in mid-2002, the return would be an eye popping 500% in just 1.5 years. Of course, guessing the bottom is very difficult so it's important not to get in too early until you see some signs of stabilization.
Hard to catch the bottom, but losses were recouped in less than two years (author's calculations)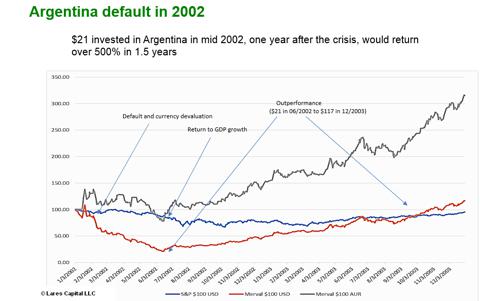 So what exactly happened? Was it just the commodity boom that helped the quick turnaround?
Argentina GDP quick recovery (source: Center for Economic and Policy Research)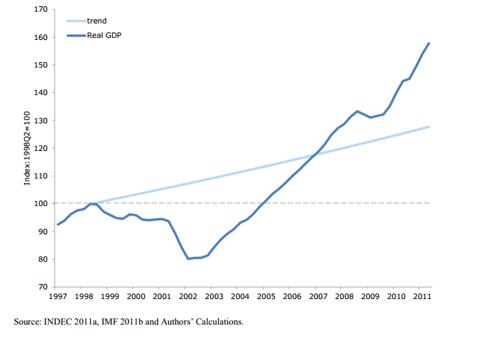 As in any default, the Argentinian Peso experienced a quick collapse after the government was forced to remove the peg to the dollar in December 2001. This didn't really help commodity producers, whose products have been priced in dollars, who also lost access to credit markets.
75% collapse of Argentinian Peso post-default (source: Financial Times)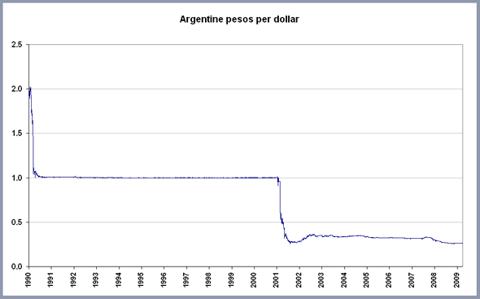 The table below is truly remarkable in dispelling a myth that Argentina was saved by commodity exports. The exports have only slightly grown post-crisis while the imports have collapsed. A large jump in private consumption almost exclusively benefited local producers. The import goods priced in dollars have become too expensive forcing consumers to buy locally-made wares. While I had a difficult time finding reliable economic data on performance of different sectors of Argentinian economy as few smaller companies are publicly traded, I can speculate that domestic producers with low financial leverage have done best during the recovery whose performance is not even reflected in MERVAL large-cap index shown in the chart above.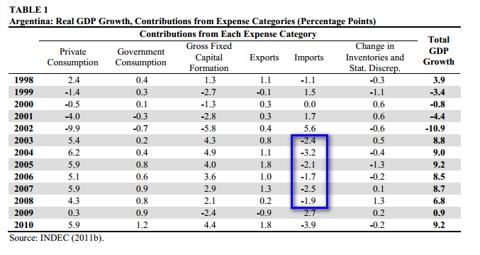 Russia 1998
We can see the same dynamic in the Russian market post-1998 default after Russian ruble collapsed.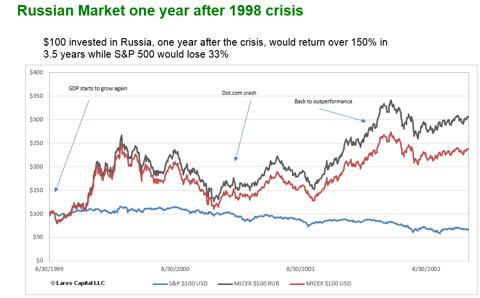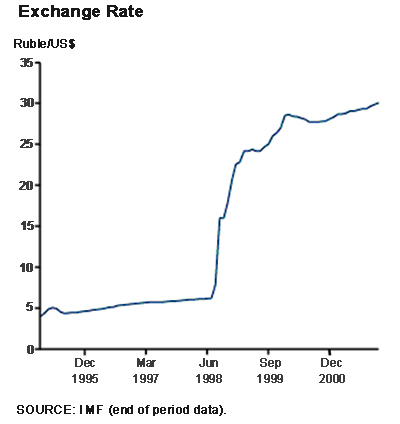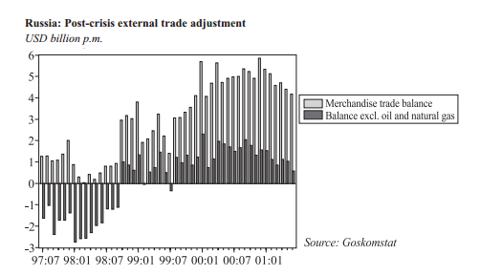 Here's how Ralph Suppel of European Central Bank describes in his 2003 paper: "Russia's financial markets boom, crisis and recovery 1995-2001: lessons for emerging markets investors".
Devaluation entailed drastic changes in the economy. Russian manufacturers' domestic costs collapsed compared to its international competitors. Consumers faced not only abruptly different relative prices between domestically produced and imported goods, but also had to operate with much smaller budgets. The consequence was rapid and drastic import substitution and adjustment in the external trade balance. Within just two months from August to October 1998 the (annualized) merchandise trade surplus shifted upward from USD 9.7bn to USD 35.5bn and stayed around this level through 1999, a difference that was worth almost 10% of GDP.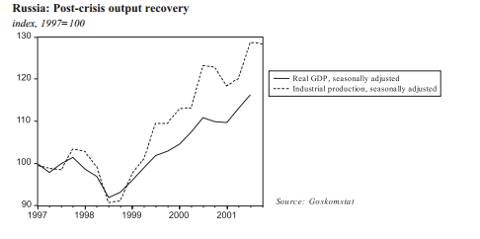 What's is even more demonstrative here is that the Russian recovery happened in 1999-2002, well before the commodity boom started. Again, we see a clear reference to local producers driving the economic recovery.
It's clear that a theory of commodity-driven economic recovery in Argentina and Russia is false. It was the competitive currency devaluation, which took these countries out of the deep recession.
India, Russia, and Indonesia today
There were no major defaults in 2013. However, a large number of emerging market countries experienced a "mini-crisis" earlier this year as the Fed QE anticipated end pushed the "hot money" out their markets. I will consider three prime candidates: India, Russia, and Indonesia. Not only the markets of these countries have severely lagged the market this year and their currency depreciated vs. dollar and euro, but also their small-cap markets are cheap based on P/E and P/Book rations. I am only interested in small caps as many large capitalization companies (especially in India) conduct most of their business elsewhere and may have little correlation to the local market. I left off some other emerging countries such as Brazil and China because the former small caps are expensive and the latter pegs its currency to the dollar. I used Van Eck small-cap ETFs as a proxy:
The Market Vectors India Small-Cap (NYSEARCA:SCIF), The Market Vectors Russia Small-Cap (NYSEARCA:RSXJ), The Market Vectors Indonesia Small-Cap (NYSEARCA:IDXJ)
| | | | |
| --- | --- | --- | --- |
| | ETF | P/E LTM | P/Book LTM |
| India | SCIF | 9.13 | 0.83 |
| Russia | RSXJ | 6.92 | 0.73 |
| Indonesia | IDXJ | 7.18 | 1.04 |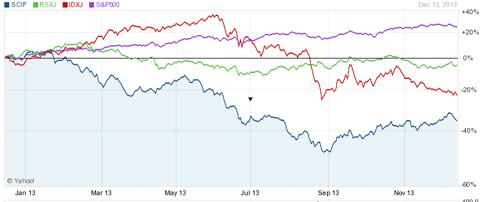 First let's take a look at the debt burden and current deficit. Only India has a significant government debt and all other countries have been steadily reducing their debt burden. Russia is still running current account surplus while India and Indonesia must find foreign money to find their current account deficits.
Government Debt to GDP ratio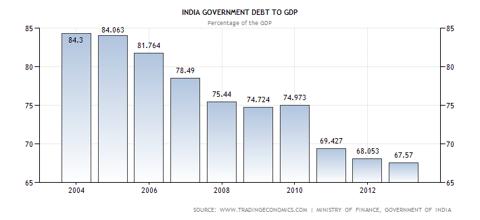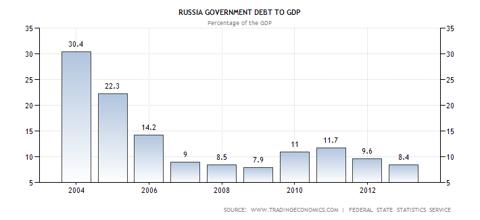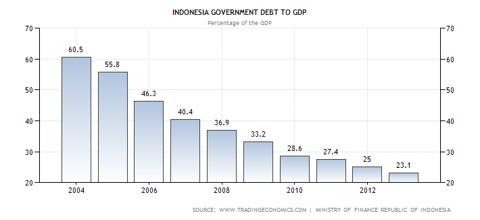 Current accounts: Russia - surplus, India - 1.5% deficit, Indonesia - 3.5% deficit.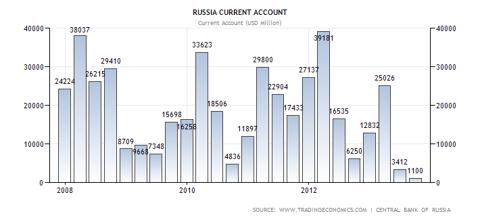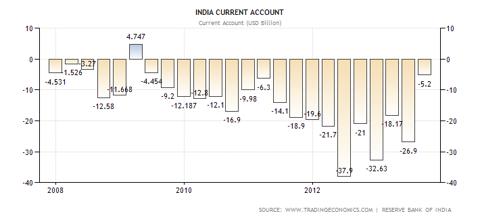 Russia is rated BBB stable by S&P, while India BBB- negative, and Indonesia BB positive. In essence, S&P considers Russian default unlikely while rating India and Indonesia just above and just below "investment-grade" level. Indonesia, in my opinion, is of most concern: after its natural resources exports to China fell in 2012, it has been really struggling to balance its trade books. India looked to be heading for trouble earlier this year with over 6% current account deficit, but, after raising interest rates and imposing tariffs on gold imports, the deficit sharply fell to 1.5%. Russia doesn't look like a country heading for a solvency crisis, it's only struggling with its stagnant economy.
The currencies of the countries behaved accordingly with S&P assessment. While Russia's has deprecated some 10%, Indian currency took a 20% dive and then recovered a bit, the Indonesian currency has been the worst performing currency this year, falling some 30% in a year with no end in sight.
Currencies vs. $USD (source: FactSet)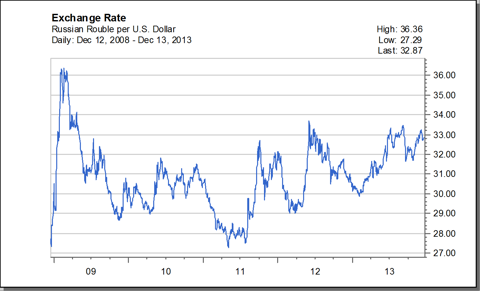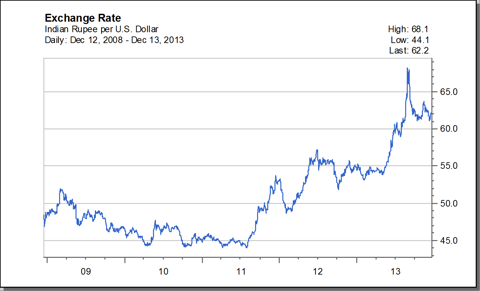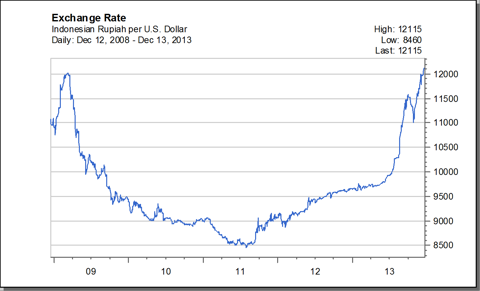 GDP Growth, note Q2 FY 2014 is Q3 of 2013 (source: Business Standard)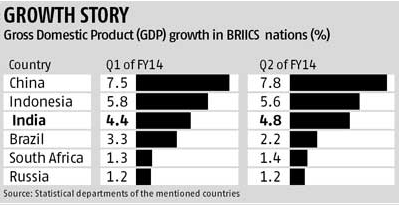 Based on economic data, it appears that Russia is not in a crisis, India has avoided the crisis, and Indonesia's crisis may still be ongoing. Of course, the situation may always change, especially with uncertainty created by the end of the QE. After we estimated the sovereign risk, we can take a look at the actual economies of these countries and, finally, at their market valuations.
Conclusion
Green - good for outperformance, yellow - neutral, red - may cause underperformance

Indian small cap market, in my opinion, will provide the best chance of market outperformance next year while exposing investors to only moderate risk. Russia is a close but a safer second. In case of Indonesia, it may be wise to wait until clear signs of currency stabilizations before taking a plunge.
Disclosure: I am long RSXJ, SCIF. I wrote this article myself, and it expresses my own opinions. I am not receiving compensation for it (other than from Seeking Alpha). I have no business relationship with any company whose stock is mentioned in this article.