By Thomas E. Sobon
The management team of the RAIT Financial Trust (NYSE:RAS) is doing its best to make this a Merry Christmas and a Happy New Year for shareholders. The latest holiday season gift was Thursday's announcement of an increase in the quarterly dividend rate. It was preceded by last week's gift which came as a news item relating to a convertible note offering that will provide financial resources on favorable terms. What is celebratory about these news items is that the dividend increase is the 6th quarterly increase in a row, and the convertible note financing shows how far the company has come since it had to make use of high cost private equity financing just 18 months ago. It indicates that RAIT has arrived as a bona fide creditworthy enterprise within the business community.
During the past year, RAS outperformed the market and all 44 of the other REITs that I follow. Now that RAIT has access to lower cost financing, the potential for profitable growth and more dividend increases is enhanced for coming years. Therefore, I believe the stock will continue to perform well in the market. In this article, I tell you why I bought some shares on Friday at $8.50 to increase the size of my position. The stock's current dividend yield is7.5%, and it goes ex-dividend 16 cents on January 3, 2014.
Fundamental analysis indicates "what" stock I should buy and technical analysis indicates "when" I should buy or sell it. With that in mind, consider what follows:
A Brief Summary of RAIT's Fundamental Investment Merits
RAIT emerged as a hybrid REIT from the wreck that it was in following the real estate bust of 2007-2008. Today, it has two major lines of business, and both are easily scalable: these are loan origination and apartment ownership and management. The conduit loans that it originates are sold to Citibank (NYSE:C) and Barclays (NYSE:BCS) through warehousing arrangements. About 67% of the bridge loans it originates are sold to Credit Swiss (NYSE:CS) with the other 33% participation kept for its own account. It also makes other kinds of loans (such as mezzanine) that it keeps for its own account. The conduit loan transactions are very profitable, because they are submitted once each quarter to both C and BCS. Therefore, RAIT gets to turn over the financial assets used for that purpose four times a year. The rate of return on those assets is now about 18% per year. The rate of return that it gets on its apartment operations is about 9%.
With regard to apartments, the company is focused on Class B and C properties which provide it with a stable and growing income stream. While these are older buildings than Class A, and therefore, require more maintenance, there are ample opportunities to increase rents by renovating kitchens, bathrooms, and entrance ways. In 2012 and 2014, rents increased by about 8% each year. The rent increases are expected to moderate in 2014.
Until mid-2012, the company was capital constrained and had to rely on high cost funding from private equity sources. That changed dramatically since then with warehousing agreements with banks and two common stock offerings. The recent issuance of convertible notes shows that RAIT is now a credit risk worthy of low cost financing. This has profound implications, because having access to low cost funding enhances the company's ability to be competitive as it expands its operations while increasing its earning power.
RAIT priced the public offering of $125 million aggregate principal amount of its 4.0% Convertible Senior Notes due 2033. The conversion price will be $9.57 per common share. There will also be an underwriter over allotment, so the sum offered will be exceeded. In effect, RAIT is receiving $9.57 per share and paying 4% interest on the money borrowed at this time when its common stock is currently trading at $8.53 and yielding 7.5%. That is a pretty good deal. I'm surprised that the likes of National Retail Properties (NYSE:NNN) didn't do that earlier this year when it sold a boatload of shares and diluted its FFO numbers. RAIT will be reporting its AFFO numbers on a fully diluted basis, but I expect the net effect to be accretive.
All things considered, RAIT's fundamental investment merits have good and well-defined growth potential. That is why I want to have an investment interest in the company at this time. But, what about the technical merits of holding the stock?
Let's Take a Look at the Comparative Performance of RAS in 2013.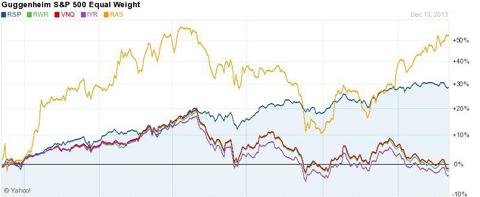 RAS (the orange colored line) began the year at $5.73 and sprinted higher to its peak at $8.85 in May as it outperformed the market as measured by the S&P Equal Weight Index (NYSEARCA:RSP) and the REITs as measured by the three major ETFs. RAS peaked when all of those indices did and then dropped like a lead balloon along with the REITs during a three-month sell-off to their lows for the year. The low for RAS was $6.18. Weakness in the RSP (the blue line) only lasted four weeks, and then it worked its way higher and made new record highs. It is now 2% below its high for 2013. After making its low in mid-September, RAS once again sprinted higher and outperformed all of the indices being referred to. And at $8.53, it is now 4% below its high of $8.85. Meanwhile, after making their lows, the performance of the ETFs was erratic and they are currently trading at or below their lows for the year.
I have my own index of 40 well diversified eREITs and it correlates highly with the performance of the ETFs. The only stock among those 40 that beat the RSP in 2013 was RAS. Omega Health Care (NYSE:OHI) performed almost as well as RAS during most of the year, but it faltered in recent weeks. LaSalle Hotels (NYSE:LHO) and other hoteliers did poorly in the first half of the year but they performed very well since then. They are benefiting from good growth in RevPAR because of the favorable demand and supply trend in that sector; such is expected to last through 2016.
My 40 REIT index is currently trading near its low for the year. Only 13 of its component stocks are doing better than it, while 27 are underperforming. The office REITs are being hindered by high vacancy rates in suburban locations. The likes of poorly performing Lexington Realty (NYSE:LXP) are striving to reduce their participation there because the problem is expected to continue due in large part to tepid growth in the U. S. economy. The retail REITs are getting a lot of bad press because of the shift to online shopping, which is curbing the demand for brick and mortar outlets. That is being cited as a reason for the poor performance of such stalwarts as Realty Income (NYSE:O) and National Retail Properties.
The health care REITs have been very poor performers, and most are trading at or near their lows for the year. I know of no particular reason for this. I have a small position in the Medical Properties Trust (NYSE:MPW); it currently shows a loss of a few dollars. The disaster within the group was Digital Realty (NYSE:DLR), and there is still no indication that it has found a bottom. It appears that the only exogenous factor that could be an obstacle for RAIT is a sharp rise in interest rates. The demand for loans slackens whenever that occurs. However, since there is about $1.5 trillion of real estate loans that need to be refinanced between now and 2017, it is likely that opportunity for loan originators will continue to be robust.
Let's take a Look at the Current Technical Reading on the Stock's Price Chart
The chart below was constructed from data in my workbook.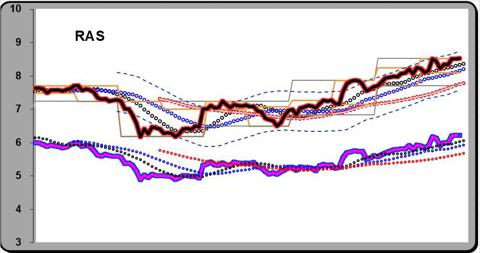 (1) The bold black line on top is price and the bold pink line below it is relative strength. (2) The three dotted lines (black, blue, and red) are moving averages, and there is a set of those for price and a similar set for relative strength. They are used to define trends and detect trend reversals. (3) The 5 sets of gray parallel lines and the 10 sets of orange parallel lines (the two overlap half of the time) that frame the price action are 22-day and 11-day trading ranges, respectively. Their progression shows how the trading ranges shifted during the 110 days charted. And (4) the two wavy-blue hashed lines that straddle the price line are Bollinger Bands. They are used to detect overbought or oversold situations.
Any of the items listed as (2) or (4) is independent of the others and it could be considered as a valid technical indicator for making buy or sell decisions. But in order of importance, the moving averages are of primary importance while the trading ranges and the Bollinger Bands are of secondary and tertiary importance, respectively.
Analyzing a chart like this is easy because all of the technical yardsticks give a bullish reading. The price line and the relative strength line are both riding above their moving average trend lines while the trading ranges continue to shift upward. That is a favorable reading and it augurs well for continued outperformance by RAS. The stock at $8.53 is at its high for the six months charted. And, it is well off its low of $6.18. The high for 2013 (and also since 2008) was $8.85. The stock's performance is in sharp contrast to that of many prominent REITs. While they are down sharply and making new lows, RAS is outperforming the market, and it looks like a new high for the year is within reach. The favorable price action of the stock shows that it can buck the poor performance of the sector and even outperform the market as measured by the popular averages. This is an accomplishment that would not have been possible just a year ago.
I bought some shares on Friday at $8.50. The average cost of my position prior to that was $6.45. I think the market looks toppy at this time, and I am exercising caution. Inasmuch as I am a fanatic who is quick on the trigger when the price action of a stock I buy goes against me, I am always ready to cut my losses short. Therefore, if the stock drops below $8.25, I will give serious consideration to selling the newly bought shares.
I have not been ordained to preach, so I am not going to pound the table and tell you (the reader) that you must do as I do. I just wrote the article on a company I think has considerable investment appeal and told you what I am doing with the stock. It is up to you to discount what I wrote as you see fit and make your own decision according to your personal investment criteria.
Disclosure: I am long RAS, MPW. I wrote this article myself, and it expresses my own opinions. I am not receiving compensation for it (other than from Seeking Alpha). I have no business relationship with any company whose stock is mentioned in this article.