It's probably been a pretty disastrous year for Lululemon Athletica (NASDAQ:LULU). Everything that could go wrong, pretty much went wrong. The CEO left, Chairman resigns, and almost every executive at the top level of management has been replaced. Shortage of spandex left customers hanging, and PR mistakes left customers questioning the Lulu brand.
To be honest, I was fairly optimistic about the company in the past, and I think that if we turn our attention to a longer-term focus, the recent pull-back in the price of the stock could be a great investment opportunity.
We have a new CEO
Okay, let's be honest, the next CEO hasn't stroke a very strong chord with investors. Honestly, I was expecting an experienced executive that has experience running major retail franchises like Nike (NYSE:NKE), Adidas, Under Armor (NYSE:UA), Victoria's Secret (NYSE:LB), instead we wound up with a guy that's a little young and well… according to the YouTube comments extremely good looking. But, unfortunately for him, the vast majority of people on SA who write about Lululemon Athletica are males. So, he doesn't get the good looking discount, and hopefully none of the female analysts at brokerage firms will let him off the hook so easily.
Laurent Potdevin was President of TOMS shoes, which is a web based company that sells shoes. Toms Shoes gives a shoe for free to a third world country for every shoe it sells. Laurent Potdevin was also a director of North America operations for Louis Vuitton SA, and CEO of Burton snowboards at one point. So in all, I can't say I'm terribly excited, but I'm glad that he has experience growing smaller retail organizations.
Laurent Potdevin also has some experience with bigger organizations, but he doesn't have C-Suite experience at large athletic sports companies. That being the case, shareholders responded negatively to the CEO announcement. Wall Street had really high expectations that Laurent Potdevin couldn't fulfill with his past work experience. However, I believe that given enough time, he should be able to adjust to his new role, and may be able to fill the shoes of Christine Day one day.
Financial performance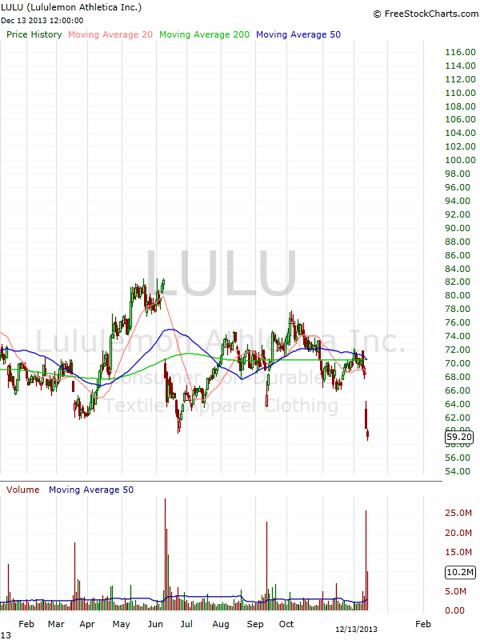 Source: FreeStockCharts
For the most part we saw a fairly significant price drop from $70 per share to $59 per share in the span of a single month. Things aren't looking too rosy as I have already mentioned earlier, 2013 was a bad year for Lululemon Athletica.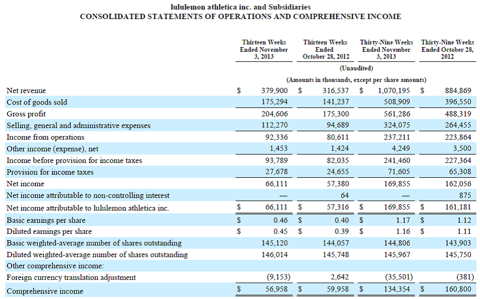 Source: Lululemon Athletica
Investors then proceeded to start dumping the stock because the company's earnings results weren't exactly hot. The foreign exchange currency translation dropped year-over-year net income figures. Hence, we saw declining earnings, which is almost never a good sign. Of course foreign currency isn't necessarily indicative of Lulu's core business, and should be safely ignored if you have a more long-term perspective as an investor.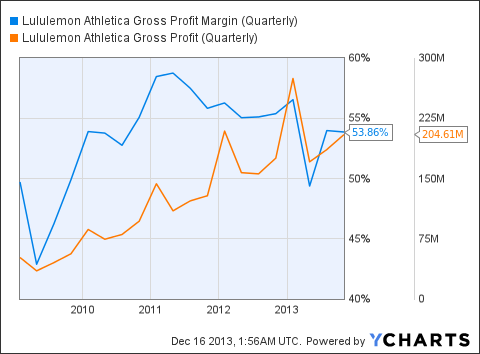 Source: Ycharts
The company's gross profit is below what it earned in calendar year 2012 for the same exact period. Falling profitability isn't good, and most investors respond negatively to this. The good news was that the company was able to grow revenue by 21% year-over-year in the third quarter from $884.9 million to $1.072 billion.
Corporate guidance however was fairly weak. The company expects flat same store sales in the fourth quarter (holiday season). Year-over-year earnings growth is expected to be 5.4% based on the company's earnings guidance of $1.94 to $1.96 diluted EPS for the full year. The year-over-year performance was extremely underwhelming and we sort of ran into all sorts of excuses for why the year was pretty bad.
Based on flattening same store sales growth, Lululemon Athletica will have to transition growth from store sales, to store growth in order to continue its expansion efforts, which is why we see the company opening a ton of store rooms in Europe and Asia.
My take on the company
So now that we got the CEO transition out of the way and the financial data. I'll try to forecast the long-term earnings growth and future price of the stock. The valuation methodology is a little too complex to explain. But basically, I believe that earnings growth should return to the stock going into fiscal year 2014, which will be driven by better supply chain management, store growth, and modest same store sales growth from this point forward.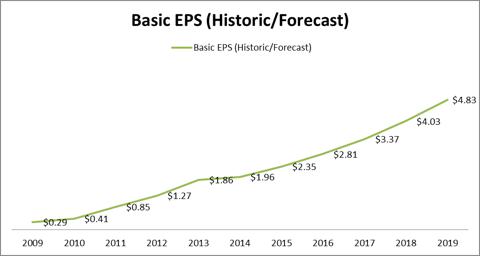 I believe that the stock will grow earnings by 19.77% per year over the next five years. Earnings have grown at a faster pace historically (five-year average earnings growth was 54%). However, considering the current size of the organization and the limited scope of store front openings, the company will not be able to sustain those kinds of growth rates in the future.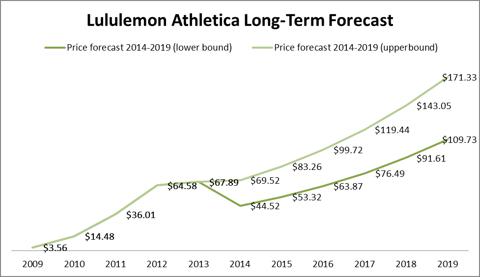 For now I offer a 2014 price forecast of $44.52 to $67.89, assuming a mid-point of that value, and you arrive at $56.20. The stock is currently trading above $56.20 by around $4 dollars so the value seems pretty fair as of the current moment. If in the event management pulls off an earnings beat we should expect earnings to approach $69.52, but if management underperforms we can expect the price to approach $44.52 for 2014.
Long-term investors should expect the share price to reach $109 - $171 by 2019. I expect the stock to return shareholders a 136% ROI by 2019, when assuming a $140 midpoint for my 2019 forecast.
Conclusion
I believe that the risk-to-reward for investors is favorable so as long the company is able to generate above average earnings growth. This will be accomplished through store openings, cost management, and same store sales growth. Hopefully the new management team is effective at transitioning the business to long-term sustainable growth, and can manage the supply chain effectively.
If Lululemon does not generate more than 19.77% earning growth per year over the next five years; I will lower my price assumptions. Thanks for reading, and I hope you guys have had a wonderful shopping season.
Disclosure: I have no positions in any stocks mentioned, and no plans to initiate any positions within the next 72 hours. I wrote this article myself, and it expresses my own opinions. I am not receiving compensation for it (other than from Seeking Alpha). I have no business relationship with any company whose stock is mentioned in this article.