Sirius XM Radio (NASDAQ:SIRI) has been an excellent performer over the last 5 years and it will be a darling stock for the future as the company continues to gain subscribers and exploit the maximum revenue potential from its nationwide satellite radio network. One of the keys to future growth is to raise service prices steadily and continuously. Similar to the way your residential internet bill or cell phone plan seems to increase each year, so will the prices for Sirius XM's various radio subscription packages. For consumers, this added cost will be minimal, amounting to only a few dollars on a yearly basis. But for the company and shareholders, these marginal price increases will have dramatic positive effects.
A History Of Increases
While I think there will be some controversy surrounding the idea of yearly price increases, I am a firm believer that Sirius XM will continue to raise their prices over the next 5 years. So far, since the merger between XM Radio and Sirius in 2008, the combined company has raised subscription rates twice. The first time, the basic package rate was raised from $12.95 to $14.49. There was no noticeable effect on subscriber numbers or the yearly churn rate. In the latest price increase, announced early this year, prices are set to rise by an additional 50 cents, to $14.99 monthly, starting in January 2014. As with the last price increase, the company does not feel this will have a significant effect on subscriber growth.
In any subscription based business model there is always a delicate balance between the price of the service and the number of subscribers. Sirius XM is innately conscious of this relationship. Liberty Media (LMCA) has had control over the company since early 2013 and it is likely that they are lending a hand in helping to determine the optimal pricing strategy for the radio service. Liberty Media has been working at perfecting the subscription entertainment business model for decades and over the last years their team of experts has surely been formulation an ideal strategy for Sirius XM to raise prices while not sacrificing subscriber growth. Based upon the price inflation already seen in Sirius XM's basic plan pricing and management's commitment to increase the average revenue per user figures, I think we can expect many more price increase to come in the future.
Pricing Power
The most important thing to remember about Sirius XM is that the company markets its radio service as a premium product and subscribers realize that they are getting a premium service. There are dozens of free radio services, but in many ways they do not directly compete with Sirius XM. The fact that Sirius XM offers a nationwide, satellite broadcasting service which includes standard radio programming and music as well as satellite broadcasting of live sports is something that no other service even comes close to offering.
"With a relatively modest subscription price, we think Sirius can raise prices without significantly impacting consumers' budgets. Sirius customers are loyal: 1.9 percent monthly churn is low compared to other subscription businesses and did not spike through the recession."

Brett Harris - Gabelli & Co.
The closest comparison to Sirius XM subscription model would be Netflix's (NASDAQ:NFLX) online movie streaming service, and it's hardly even a comparison. The Netflix subscription plan costs only $7.99 per month. I am sure the company would love to increase prices, but the fact that the price has remained so low for so long probably indicates that any sizable increase would significantly impact subscriber numbers. Despite offering thousands of movies, shows and exclusive content, Netflix has very little pricing power.
Furthermore, we should note that there is a lot more competition in the TV viewership space than the in-vehicle entertainment field. Netflix has kept prices low in order to reach maximum subscriber penetration and make it hard for new competitors to enter the market. There are very few barriers to entry in the online program streaming arena, and the fact that the free streaming of pirated media online is so high dramatically undermines Netflix's pricing power.
Sirius XM shares some of these same competitive pressures, but not nearly to the same degree. While there are a multitude of free or almost free services which can stream music online, it is far more difficult to get quality radio programming for free. In terms of talent, Sirius XM has all but cornered the market. Sirius XM is also the exclusive satellite broadcaster of most live sports.
We also have to note, Sirius XM is a very robust company. Sirius XM owns all of its content delivery infrastructure, such as satellites and a massive signal repeater network. The music programing which Sirius XM plays comprises only about 50% of their total content. The balance of the talk content is produced by Sirius XM in its own studio, and whatever it does not own, such as the live sports and events, it has license to broadcast. Content ownership is probably the largest profit chip for any media company, and Sirius XM, has it. The company has exclusive content from big names like Howard Stern, Oprah, Dr. Laura, Opie & Anthony, Eminem and Tom Petty just to name a few. A simple analogy would be to compare Sirius XM's content to the programs owned and produced by Discovery Communications (NASDAQ:DISCA) one of the most valuable media channels in the world. Discovery is in that position, fundamentally, because it produces and owns the programs which they broadcast on their media channels. Sirius XM has that same competitive advantage within the radio industry for a lot of its content.
"Sirius XM has pent-up pricing power,"

Brett Harris - Gabelli & Co.
Expect Prices To Rise
The monopoly which Sirius XM occupies makes it very easy for the company to increase prices while at the same time, not significantly impacting subscriber numbers. I am currently expecting an average 50 cent per year increase for the next 5 years. I see the current basic package price reaching $17.49 by 2019.
It is important to note that this increase amounts to just over 3% per year. Although this may be slightly higher than inflation, it is just barely so and it is absolutely within reason to expect an increase of this size. Some readers may consider this figure overly optimistic, but I think that over the next few years, as Sirius XM is guided by Liberty Media's strong and highly experienced leadership team, the company will be able to fully exploit the dominant position which they possess within the media space, and customers will be happy to pay a little bit more in order to receive the level of programming which they desire.
Even if prices do not increase as much as I estimate for the most basic package, we should expect the premium service package prices to increase considerably. Customers who are willing to pay for a premium package are likely to be ardent listeners. For a person who is an avid sports fan and who spends a great deal of time driving, the thought of paying a few dollars more per month in order to hear unlimited live sports broadcasts is insignificant. Currently the price of a Premier Sirius XM radio package amounts to $17.99 per month. I see this easily increasing to about $24.99 per month by 2019. The All Access package, which includes internet radio streaming would probably be eliminated and the internet streaming would probably just be included for free in the Premier package.
When you examine the numbers you will see that, adjusted for inflation at 3% per year (estimate), the Premier plan, currently costing of $17.99, will be worth an inflation adjusted $20.85 by 2019 anyway, so the actual real increase in the package cost will not be as extreme as the nominal numbers suggest. But, nonetheless, an increase will occur.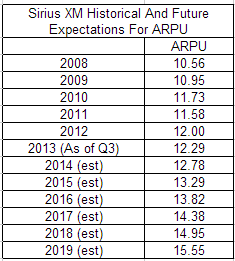 Getting into a little more detail, the average revenue per user (ARPU) is currently $12.29 per month. I expect this to rise significantly as the company reduces promotions, transitions customers to more expensive plans, and offers additional services (telematics). As shown in the chart above, by 2019, ARPU should reach $15.55, for an increase of 4% per year. This is in line with analyst estimates which call for an average increase of about 4% through 2015. This will still be below the basic package plan price which I expect in 2019 ($17.49) and far below the estimated future Premier package price. This is normal, as ARPU generally lags the average package prices, as there are always customers who receive promotional discounts.
Conclusion
Sirius XM owns a lot of its content and has exclusive satellite broadcasting licenses for live sports and events. The company owns their delivery infrastructure and has a monopoly in the satellite radio space. It has shown in the past that it can raise prices without experiencing a subscriber revolt. Adding this all together, I think that it is 100% clear that Sirius XM will be willing, able, and eager to increase prices over the next 5 years. The increases mentioned above are reasonable considering the 5 year time horizon and by some respects may even be rather conservative. Furthermore, as I have written before, Sirius XM is making a strong play to be the leader in the connected car market. This will see the company broadly increasing its subscription offerings and solidifying the service's value proposition. These new offerings are sure to drive incremental monthly revenue and will probably push ARPU even higher than estimated.
Disclosure: I am long SIRI. I wrote this article myself, and it expresses my own opinions. I am not receiving compensation for it (other than from Seeking Alpha). I have no business relationship with any company whose stock is mentioned in this article.