This is NOT a business cycle: this is a one-time reversal of twenty years of inflation of the household balance sheet. An aging population needs a 10% savings rate (at least) to meet minimum funding requirements for the biggest retirement wave in US history (comparable to Japan's retirement wave during the "lost decade" of the 1990s). With 17% effective unemployment, many Americans are dis-saving, after a $6 trillion shock to home equity.
10) There is no recovery at all in Europe. European growth ground to a halt during the fourth quarter and German busines confidence unexpectedly fell in February.
9) China won't collapse, but government efforts to stop overheating by raising reserve requirements make clear that the world's second-largest economy can't be the locomotive for world growth.
8. Greece and its prospective rescuers in the European Community are at loggerheads over conditions for EC help. "Greece faces several important challenges in the coming days, including an expected bond auction, a planned general strike on Wednesday, and a visit from European Union officials that began Monday, aimed at pushing the country to take tougher steps to rein in its budget deficit," WSJ reported yesterday.
7. State fiscal crises continue to worsen. "Doomsday is here for the state of Illinois," California's last set of cosmetic measures do little to address a $20 billion deficit, Baltimore has no idea how to close a $120 billion deficit. On top of this year's $200 billion deficit, states face a trillion-dollar shortfall in pension funds.
6) Commercial real estate is nowhere near bottom, with some sectors (e.g. hotels) at delinquency rates of nearly 10%. Credit Suisse says that delinquencies could reach $60 billion.
5) Regional banks continue to drop like flies, with 702 banks holding assets of $403 billion on the danger list.
4) Bank credit continues to shrink. Total bank credit is still falling at a 5% annual rate, an unprecedented decline ():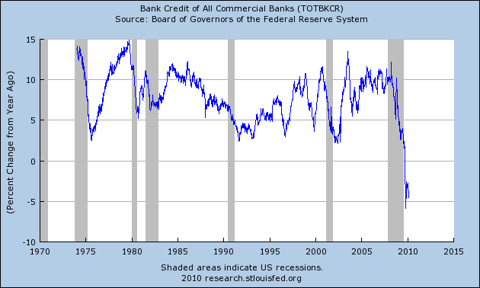 3) What bank credit is available is funding the US Treasury deficit in the mother of all crowdings-out, replacing commercial loans on banks' balance sheets ():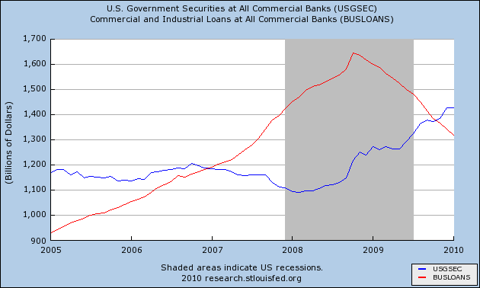 2) Industrial production has bounced off the bottom, but manufacturing is only 15% of US employment ().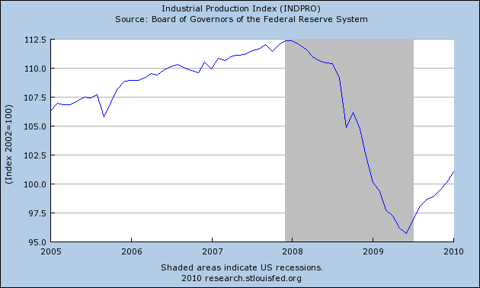 And Dave's top reason to fade the recovery is:
1) Employment won't come back. Yesterday's consumer confidence number is one more nail in the coffin of exaggerated hopes for a cyclical recovery.
As I wrote on the First Things On the Square blog Feb. 18,
What replaced the lost manufacturing jobs? The sectors showing the largest increase in employment since 1993 (the end of the "employment recession" of the early 1990s) are shown in the table below, along with the change in employment since 2007:

The largest contributor to employment growth turns out to be professional services. This includes everything from real estate to accounting to law. We observe that construction gained about as many jobs (2.851 million) between 1993 and 2007 as manufacturing lost (2.895 million)—if off-the-books labor were counted, the number would be much higher. The "professional services" category was buoyed by the real-estate boom. That is why it lost almost as many jobs (1.155 million) as construction (1.396 million) after 2007.

In fact, of the sectors contributing most to employment growth during the long employment boom of 1993–2007, only education, health, and government (which partially overlap) sustained employment increases between 2007 and 2009. It is reasonable to expect that the aging U.S. population will require more health services going forward, but hiring is likely to be incremental at best. Government spending under the Obama stimulus plan helped postpone layoffs at the state and local level, but is unlikely to create many new jobs.

---------------------------------------------

From other cross-sections of the data we see that the job losses have hit hardest the blue-collar working class, but also they've hit the upwardly mobile with some college training:


Workers with a B.A. degree or greater show a relatively low unemployment rate, although these numbers do not take into account long-term unemployed.

Given the inability of manufacturing industry to absorb many workers, and the poor likelihood that construction will do so, it is not clear where, or if ever, a large part of the American blue-collar labor force will work again. The semi-trained white collar labor force with an associate degree or a couple of years of college found ready work in the services expansion associated with the real-estate boom, but it is not clear what will happen to them now.

In previous recoveries, virtually all net new job creation came from new businesses. Most new businesses, to be sure, are small businesses, although the ones that created the most jobs were startups that grew very quickly. The most common estimate is that new business accounts for about two-thirds of net job creation.

During the 1980s, cellular phones, cable television, and other new technologies were an important source of new job growth. During the 1990s, the tech boom funded tens of thousands of startups, and, during the 2000s, the real-estate boom. Every deadbeat could get a job in the 1980s installing cable televisions, and every starving artist became a real-estate agent during the 2000s.

------------------------------------------------

There is some analogy to the Great Depression in the present situation. Between 1918 and 1939, American agriculture was in permanent decline, because the end of the First World War reduced demand for American exports, and because the substitution of the tractor for draught animals freed up an enormous amount of land set aside for animal feed. There was nothing to be done but to get the farmers off the land into other occupations, and that was not accomplished until the Second World War.