With the supposed deal between Russia and the Ukraine having been reached, it once again demonstrates the lengths that Russia will go to maintain influence. With the emphasis on commodities over the past decade the country has built up its reserves to a point where it is now able to be a player on the world financial scene and bail out some of these smaller players. In the past Russia has used its natural gas deals with Europe to punish the continent for various reasons and extract higher prices, but with this latest agreement Russia is using energy as a way to build favor as they have agreed to sell discounted natural gas to Ukraine moving forward.
We think that this might have far ranging effects across the European continent and could very well force the major players there to revisit the idea of utilizing the new drilling techniques, specifically fracking and horizontal drilling.
Chart of the Day:
What is the US Dollar Index telling us? Over the past month or so it sure appears that the market believes that the US is going to keep the easy money flowing, why else the weakness?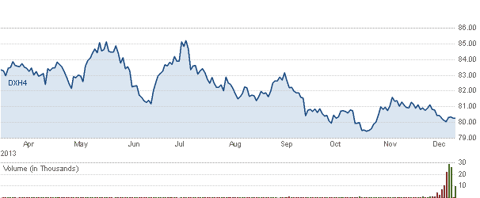 Source: CNBC
Commodity prices this morning are as follows:
Gold: $1,233.50/ounce, down by $10.90/ounce
Silver: $19.795/ounce, down by $0.306/ounce
Oil: $97.68/barrel, up by $0.21/barrel
RBOB Gas: $2.6388/gallon, down by $0.0049/gallon
Natural Gas: $4.231/MMbtu, down by $0.048/MMbtu
Copper: $3.372/pound, down by $0.004/pound
Platinum: $1,353.20/ounce, down by $6.90/ounce
Commentary
With Russia using its vast energy resources as a political tool, we might see the United States move to use natural gas as a tool for diplomacy. Granted it would be far more difficult to transport vast amounts across the sea for the US, but pipelines are not the only means for moving natural gas from one point to another.
Investors may not realize it yet, but this is yet another reason to be bullish of Cheniere Energy (NYSEMKT:LNG), the company which is at the forefront of the liquefied natural gas exportation industry here in the United States. Many industries have been quite outspoken about the exportation of natural gas as they believe that prices would increase domestically. The companies that have been attached to these comments are mostly chemical companies and are really talking their own book and looking out for their own interests.
Although Cheniere has fallen off of its highs in recent weeks, the future seems quite bright, especially if the US decides to get serious about LNG exportation and seeks to use its vast natural gas reserves as a diplomatic tool.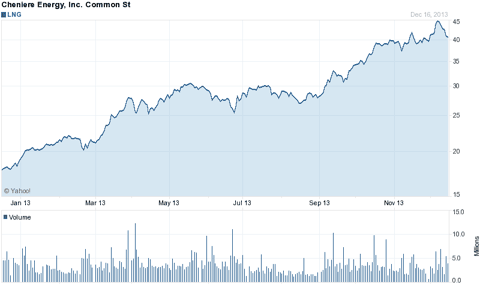 Source: Yahoo Finance
If one looks at the numbers and margins at names such as Dow Chemical (DOW) and Eastman Chemical (NYSE:EMN) it is easy to see that these companies could tolerate natural gas price inflation and still do quite well. They fear that their foreign competitors would be able to better compete, but the profits would still be there.
In the next few years the US is going to have to look at whether we will allow exporters, such as Cheniere, to ramp up and export larger quantities of LNG or simply stick to the original licenses they were granted. Our bet is that the US will increase the amount allowed to be exported as it is quite clear that there is plenty of natural gas to be drilled here in the US and Canada and many jobs could be created domestically by developing these resources.
Many have looked at Encana (NYSE:ECA) as a natural gas play and not paid attention to the upside. The same could be argued about Chesapeake Energy (NYSE:CHK), although Chesapeake has been quite aggressive in shifting toward liquids production. The bottom line is that we are seeing a cold winter in the US and prices are increasing strongly, but investors also need to pay attention to the amount that producers are able to increase production by. This is why most of the increase in natural gas prices is in the current month and not carrying that far out into the future. The E&P companies have tons of drilling locations that are simply waiting to be drilled when prices are higher and even though the focus has shifted towards oil and NGLs there are still large quantities of natural gas being produced from these locations as well.
It has been rough these past few years for Encana, but with its exposure to Canada it might benefit from the world's shift to LNG shipping.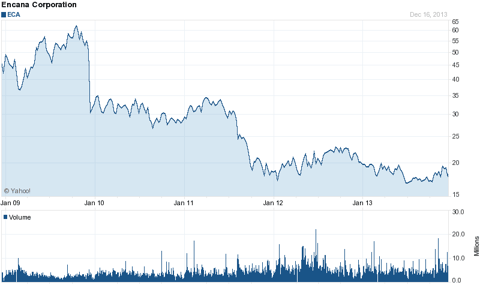 Source: Yahoo Finance
Look for dry natural gas plays to shift into favor over the next few years, especially as the US and Canadian governments are forced to look at energy exports with the shale boom taking place. For those who doubt that the US and Canada will want to export more energy, and possibly even oil, remember that Mexico is looking to open its oil fields up to foreigners in order to increase production from its aging oil fields and possibly spur new development.
Disclosure: I have no positions in any stocks mentioned, and no plans to initiate any positions within the next 72 hours. I wrote this article myself, and it expresses my own opinions. I am not receiving compensation for it (other than from Seeking Alpha). I have no business relationship with any company whose stock is mentioned in this article.