As the year is drawing to an end M&A activities in the gold space are finally starting to pick up again. Two recent corporate activities have concerned projects in West Africa (we wrote about them here and here). The most recent takeover proposal concerns an operating gold miner closer to home; we are referring to the proposed takeover of Brigus Gold (BRD) by Primero Mining (NYSE:PPP) on which fellow author Investment Doctor has given an on-the-spot commentary in this article.
Beside the obvious significance for shareholders of the two companies involved in this proposed takeover this deal is also of interest to shareholders of Sandstorm Gold (NYSEMKT:SAND).
Sandstorm Gold provides capital to mining companies in exchange for a gold streaming agreement. This agreement gives Sandstorm the right to purchase a percentage of the life of mine gold at a fixed and typically discounted price. This business model is known under the name of precious metal streaming.
Brigus Gold has a streaming agreement with Sandstorm Gold concerning the Black Fox gold mine and some surrounding prospective land holdings. This streaming agreement gives Sandstorm Gold the right to purchase 8% of the life of mine gold produced from Black Fox and 6.3% of the life of mine gold produced from a piece of land called the Black Fox extension for a price of $504/oz.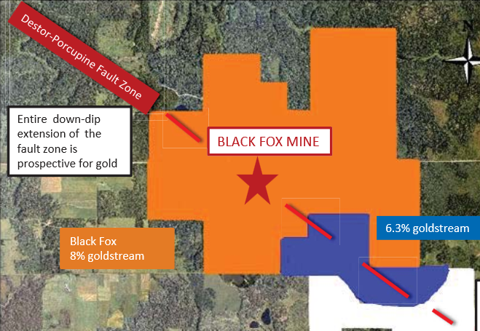 At present the Black Fox mine is one of the cornerstone assets in the portfolio of the streaming company. In the third quarter cash flow from the Black Fox stream was only topped by the stream from the Aurizona mine and accounted for more than 20% of Sandstorm Gold's total operating cash flow.
Recent exploration results at and around the Black Fox mine have been very promising and investors can be looking forward to growing reserves and mine life. Brigus Gold has already increased this year's guidance for the Black Fox mine and Sandstorm Gold are presumably happy with the performance of this particular stream.
The takeover of Brigus Gold does not change anything for Sandstorm Gold as far as the stream is concerned. The agreement is tied to the asset and will be serviced by Primero Mining upon conclusion of the takeover. Dealing with Primero Mining in the future only increases the financial security of the mine operator due to a much improved balance sheet of the merged company. This is certainly a positive aspect for Sandstorm Gold.
Primero operates the San Dimas underground mine in Mexico and is producing industry-leading results from this asset. The proven underground mining expertise that Primero Mining will bring to the Black Fox mine gives rise to hopes of further increases in productivity in the future. Any improvement in productivity at the Black Fox mine will be welcome for Sandstorm Gold investors since they will benefit from such an improvement at no extra cost.
Overall, it appears that Brigus Gold investors have been offered a very accretive deal and Sandstorm Gold investors might stand to benefit as well in due time.
Disclosure: I am long SAND. I wrote this article myself, and it expresses my own opinions. I am not receiving compensation for it (other than from Seeking Alpha). I have no business relationship with any company whose stock is mentioned in this article.