First of all, congrats to Bowne shareholders for a quick 65% jump in the stock.

It was announced after hours Tuesday that RR Donnelley (NASDAQ:RRD) would buy fellow printing company Bowne (BNE) for $481 million or $11.50 per share.

It's a great move on Donnelly's part. Despite paying 0.71 times sales for Bowne while Donnelly's own P/S is 0.42, Bowne is in a higher-end business with higher-end margins. Bowne's gross margin for 2009 was 33%, well off its 2007 peak of 38% but still way above RRD's 25-26% range.

The problem is, despite the 65% premium in the all-cash deal, the price is too low. Don't take my word for it, just look at management's December 2009 presentation materials. Ironically, it was for Gabelli's "Best Ideas of 2010" conference. Well, with this deal they've got a winner already, but management's chart shows that it's still a sub-par price.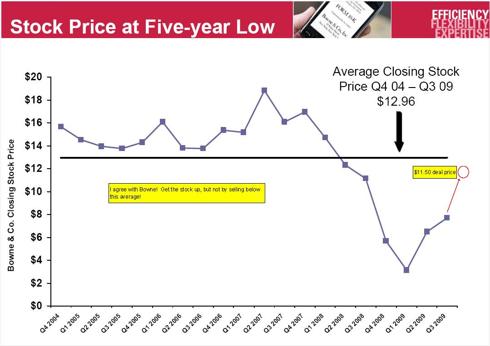 Bowne's largest business is in the capital markets, and that's why 2007 - the last year of huge deals, IPO's, etc. - was the peak in revenue and earnings. This chart shows that the company is selling at the absolute low in capital markets activity, which it expects to revive in 2010 and beyond...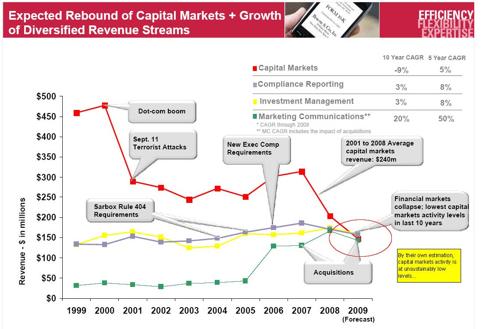 Looking at past and future (expected) results, the company is selling low before its end markets pick up. And it doesn't need to, as it improved its liquidity and financial profile tremendously in the last year. By my estimates, Bowne can blow past 2007's free cash flow levels even without attaining the same gross margin profile. The deal represents a great short term boost to the shares, but Bowne is leaving money on the table.

If management is confronted by shareholders who think the buyout is too low, they will no doubt downplay the upside and stress the lower-end level of earnings possibilities, not to mention the slow start in 2010 capital markets activity. There is not a massive concentration of shares held by any one investor (Lord Abbett owns the most, at 2.9 million shares or 7.4% of outstanding), but that doesn't mean they won't put up a fight.

One last thing. In my estimates below, wherever I might be too aggressive in margin or cash flow assumptions, remember that an acquirer will take out a huge amount of cost here, as well as improving Bowne's gross margin, simply because Bowne's small size hurts it in terms of procurement scale advantages.



Disclosure: No position