Containerized shipping deals with the transportation of mainly finished goods by sea. Containers are usually twenty foot equivalent (Teu) and forty foot equivalent (Feu) boxes. Theses boxes come in different forms such as standard, high cube, open top, flat rack, hard top, refrigerated, etc. Container shipping is a cyclical and capital intensive industry.
Click to enlarge: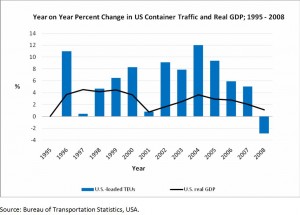 As the above graph illustrates, container traffic and GDP growth move in tandem. As when valuing other companies, industry fundamentals are an important consideration in the shipping industry. In the case of container shipping, the current fundamentals are weak because of uncertain demand recovery and excess capacity in the market. Drewery Shipping Consultants forecasts an increase of 2.4% in trade and capacity expansion of 7.9% in 2010. This is likely to further widen the demand supply balance.
Compare book and GDP
Fundamentals are expected to remain weak at least for the next five years. However, even in this climate it's possible for a company to perform well. During certain periods certain trade routes become more profitable than others. Currently the Trans Pacific routes are under-priced and a price increase is expected in 2010. Therefore, companies that have exposure to this route are likely to benefit.
However, exposure to a well balanced mix of routes is likely to be healthier in the long term. A shipping company should have enough capacity during a demand high and not too much excess capacity during a demand trough. It makes sense to take a look at a company's order book and compare it to GDP growth forecasts; to see whether a company is prepared to meet demand increases. The delivery lead time for ships is very long, therefore preplanning is a must. At the same time expansion should be at a scale that could be tolerated during the inevitable economic downturn.
Traditionally most shipping companies have adopted a market share expansion strategy to pricing. However, current times have stressed the importance of pricing for profitability (or cost plus pricing) to maintain the economic health of the industry. Fleet age is another important consideration. If the fleet age is below industry average running costs are low and less capital expenditure is required for the future. If the fleet age is comparatively high; maintenance costs and future capital expenditure too would be relatively higher. As in assessing any other company balance sheet health, profitability and efficiency ratios should all be calculated and compared with the figures of competitors.
Valuation methods
Valuation measures are of particular importance in assessing whether a container shipping company is priced correctly or not. As freight rates are determined by global supply and demand, shipping companies are generally price takers; as a result Price to Earnings (P/E) is not an ideal valuation measure. Price to Book Value (P/BV) is a more appropriate measure given the capital intensive nature of the industry. However, book values are historical prices and may not reflect the current market value of the fleet. The Net Asset Value per share (NAV/share) can be considered the best indicator because it takes into consideration the current market value of the fleet. The value of the fleet increases when freight rates increase and decreases when freight rates decrease.
A stock that is trading at less than its NAV/share could be considered undervalued and a stock that's trading above its NAV/share would be considered overvalued. It's not always possible for the average investor to find the NAV/share. Where companies do not provide the NAV, P/BV can be used as an approximation. The world's leading container shipping companies according to capacity are as given below;
These fleet statistic rankings are based on the total TEU capacity deployed by the named carrier.

Disclosure: No positions