As I noted in my February 18 article, the most prominent feature of global equity markets continues to be the outperformance of U.S. stocks. This was again very noticeable in Tuesday's market decline. The performance of key cyclical U.S. ETFs, such as RTH, IYT, XLY, even QQQQ helped limit the decline in SPX to -1.21%, while EEM fell -2.31% and EFA -1.41%.

The continued global relative strength of U.S. consumer and retail stocks- see the next to last chart in this article for just one example- particularly highlights the conundrum that has baffled many investors for almost the past year now.

As indicated by Tuesday's very poor consumer confidence number, the recovery has yet to significantly positively impact the vast majority of Americans, who are understandably very skeptical of it. Yet stocks have had a huge rally since their March 2009 lows, without yet having a -10% decline in SPX, which closed Tuesday at 1094.60, about midway between its January 19 high of 1150 and February 5 low of 1044.

Stock-centric investors (e.g. Cramer) continually point out how well company earnings are doing, which is true, even taking into account Wall Street's absurd "better than expected" game (in a rational financial market, analysts who continually, deliberately underestimate earnings should be fired, i.e. most of Wall Street, judging by the very high percent of companies that beat estimates).

Macro-centric investors question the strength and durability of the recovery, often even the accuracy of the economic data. In fact, leading indicators are starting to lose steam, as I noted in three recent articles, the last on February 7, and two major Instablogs pulling the "big picture" together on February 6 and February 5.
Technical analysis

In the standoff between the stock- and macro-centric camps, there is heightened focus on technical analysis, with particular focus on indicators of market internal strength, such as upside-downside volume, advance-decline, new highs-new lows, etc.

For those interested, I went through the current views of a number of leading market commentators in a February 22 Instablog. There is a considerable difference of opinion on volume measures between Lowry, which is quite bullish on the intermediate term, and others who are somewhat more skeptical though not bearish on this rally, such as Merrill's Bartels, Swenlin and Hussman.

U.S. Small Caps Strong Global Relative Strength
I make much more heavy use of relative strength charts than most market watchers, as shown in this section. I view a security's relative strength as its "opportunity cost." Such charts can be used for pairs trading if one likes to hedge in that way.

U.S. small cap stocks held up noticeably well Tues, with IWM only giving back the prior three days gains after a very strong run from February 10. Whereas EFA and EEM gave up all their gains back to their February 11 close, IWM closed over 3% above its February 11 close.
Below are 4 relative strength charts, which disaggregate IWM's global relative strength into its component parts, using this very simple formula.

IWM/SPY x SPY/EFA x EFA/ACWI = IWM/ACWI
The numerators and denominators cancel out, giving the final result. More than twenty years ago, I just took that idea from the old DuPont formula for disaggregatiing ROE into its component parts, and applied it to relative strength analysis.

One could easily add other terms to the equation, e.g. Stock/IWM in the beginning, to come up with the global relative strength of a particular sotck.
Charts

This first 3 -year chart shows IWM/SPY, i.e. U.S. small caps clearly outperforming U.S. large caps.

Click to enlarge: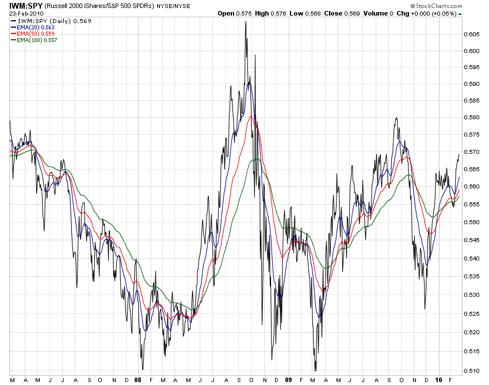 Then SPY/EFA, i.e. U.S. large caps very clearly outperforming developed markets outside the U.S., for by now very obvious reasons.
Click to enlarge: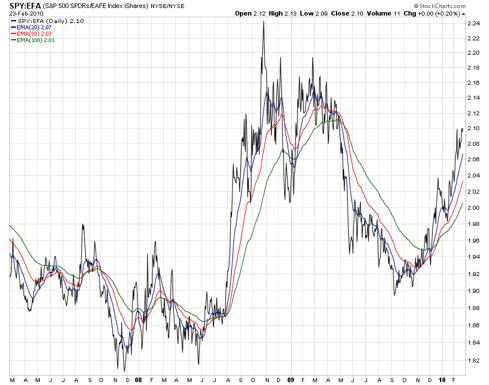 Then EFA/ACWI, the latter is MSCI All Country World Index, my real-time proxy for global equities (one can also use VT if you prefer) that I often use as my base for relative strength analysis, showing how EFA is underperforming global equities, again for by now very obvious reasons.
Click to enlarge: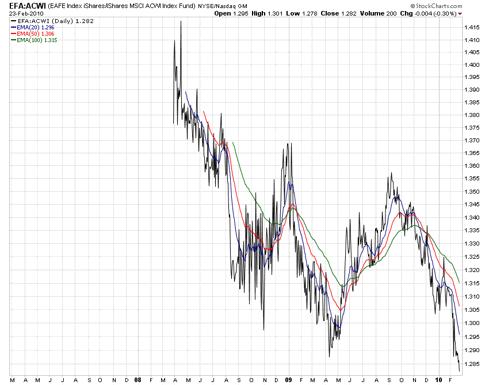 "Multiplying" these three charts together gives IWM/ACWI, which clearly shows U.S. small caps very strongly outperforming global equities since early Dec, due to them outperforming U.S. large caps, which in turn are outperforming global equities.

During the day, it's almost as if you can see the trading capital flowing across one's screens, from EEM, EFA and commodity related stock ETF charts into the U.S. ones.
Click to enlarge: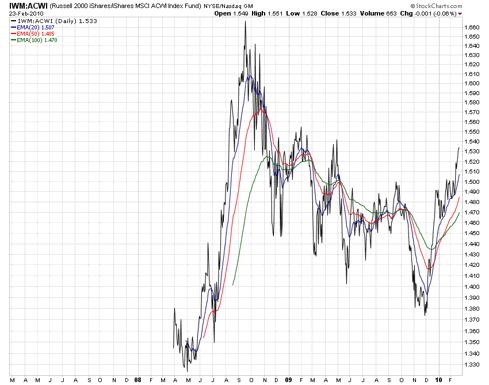 As mentioned above, besides U.S. small caps, probably the other most noticeable market action Tuesday was the continued global relative strength of U.S. retail and consumer discretionary ETFs, especially in the face of the extremely poor consumer confidence numbers. The global relative strength charts of both XRT and XLY are very strong, I'll just show the former here.
Click to enlarge: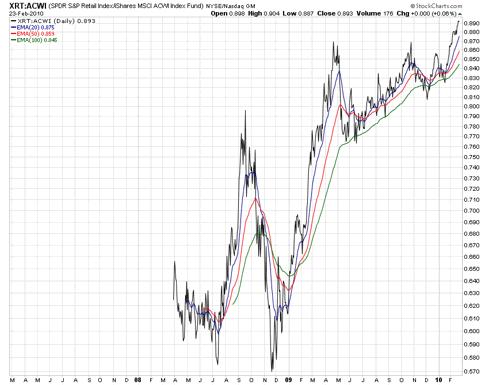 This last chart is the ten-year Treasury yield, which I noted in a February 19 article was threatening to break out above a number of key trend lines. It noticeably backed off Tuesday.
Click to enlarge: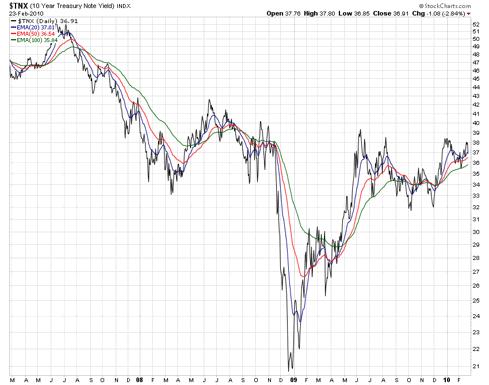 Disclosure: No positions in stocks, ETFs mentioned.