When managing clients' money, it is just as important for professional investors to be able to avoid potential torpedoes in the market, as it is to discover the next attractive investment opportunity poised to hit a return home run. The Applied Finance Group (AFG) has proven through its Buy-Sell list returns that it does a good job of both identifying winners in the market as well as avoiding potential torpedoes. Since 1996, AFG Buy-Sell lists have provided clients a consistent spread between its buy and sell recommendations, with the buys outperforming benchmarks by roughly 10% on an annualized basis and the sells underperforming by roughly 10% (View Buy/Sell List performance).
Since ValueExpectations.com spends a sufficient amount of time providing its readers with attractive investment opportunities, which have outperformed over 57% of the time (check stock list performance here), it is now time to help our readers identify a few small and large cap stocks that rank poorly according to key AFG criteria, including Management Quality (MQ), Earnings Quality (EQ) and Valuation Rank. These three variables have proven through back-tests to identify stocks likely to underperform its sector peers and benchmarks. The MQ and EQ variables are used as exclusionary variables that eliminate companies doing the wrong things, so in our list of potential torpedoes we have included companies that all have been flagged in terms of MQ and EQ.
In the table below you will find 7 large cap companies from the S&P 500, as well as 15 small cap companies from the Russell 2000 that look unattractive according to key AFG investment criteria. If you own or are considering adding one of these 7 large caps or 15 small caps to your client portfolios, you may want to take a closer look into these companies and reconsider whether or not they are worth adding/owning.
To stay updated on companies AFG believes are attractive investment opportunities register here.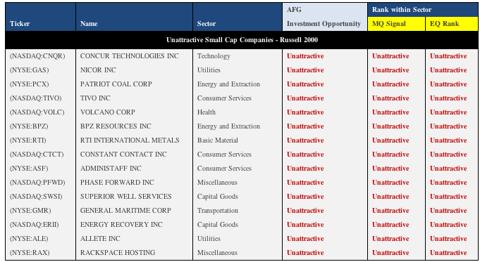 AFG's Management Quality Chart grades a company's management team's ability to create wealth for its shareholders by assigning each company to a quadrant based on the company's expected profitability levels and asset growth strategy relative to its level of profitability. Ideally, the strategy AFG or any investor likes to see is for a profitable business (generating positive EMs) to grow its assets, so it can maximize its profitability. Looking at the strategy followed by the seven large cap companies in our list, it is no surprise that they all are flagged as wealth destroyers, as they all attempt to continue to grow negative profitability businesses.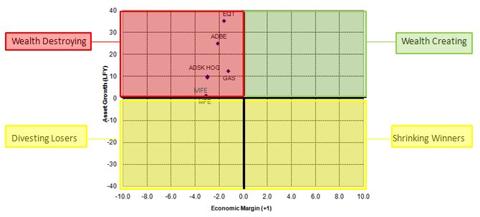 Along with following a wealth destroying strategy, the companies we have listed all are guilty of having a high level of accruals, which increases the probability of encountering negative earnings surprises in the future. The chart below is a look at HOG, one of the companies we have identified as having poor earnings quality, and its quarterly and historical average ranked score, based on our accruals variable. HOG currently sits in the worst 20% of companies in the AFG universe based on accrual rank, as they have been moving down the ranks of worst EQ companies since Q2 2007.


AFG's Management Quality Score - It is very important to understand a company's management strategy and management's ability to create wealth for its shareholders. By using The Applied Finance Group's (AFG's) Management Quality score you have the ability to grade management's ability to make wealth creating decisions and eliminate wealth destroying firms from your list of constituents. AFG's Management Quality variable is used as an exclusionary variable to get rid of companies which continue to grow their businesses when they are not even profitable (generating negative Economic Margins). When business units are unproductive and destroying wealth, instead of growing such businesses, management teams should concentrate on either fixing them or divesting them, and grow the parts of their company that have been creating wealth.
AFG's Earnings Quality variable - An important indicator of companies that may be more likely to have negative earnings surprises and underperform due to high amounts of accruals.
Earnings Quality: Accruals
•An accrual is the difference between Cash Flow and Net Income.
•Net Income = Cash Flow + Accruals
•Low Accrual companies outperform high accrual companies
Two ways to approach accruals:
1. Cash Flow Statement
•Difference between Net Income and Cash Flow
2. Balance Sheet
•Change in Net Operating Assets from Period t-1 to t
•Net Operating Asset equals Total Assets Less Cash, Less Non-Debt Liabilities (excl. Minority Interest)
-Our studies show that the Balance Sheet approach is superior to the Cash Flow Statement approach.
-We found the Balance Sheet approach is also easier to expand to international companies.
Disclosure: None