Steel imports climbed to $1.4B in January. This was a 7.2% improvement month over month, but down 52% year over year – a clear sign that while things are improving we remain a long long way from recovery. As the chart below shows, the recovery continues to display similar trends from several other parts of the real economy including revenue growth, job growth, rail trends and small business improvement.
The Census Bureau has details from the report:
The U.S. Census Bureau announced today that preliminary January steel imports were $1.4 billion (1.5 million metric tons) compared to the preliminary December totals of $1.3 billion (1.3 million metric tons).

The January change in steel imports based on metric tonnage reflected increases primarily in blooms, bullets, and slabs; and oil country goods. Monthly increases occurred primarily with Canada and Russia. A decrease occurred primarily with Brazil.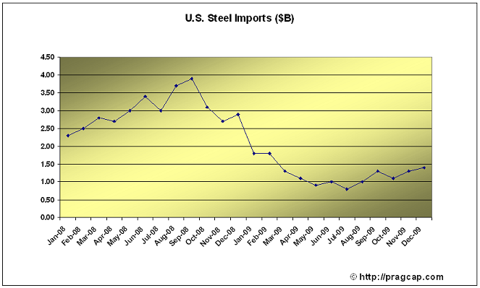 VN:F [1.8.3_1051]