For income oriented and conservative investors, many of the publicly traded master limited partnership companies offer an attractive combination of high yield, growing distributions and tax-advantaged income. Along with these admirable features, MLP investors get the hassles of K-1 tax reporting, the possible need to file tax returns in a number of states and potential tax problems if MLP units are held in qualified retirement accounts. One way to get MLP investment exposure and avoid the K-1 tax issues is to invest in one or more MLP focused funds. While there are both MLP focused ETFs and mutual funds, I think that closed-end funds offer the more interesting opportunities for this type of investment.
The Funky Taxes of MLPs and Funds
The typical mutual or closed-end fund elects to file taxes as a regulated investment company. This tax status requires a fund to pass all earnings and realized capital gains through to investors as distributions. However, the RIC election limits fund investments in MLPs to no more than 25% of the portfolio. As a result, a fund that invests more than a quarter of its portfolio in MLPs will be organized and taxed as a corporation. This means an MLP CEF gets to pay corporate income taxes at a 35% rate on any net profits generated by the portfolio. The tax-advantaged nature of MLP investments tends to provide some offset.
Typically, the MLP CEF will total the distributions it receives from investments including return of capital, payment-in-kind shares - think Kinder Morgan Management, LLC (NYSE:KMR), and taxable distributions and subtract operating expenses to calculate a net distributable income amount. Tax expenses show up on the income statements as current and/or deferred income tax benefit or expense - look for expenses. Deferred tax expenses do not affect distributable cash flow but will be reflected in the calculated per share net asset value. Some funds include deferred tax expenses incurred for a quarter or half-year in the reported total expense ratio. As a result you will see MLP closed-end fund expense ratios in the 4% to 6% and higher range. Actual fund operating expenses are usually in the 2% to 2.5% region, with the extra costs from a build up in tax liability.
MLP closed-end fund investors receive an annual 1099 providing the attributes of the distributions paid during the year. Since the distributions paid on MLP units are classified as a return of capital, the CEF dividends will also be primarily reported as ROC. Return of capital is not taxable income, but it does reduce the investor's cost basis in the fund shares.
MLP Closed-End Fund Investment Potential
The MLPData website lists 26 closed-end funds that focus on or are significantly invested in MLP and related companies. Distribution yields range from about 5% to just over 12%. Most of the funds yield in the 6% and 7% area. In general, the moderate amount of leverage - max of 25% - available to closed-end funds tends to negate the drag of management expenses and taxes and allow most of the funds in this group to put up attractive total returns. Fifteen of the 18 funds that have been in existence for at least two years have posted average annual returns of 10.7% or greater over the last 24 months. Seven of the funds have produced annual returns of 15% to 20.5%. In comparison, the ALPS Alerian MLP ETF (NYSEARCA:AMLP), tracking the benchmark MLP index, has earned investors an average of 7.6% per year over the two-year period ending yesterday, 12-16-2013.
I would like to highlight several MLP focused closed-end funds. If you have questions for me about other funds in the sector query away in the comments. The Find Funds page on MLPData provides a useful screening tool.
The Kayne Anderson MLP Investment Company (NYSE:KYN) has been the top performing MLP closed-end fund for the - soon to be finished - year-to-date, up 31.2%. KYN is 3rd on the list for 2-year returns, averaging 19.8% per year and the current yield is 6.44%. The KYN share price currently trades at a 13.4% premium to NAV. An alternative from the same management team could be the Kayne Anderson Midstream/Energy Fund (NYSE:KMF) which is trading at an 11.2% discount to NAV. KMF is up 11.2% YTD, but has averaged almost 21% per year to investors over the last two years.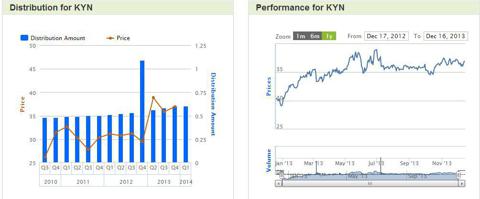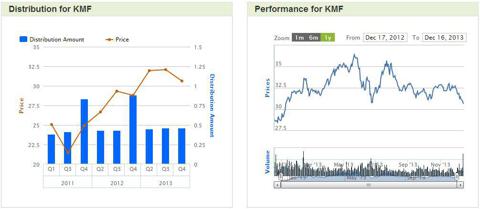 The Salient Midstream & MLP Fund (NYSE:SMM) yields 6.3% and is up 25.9% YTD. The fund went public in May 2012 and has produced a 22% total return since the IPO. The two Salient Capital closed-end funds are using different structures to reduce the tax consequences. The funds have elected RIC tax status but have corporate subsidiaries. SMM holds 25% of the RIC portfolio in MLPs and the corporate sub owns another 25% of additional MLP investments bringing the K-1 reporting total to half of the fund's portfolio. In a conversation I had with the portfolio managers, Greg Reid and Matt Hibbetts, wanted to make me - and my readers - aware that the IRS will be reviewing this arrangement in 2014 and make a ruling on the legality of a RIC with a corporate subsidiary.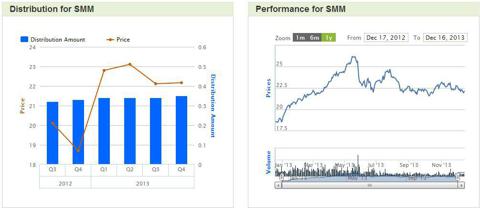 Finally, as an example of what not to look for in a closed-end fund is the example of the Cushing MLP Total Return Fund (NYSE:SRV). This fund has posted a total return of 24.8% YTD, but much of the gain has come on the widening of the price to NAV premium to over 20% and a probably unsustainable 11% distribution rate. Over two years, SRV has the worst total return numbers of the MLP CEFs that have been open that long, returning 5.5% to investors per year.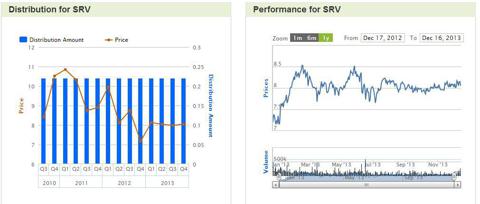 charts source: MLPData.com
For 6% yields and growing distributions, closed-end funds like SMM and KMF provide attractive investment options for investors that do not want to mess with K-1 schedules or want to put IRA money to work.
Disclosure: I have no positions in any stocks mentioned, and no plans to initiate any positions within the next 72 hours. I wrote this article myself, and it expresses my own opinions. I am not receiving compensation for it (other than from Seeking Alpha). I have no business relationship with any company whose stock is mentioned in this article.