There is never a guarantee that a government agency like the FDA will act one way or the other in making a decision. But, by evaluating past situations/outcomes and placing oneself within the parameters of that government agency, one might be able to gain usable investment insight for the immediate or long-term future.
In putting myself in the FDA's shoes, I find AMRN's upcoming PDUFA scenario on 12/20/13 to be complicated but interesting. Here are some key points concerning the decision: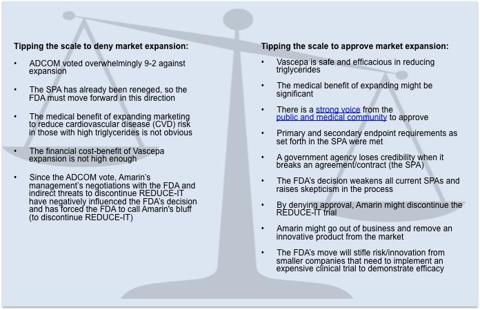 Denying expanded marketing will cause more harm than approving
In evaluating the above scale, I reach the conclusion that the FDA will cause more damage by denying approval. By affirming the reneged SPA, the FDA destroys confidence in the SPA process and thereby stifles small pharma/biotech innovation. By denying approval, the FDA will inhibit communication between Amarin and the medical community regarding a drug demonstrated to be safe and effective. This act suggests that the FDA does not have confidence in a physician's autonomy to learn about Vascepa and decide how to treat a patient. Physician's have significant challenges in customizing treatment to reduce risk in patients with diverse CVD-related issues. There are potentially 36 million individuals in the U.S. with high triglycerides and at risk of developing CVD. These individuals might have complicated genetic or lifestyle issues at work that cannot be controlled. These individuals might not respond well to statin, blood thinner or beta-blocker therapies. Therefore, an FDA decision that might inhibit innovation and the flow of information can have harmful affects on the overall standard of care in the U.S.
A physician's rationale for treatment to reduce triglycerides
It is accepted in the medical community that triglycerides are associated with CVD, and this association is independent of other risk factors. Two weapons available to physicians to combat high triglycerides include fibrates and niacin. It is not obvious that fibrates and niacin are effective in reducing CVD events, and these drugs (particularly fibrates) have side effects and drug interaction issues that might make them unsuitable for many patients.
An alternative therapy is fish oil. A physician might be aware of the JELIS clinical study (as many SA readers interested in Amarin are aware), which demonstrated a 19% reduction in non-fatal coronary events in the group treated with EPA (fish oil) and statin relative to those treated with statin alone (conducted in 18,000 Japanese patients). Additionally, cutting-edge research is strengthening the case that fish oils like EPA and DHA are anti-inflammatory and can help thin blood or stability atherosclerotic plaques, which are benefits that might help reduce CVD event risk.
From my understanding, the Vascepa name and product advantages are still not well recognized throughout the medical community. Lovaza, made by GSK, is Vascepa's primary competitor on the market. Lovaza is actually more effective at reducing triglycerides, but the drug also increases LDL, which is a major pitfall. Vascepa has the competitive advantage in that it does not increase LDL (Vascepa even reduced LDL slightly in the ANCHOR clinical trial). Amarin has multiple patents on Vascepa that protect exclusivity of the drug until at least 2030. There is no generic equivalent available in the U.S. Overall, Vascepa is a novel drug that a physician can use to potentially mitigate CVD risk. The Vascepa brand name and treatment capabilities need to be better known to physicians and the medical community.
Conditional approval for chronic indications?
There is growing debate surrounding the idea that the FDA should accelerate the path to market by approving more on a conditional basis. The recently passed Patient Choice Act (passed May 2013) and other recent examples of conditional approval to treat life-threatening diseases provide a framework for this rationale. With our current understanding, treating to reduce triglycerides is not an urgent matter, but starting treatment for chronic issues earlier can have long-term impacts that improve life expectancy and quality. Assuming the FDA should function more as a referee rather than controller, I think the FDA has an opportunity to establish precedent and approve conditionally for this chronic indication. If the FDA approved market expansion enabling Amarin to complete their REDUCE-IT trial, and then, if REDUCE-IT endpoints are not met, the expanded marketing can be stopped.
Potential repercussions after the PDUFA decision
If approved, Vascepa will have access to a much larger market to treat patients with high triglycerides (potentially ~30 million patients compared to ~4 million currently). If denied, Amarin does not have revenue from the expanded market and will only earn from their current indication. Amarin could run out of cash as they attempt to maintain the REDUCE-IT trial.
Conclusion
This ADCOM decision could have major repercussions for biotech and pharma companies, especially those working within an SPA. Based on the existing evidence, this is the best case scenario:
1. Abide by their word and assure the biotech/pharma industry that SPAs are still meaningful
2. Approve Vascepa for marketing toward patients with high triglycerides
3. State that the approval is conditional upon meeting endpoints in REDUCE-IT
In the case that this best case scenario materializes (coupled with the retirement of the current CEO), AMRN is a conviction buy for investors.
Disclosure: I have no positions in any stocks mentioned, and no plans to initiate any positions within the next 72 hours. I wrote this article myself, and it expresses my own opinions. I am not receiving compensation for it. I have no business relationship with any company whose stock is mentioned in this article.