Deere & Company (NYSE:DE) has had some amazing growth in FY2013, with revenue, income, earnings per share and the dividend all up, while its payout ratio actually went down. However, its earnings are expected to go down in the current fiscal year. In this article I will be looking at several aspects of this company to determine if now would be a good time to buy some shares.
Revenue:
Deere & Company's revenue grew to $37.795 billion last year, up 4.5% from FY2012's $36.157 billion. For the current fiscal year (2014), analysts expect Deere & Company's revenue to drop to $33.75 billion. At a market cap of $34 billion, DE has a price to sales ratio of 1.01. However, revenues are expected to drop even further, to $32.31 billion in fiscal year 2015. This would put the P/S ratio for Deere & Company at 1.05. On a price to sales basis, DE has maintained roughly the same value in the last few years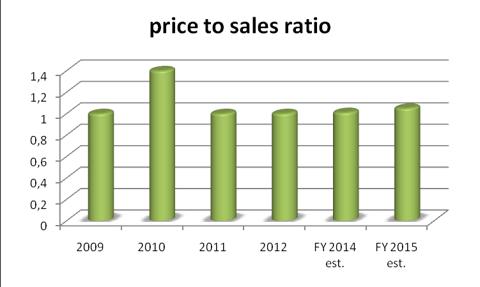 Net income and EPS:
Net income for DE was up by 15.4% in 2013, at $3.537 billion. Earnings per share increased at an even higher pace, growing 19.1% to $9.09. EPS growth is higher than the growth in net income thanks to extensive share buybacks. In FY 2013, Deere & Company spent $1.531 billion to repurchases its own shares. At its current price of $88.87 per share, DE is valued at 10.6 times this year's expected earnings ($8.85) and 11.7 times next year's estimated EPS ($7.62). As we can see in the graph below, the stock has remain around a P/E of 11 since 2011.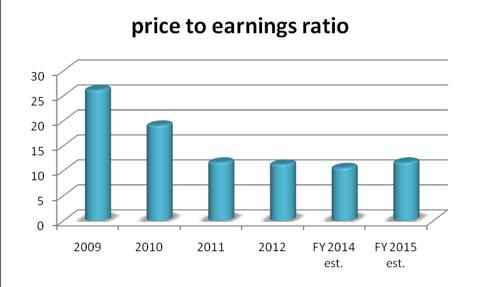 Dividends:
Deere & Company paid out $1.99 in dividends in fiscal year 2013, which is $0.20 or 11.1% more than in 2012. Its payout ratio went down from 23.5% to 21.9%, thanks to an amazing increase in earnings per share. The current dividend yield for shares of DE is at 2.30%. For the current fiscal year, earnings per share are expected to go down, but I think the dividend will be raised regardless of this. Should DE decide to raise the dividend by $0.20 again, it would have a payout ratio 26.2%. A further raise to $2.39 in FY 2015 would bring the payout ratio to 31.4%, if analyst expectations for DE's earnings per share are correct. I consider this to be a low payout ratio, which gives me confidence in Deere & Co's ability to sustain its dividend growth. Another thing I really like about DE is the fact they've got over $3.5 billion in cash and a further $1.6 billion in marketable securities; even if profits go down this will make sure dividends can still be easily paid.
Conclusion:
DE's revenue and earnings are expected to come in quite a bit lower than last year. However, based on both the P/S and P/E ratios, the company doesn't seem expensive. Its large amount of cash and low payout ratio make the dividends sustainable and safe. I believe the strong growth in dividend make this a great buy and hold stock for long term dividend growth investors. I have added a table below that shows the difference between fiscal year 2012 and fiscal year 2013.
FY2012

FY2013

Difference

Revenue (in $millions)

36157.1

37795.4

+4.5%

Costs & expenses

(in $millions)

31422.7

32312.0

+2.8%

Net income

(in $millions)

3064.7

3537.3

+15.4%

Diluted EPS ($)

7.63

9.09

+19.1%

Dividends ($)

1.79

1.99

+11.1%

Payout ratio (%)

23.5%

21.9%

-1.6%
Disclosure: I have no positions in any stocks mentioned, and no plans to initiate any positions within the next 72 hours. I wrote this article myself, and it expresses my own opinions. I am not receiving compensation for it (other than from Seeking Alpha). I have no business relationship with any company whose stock is mentioned in this article.