Overview
Western Forest Products Inc. (OTCPK:WFSTF) is an integrated softwood forest products company with a market cap of $563 million as of October 25, 2013. The company's primary business includes timber harvesting, reforestation, forest management, sawmilling logs into lumber, wood chips and value-added lumber remanufacturing. As of December 31, 2011, Western's lumber products were sold in over 30 countries worldwide. Its sawmills process hemlock, douglas fir and western red cedar, into long-length, wide-width lumber, commodity grades of lumber and residual wood chips that are sold externally and used for pulp production. The value-added lumber remanufacturing plants dry, saw and trim lumber for use in producing higher-value products, such as moldings, frames and paneling.
Investors have had an annualized total return of 52% since January 2009 and YTD is 30.53% when compared to Weyerhaeuser Company's (NYSE:WY) 5.3% and Plum Creek Timber Company's (NYSE:PCL) .07%.
Management
Don Demens is the President and CEO and was appointed to the position February 2013. Originally hired in 2009, Mr. Demens was later appointed Sr. Vice President, Sales and Manufacturing, in 2011 assumed the role of Chief Operating Officer, and in July 2012 was appointed President. Mr. Demens has over 25 years of coastal forest industry experience including time spent in Japan. Prior positions include Senior VP positions at Western Red Cedar and Custom Cut and General Manager positions at Anderson Pacific Products, Whitewood at Interfor, and Interfor Japan.
Brian Cairo is the Chief Financial Officer and Corporate Secretary and was appointed to the position in March 2010. Since joining Western Forest Products in 2006, Brian has held a number of positions including Senior Vice President of Finance from March 2009 to March 2010. He is a Certified General Accountant and holds a Masters of Business Administration from Athabasca University and a Bachelor of Commerce from the University of Manitoba. Prior positions include Director of Finance, Planning and Administration of the Canadian Forestlands unit of Weyerhaeuser.
Financial Highlights
| | 2012 | 2011 | 2010 |
| --- | --- | --- | --- |
| Sales | $925.4 | $853.7 | $667.9 |
| Net Income | $29.1 | $23.8 | $31.2 |
| EBITDA | $50.6 | $1.6 | $37.0 |
| Net Debt | $15 | $52.1 | $99.8 |
| Net Debt to Cap | $0.13 | $0.23 | $0.23 |
| Total Liquidity | $185.1 | $112.1 | $84.6 |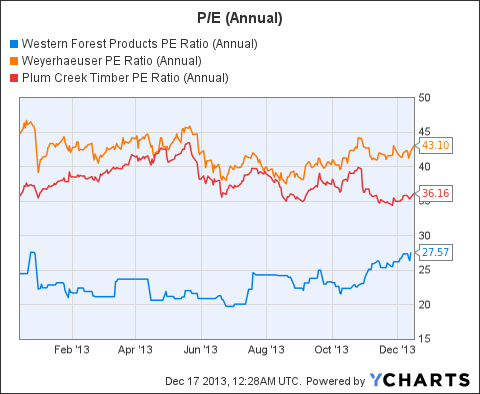 WFSTF PE Ratio (Annual) data by YCharts
WFSTF Return on Equity (TTM) data by YCharts
Dividend
WFSTF implemented a quarterly dividend of 4.54%, paying the first of such payments on September 20th of this year and the following will be on December 20th. This payment is higher than sector leaders such as Weyerhaeuser Company and Plum Creek Timber Company of 2.93% and 3.96%, respectively. Given the current price of the stock, I would personally prefer the company invest this money back into the company via timberland though with more investors, perhaps they will have more liquid funds for these investments later on. With the current income stream, I believe the dividend can continue, though I do not expect it to rise especially since it is already higher than its peers.
Housing Recovery
The U.S. housing recovery will directly benefit Western Forest as the below charts show. Not only is the U.S. housing starts increasing beyond pre 2008 levels, the Canadian market is also increasing with their timber reserves somewhat down. Being the 5th largest Canadian lumber company, Western Forest is in a great position to benefit from the lumber purchases needed for this recovery to continue. Western Forest also has a sizable reserve for the market even if it had to slow production to reserve funds.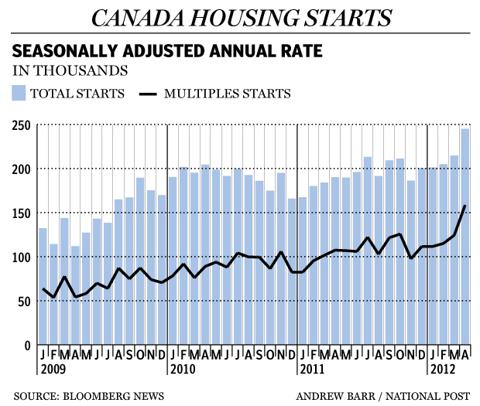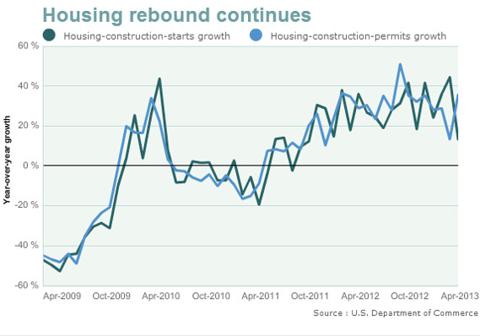 Diversity
Another aspect of this company that I really like, and perhaps the primary reasoning behind my support, is that it benefits from market diversity. Canada does represent its largest market share at 34% of its revenue by geography, but it is well positioned to take advantage of price changes throughout the world when representing its 30-country customer base. Sales are well balanced with the below percentages allowing it to export its product as needed to benefit from individual country housing markets and timber sales. WFSTF will benefit from both the decline of Canadian timber levels and the growing prices in the U.S. in correlation to the housing sector recovering to pre-2008 levels.
Mountain Pine Beetle
As seen in various other Seeking Alpha articles, the Mountain Pine Beetle brings up many concerns for many lumber companies (WY, PCL). Western Forest is unaffected by this beetle giving a huge advantage in not only healthy reserves but with the bottom line. Popular methods for dealing with this nuisance are very expensive; such as increased watering of the timber to produce higher amounts of sap deterring the beetle. Given the below and the fact that Western Forest is unaffected by this beetle, it will be directly benefited by the increase of costs incurred to competitors for related treatments and the decline of timber reserves unaffected.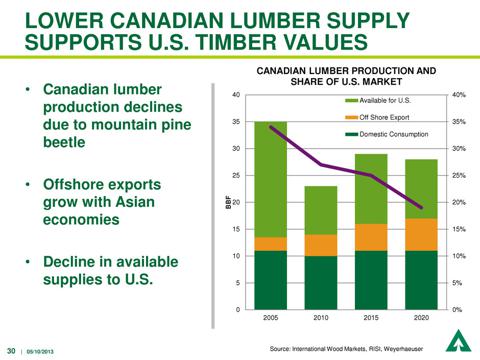 Share Price
As of writing this article the share price is $1.64. Ranges for the last 52-weeks lie between $1.187 to $1.6823. I expect a 4th quarter slowdown due to seasonal demand so I do not believe earnings or share price will increase drastically nor would I expect it in the 1st quarter of 2014. Going into the 2nd quarter, I believe the share price and earnings will slowly increase. Given the dividend, if sustained, I think there is low risk of losses incurred on purchases for drops in share price when weighted overall returns.
Sustainability
Western Forest has $125 million invested in current projects focusing on reducing costs, increasing efficiencies, and improving product flexibility. Projects include new sorters, trimmers, and edgers, which have already been replaced and in use. Initial installations involved in the Alberni Pacific mill are also under way creating another source of income. The CEO/President Mr. Demens believes investment in these projects will have a minimum return of 20%. Western Forest also is committed to the environment, which is also good for business. It has multiple certifications for sustainability and replaces approximately 7 million trees per year.
Conclusion
I believe Western Forest will continue to grow and perhaps become direct competitors with PCL and WY. Share price should stay at current levels for the next quarter or two and then slowly increase with seasonal demand. If the dividend is still in effect come 2nd quarter of 2014 without straining the bottom line, then I will initiate a position.
Disclosure: I have no positions in any stocks mentioned, and no plans to initiate any positions within the next 72 hours. I wrote this article myself, and it expresses my own opinions. I am not receiving compensation for it (other than from Seeking Alpha). I have no business relationship with any company whose stock is mentioned in this article.