"I can't change the direction of the wind, but I can adjust my sails to always reach my destination" - Jimmy Dean
With the 2013 trading year coming to an end, keen investors are overlooking their portfolios and reassessing asset allocations. As such, the time is here to readjust portfolios as a function of maintaining long-term objectives.
This year was an overall positive one for equity investments, largely marked by a year of extraordinary stock gains and the late-May taper tantrum that adversely affected many income-related investments. After a flat 2012, precious metals fared poorly in 2013 while cash allocations once again lost money on an inflation-adjusted basis.
As overall equity performance was positive and bonds and commodities suffered, most asset allocations are likely overweight equities and underweight bonds and commodities. For investors who model their portfolio relative to these asset classes, this month marks the time for reflection upon 2013 and adjustments, if relevant, for 2014.
The 4% Plan Revisited
On September 20, 2013 I wrote The 4% Plan - A Permanent Income Stream Solution, which outlined what I believe to be a prudent investment strategy for all types of investors. The thesis is that by creating a yield-oriented portfolio, both savers and income investors would benefit.
In the original article, I wrote
"The main goal of the 4% Plan is to achieve a 4% yield on capital invested from dividends only and without requiring asset sales. The portfolio is allocated between equities, bonds, commodities and cash."
I also outlined what portfolio targets must be met to observe monthly distributions targets. Such that if you want to make $1,000 per month, you would need $300,000 and so on. For income investors, this would showcase what a 4% yield would pay out monthly according to the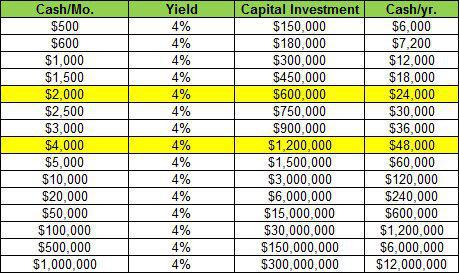 The allocations I recommended in September were as follows: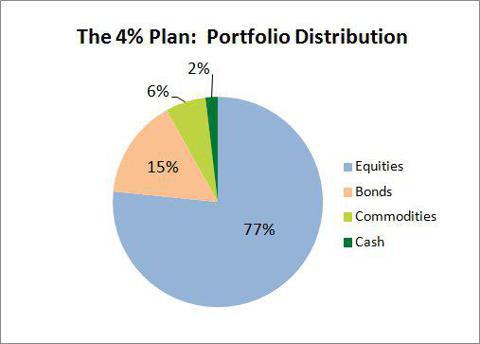 The 4% Plan - 2013 Performance
As the 4% plan calls for an allocation of equities, bonds, commodities and cash, each asset class must first be analyzed to present an understanding of where prices are today as an initial effort to present the modus operandi of 2014.
In 2013 equities have performed well, with the market up over 24% with just over two weeks in the trading year left. Due to the threat of rising rates, income investments such as real estate investment trusts (REITs) and bonds have underperformed on the year.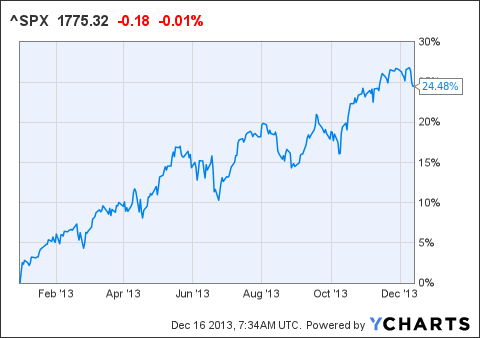 In terms of the SPDR S&P 500 Index ETF (NYSEARCA:SPY), the stock market crushed bonds and REITs, as measured by the iShares U.S Aggregate Bond Index ETF (NYSEARCA:AGG) and the iShares U.S. Real Estate Index ETF (NYSEARCA:IYR). As noted in the chart below, bonds and REITs began to fall in the second quarter and have remained under pressure through the rest of the year.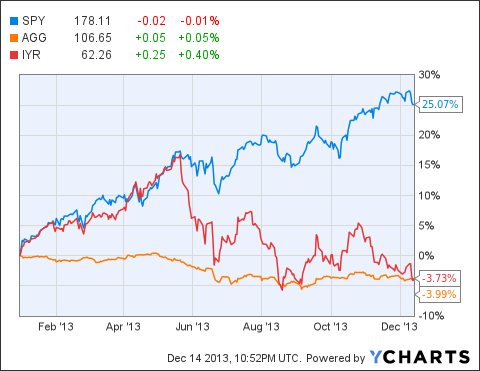 Precious metals were coming off a flat 2012 then turned into bear territory in 2013. Physical gold, silver and platinum returns are as follows, measured by the SPDR Gold Shares ETF (NYSEARCA:GLD), the ETFS Physical Silver Shares ETF (NYSEARCA:SIVR) and the ETFS Physical Platinum Shares ETF (NYSEARCA:PPLT).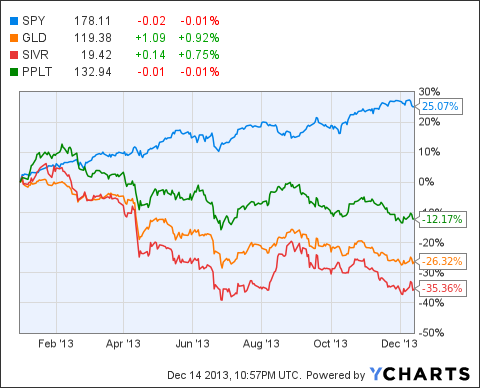 Cash returns this year have been close to zero, as average money market and short-term CD returns remained sub-1% all year. According to recent market analysis by Money Fund Report and Bankrate.com, the average money market mutual fund 7-day and 30-day yields and compound yields are 0.01%, while the average money market account yield is 0.12%.
CD yields are still relatively low as well. Fidelity Investments currently offers a 1-year CD that pays 0.55% and a 2-year that pays 0.75%. The current CD yield curve, as presented at Fidelity, is noted in the chart below.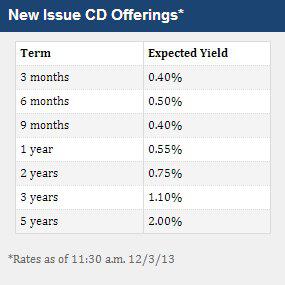 Due to the rise in the general stock market and weak bond and commodity performance, the 4% investors would likely be overweight in stocks coming into the end of the year. While investors are easily able to achieve a 4% yield on the 2013 balanced asset allocation
The 4% Plan 2014 Allocations
In 2014, I'm shifting the allocations of the 4% portfolio slightly. Equities are reduced from 77% to 75%, bonds are raised from 15% to 18% and commodities are reduced from 6% to 5%. Cash remains constant as a hedge to guarantee monthly income distributions.
Equities, 75% of Total Portfolio (-2% vs. 2013)
The leading economic indicators are positive, nominal GDP continues to rise and the stock market is coming off the fourth year of a bull market. Equities appear to be well-positioned in terms of price, as the S&P 500 expected 2013 earnings of $107.46 create a market P/E of 16.52.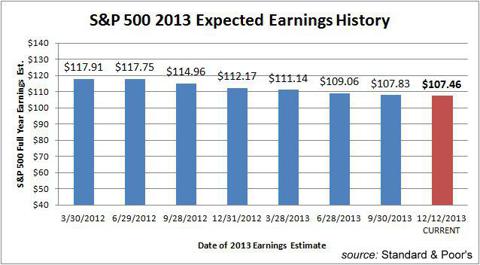 While the earnings expectations on the year have been reduced from $112.17 per share on 12/31/12 to the current $107.46 per share expectations, the reduction of 4.2% were not enough to stifle 2013 performance.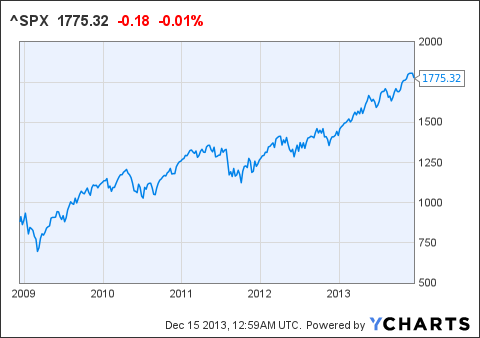 In 2013 the S&P 500 made new highs, passing the previous mark set just before the last recession. The recession is noted by the shaded grey area in the chart below.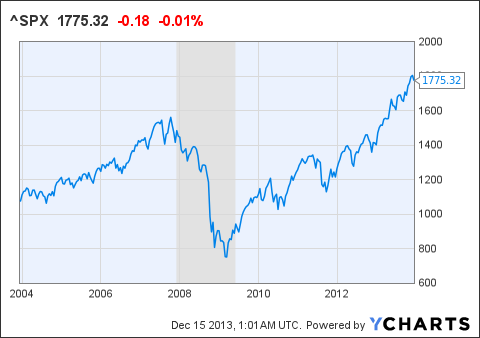 Moving into 2014, S&P earnings are expected to improve to $122.29 per share, which is slightly improved from the 9/30/13 estimate.
With S&P earnings at $122.29 per share, the forward P/E ratio on current pricing would be 14.52, which is hardly expensive for a market with 1-year growth expectations of 13.83% next year. Also, the market growth expectations for the next five years is 11.85%, according to Standard & Poor's.
 
 
S&P 500
S&P 500 5YR
S&P 500
 
 
2014 EST
PROJ ANNUAL
PEG
 
 
OPER P/E
GROWTH %
 
Index
 
14.52
11.85
1.23
Consumer Discretionary
17.20
17.19
1.00
Consumer Staples
 
16.65
9.52
1.75
Energy
 
12.29
12.16
1.01
Financials
 
12.84
10.12
1.27
Health Care
 
16.02
11.32
1.41
Industrials
 
15.48
11.47
1.35
Information Technology
13.71
13.27
1.03
Materials
 
14.98
11.41
1.31
Telecommunication Services
13.75
8.12
1.69
Utilities
 
14.28
4.07
3.51
The equity portion of the portfolio is reduced 2% to 75% of the total portfolio to reduce risk while maintaining heavy market exposure. With bonds under pressure in 2013, yields have improved in bond funds. As such, the reduction in exposure is in effort to lower risk and increase yield through fixed-income securities.
Bonds, 18% of Total Portfolio (+3% vs.2013)
Thesis: The market will always require fixed income. Rates will remain low in 2014. The market has overreacted in the short-term, sending prices below fair value.
Fixed income has suffered due to the threat of rising rates, also known as the taper tantrum. In essence, bonds have been reduced in value due to current and projected interest rate movement.
According to Bill Gross, "There is always a need for fixed income." As an asset class with an eternal demand, bonds will remain a prevalent form of investment in the advanced age. With the demographic shift in America, the need for fixed-income will also increase over time.
According to Howard Marks, market sentiment is one of the tenets of aggregate market valuation.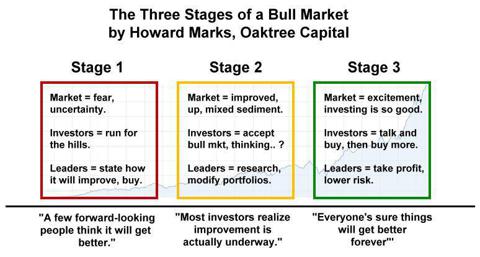 While stocks aren't bonds, when your taxi cab driver tells you to sell bonds you may be at a level of fear and uncertainty where value actually exists. The Fed has learned its lesson in spooking the markets and will likely massage a slow, gradual taper movement into the market to mute the impact.
Commodities, 5% of Total Portfolio (-1% vs. 2013)
Precious metals went from early-bull market darlings to unproductive collections in dire straits. Commodities are a natural hedge against inflation, however with the money supply on top of the beanstalk and inflation nowhere to be seen, investors have traded them in for the generous stock market.
There is always a risk of inflation or other events which will increase the need for commodities versus other assets. At this time the demand fur precious metals is so weak that producers are scaling back and shutting down mines across the planet.
As the global economy has yet to reach an aggregate precious metals supply and demand equilibrium, it will take even longer for demand outstrip supply. With this knowledge, a 5% commodities hedge may be wise however a much larger position may conceal the position as a hedge by putting unnecessary capital risk on the table.
Cash, 2% of Total Portfolio (par with 2013)
The cash level of the portfolio should be on par with 2013 at 2%. Cash has no real return, however the 2% position will continue to act as a dividend hedge.
For Income Investors: In the event that dividend are uneven or cancelled, a 2% supply of cash will guarantee the account holder six-months of distributions without requiring asset sales.
For Savers: A cash position is clearly not needed, however it could be used to add to a position or initiate a new position when the opportunity attracts itself.
Conclusion
2013 was a great year overall, with the only negative impact coming from commodities, REITs and bonds. As such, investors are looking to tweak their portfolios to maintain long-term asset allocation objectives.
With stocks at attractive valuations, bonds potentially undervalued, commodities looking to go nowhere and a guaranteed negative real return on cash, the allocations from 2013 to 2014 have shifted to a small degree.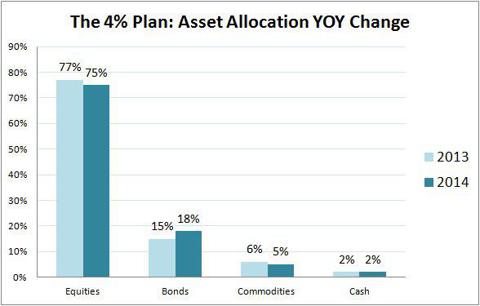 To learn more about building the 4% plan portfolio, please read The 4% Plan - A Permanent Income Stream Solution, published on September 20, 2013.
Disclosure: I have no positions in any stocks mentioned, and no plans to initiate any positions within the next 72 hours. I wrote this article myself, and it expresses my own opinions. I am not receiving compensation for it (other than from Seeking Alpha). I have no business relationship with any company whose stock is mentioned in this article.