STEC (NASDAQ:STEC) is simply mutilating its stock holders today, and it's not the first time that's happened in the past half year. [Nov 4, 2009: STEC Crashes 30% on EMC Inventory Warnings] It's been quite an amazing turnaround for this once high flying momentum stock, but an abject lesson in what happens when you run with the momo crowd. It's fun while it lasts, but when the music stops... yowsers. This time around it looks like yet another inventory issue, along with Q1 guidance.
From the AP: (My comments in parenthesis)
Shares of STEC Inc. plunged Wednesday after the maker of data storage devices said first-quarter revenue would be as much as 53% lower than what Wall Street expected.
Late Tuesday, STEC forecast first quarter 2010 revenue of $33 million to $35 million and an adjusted loss of 11 cents a share to 13 cents per share. Analysts expected revenue of $70 million and an adjusted profit of 20 cents per share, according to Thomson Reuters.
STEC said an inventory carry-over at its largest customer, EMC Corp. (EMC), will hurt sales in the first half of 2010. (identical issue in November, but with a different time frame this time around) The company does not expect "any meaningful production orders" from the client during this time.
STEC, based in Santa Ana, Calif., was downgraded by JPMorgan analyst Mark Moskowitz to "Neutral" from "Overweight." "We had been too optimistic," he said in a research note. "The disappearance of sustainable revenue momentum up-ended our prior view that STEC was the high-growth story" in small to mid-cap stocks.
Moskowitz said the outlook shows that the trouble with EMC isn't a one-quarter problem. (bingo)
And the analysts now come out en masse with the downgrades. Is there value here? Certainly, but if you cannot trust management to forecast their own business you are simply a blind squirrel.
Wedbush Securities' analyst Betsy Van Hees said investors should remain on the sidelines until there is more clarity on adoption rates of solid state drives (SSDs), customer production ramps, single-level cell (SLC) NAND flash pricing trends and the competitive landscape.
What a year for the stock! Almost a "round trip" at this point. Note the May 2009 gap which at one point looked like it would "never" be filled, has done so in 9 months. (Click to enlarge)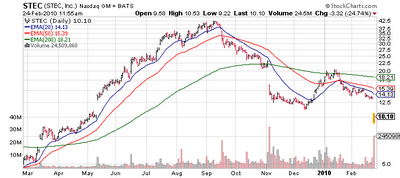 Disclosure: No position