If you're an Apple (NASDAQ:AAPL) follower you're aware of the tear Apple has been on over the last 6 months (40%+), and the current sentiment which seems to be that it still has a ways to go. But how familiar are you with the suppliers that ride the coattails of Apple: CRUS, OmniVision Technologies (OVTI), TriQuint Semiconductor (TQNT), Arm (NASDAQ:ARMH), Skyworks Solutions (SWKS), GT Advanced Technologies (GTAT) (and many more)?
There is one Apple supplier, Cirrus Logic (NASDAQ:CRUS), you may want to take a bite out of.
If you follow CRUS, you already know it had been enjoying a nice Apple tracking ride from July to late October up some ~50%. Then in late October the stock dropped some 20% driven in large part by a couple of analyst downgrades, and it's been flat ever since. The primary reasons given for the downgrade and the subsequent price drop:
CRUS depends too heavily on Apple for a large percentage of its business.
Confirmation that Apple had recently stopped using a CRUS component in the iPad Air which would affect earnings in coming quarters/years.
The assumption/prediction that Apple's discontinuation of the CRUS component in iPad air signaled or implied further Apple component losses.
Apple pressure on CRUS margins.
In this article we'll discuss 8 reasons we believe this price drop is unwarranted, why this is now a good entry point, and why this Apple supplier has 50% upside over the next 12 months:
1. Current Component Loss and Its Effect on Earnings: Let's start with the component loss in the iPad Air and its potential affects on earnings. The truth is this loss should have NO effect on the upcoming quarters earnings in relation to company's stated projections or guidance. The individual component loss news and downgrade analysis came very shortly after the company's last quarterly report. The company is fully aware and knowledgeable of their own current component losses and upcoming wins (which analysts can't be informed of due to confidentiality agreements), and the impact these will likely have on top and bottom line projections. So again, this should already be baked into the coming quarters' guidance -- which are in-line and potentially a bit better than what analysts where expecting prior to any analyst component loss theory downgrade. Further, CRUS has met or beat consensus estimates the last 8 quarters.
2. Future Component Losses: The idea that CRUS's loss in the iPad Air signals further component losses is a big assumption / prediction based on little more than an "opinion" of a "possibility". This is probably the biggest factor affecting the stock's performance of late. Four reasons one should not interpret the component loss as an indicator of future losses or deterioration of an Apple relationship:
It is very common for Apple to dual source parts. This increases the competition and assures Apple of reliable supply and lower prices.
Apple's relationships with suppliers is a give and take, they don't want their supplier to become too strong or too weak. They work with them to maintain a balance to meet their needs and keep the supplier healthy.
Part suppliers routinely sign confidentiality agreements with Apple and other manufacturers, preventing official confirmation of wins or losses, which means omissions of such losses or future wins in quarterlies or elsewhere indicates nothing.
History often repeats itself. If you follow the Apple suppliers, you know this kind of story is nothing new, you've seen it play out before, and you'll likely see it again. Both OmniVision and Triquint, Apple suppliers, experienced situations in the past; a component loss, followed by predictions of further component losses, followed by downward pressure on the stock, followed by component wins and positive quarterlies, followed by upward pressure on and return to proper stock price tracking performance. When you follow the Apple supplier ecosystem over time you come to sense how Apple manages its supply chain and that one component loss usually has little bearing on future component losses, or the big picture with the supplier.
3. Future Component Wins and Growth Catalysts: While the broad strokes of the downgrade and price depreciation seem to focus more heavily on the company headwinds and highly speculative potential losses, there seems to be little credit on potential component wins with new or existing clients, or new product / market opportunities. Here are 3 things that lead me to believe there will likely be upcoming wins / catalysts for upcoming growth:
A recent quote from the CEO, when confronted with the iPad Air component loss -
We cannot comment on specific design wins or losses at our largest customer, although it appears Mr. Curtis has done an accurate job of relaying the facts that were outlined in teardowns that were released shortly after certain products were introduced. However, from our perspective the sky is not falling and we certainly hope that the same due diligence and reporting occurs for forthcoming teardowns.
My take, and I think a logical translation of this quote... While I can't tell you upcoming wins we have in pipe, for contractual reasons, I hope you are paying as close attention to future product breakdowns and credit us (and our stock price) when you find our components in upcoming products.
2) Anyone who follows Apple knows it likely has quite a few products (Television, Watch...) in the upcoming product roadmap and many of these products will require components from existing suppliers like CRUS.
3) During the recent Goldman Sachs small/mid cap growth conference (held in November), CRUS touched on two strong, large, evolving markets that they believe present significant catalysts / opportunities. The global LED market which has been estimated at over $40 billion by 2019 - and Cirrus Logic is well positioned to play a significant role in delivering digital dimming design solutions to support better performance and energy conservation - and the auto market where auto manufacturers are having to increase audio capabilities to support the changing world of hands-free.
4. The Fundamentals: Aside from the strong historical performance, a compound average annual rate of growth the past two years of 76%, median cash flow growth over the past five years of 39.8% and 8 straight positive quarters, CRUS also has a very strong balance sheet with a $1.26 billion market cap, $268 million in cash on hand, free cash flow of $301 million, and no debt. Even when you consider the tightening margin from 52% to the 45-47% range, as given in guidance by the company, CRUS appears very strong, and seems to scream buy (if you don't buy into the bigger component losses theory, or future financial meltdown based on a deteriorating Apple relationship, margins or Apple market downtrend ).
5. Apple Tracking Gap: With the recent price decline driven by the highly speculative component loss "idea", an Apple tracking / value gap has emerged for CRUS over the last two months (see chart below). As the component loss speculation erodes and the market realizes CRUS's relationship with Apple is alive and quite well, the tracking value gap should correct providing superior returns over many tracking suppliers.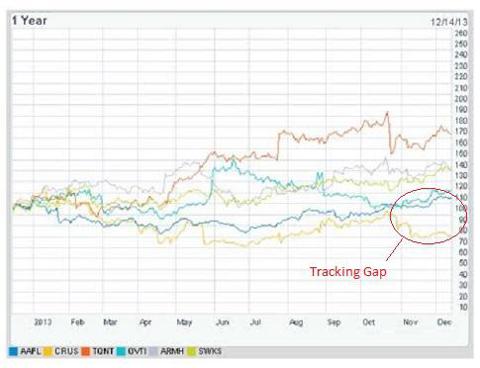 6. Dependence on Apple: Yes, optimally CRUS would have more business with a wider array of clients, but there are best of breed competitive advantages Apple realizes when its suppliers don't have wider industry nets. Apple and its partners recognize this and consequently become very tied at the hip. In addition, its existing Apple reliance was already priced into the stock price in the mid 20s, and this is old, old news. CRUS was already discounted to its sector peers on some of the fundamental yardsticks for this exact reason. To use this as a revelation or as new news, and a basis for further price depreciation makes little sense. I suspect a year from now we may hear this yet again as something new and validation for a downgrade to move the price of the stock short term, even if it's already been well established, documented and priced in via the stock's current sector discount. Betting against CRUS is like betting against AAPL because in many ways CRUS is an arm of AAPL.
7. Blow Out Quarter Coming? In CRUS's last quarterly report it gave positive guidance for a good upcoming quarter, yet current indicators in the Apple ecosystem seem to suggest the quarter may be even better than projected. This should help all Apple suppliers, but it should be especially beneficial to those that have been unfairly beaten down due to highly speculative predictions.
8. Risk / Reward Ratio: Even with some analysts turning negative, based on highly speculative "ideas", the overall analyst risk/reward on price target still appears positive. As of the writing of this article the stock price stands at ~$19.24 with a median analyst price target of $24, a high price target of $27 and a low target of $16. This translates into ~25% upside based on median price target, ~40% upside based on the max. and ~(17%) max. on downside. In addition the lack of analyst consensus clearly illustrates there are wide and varying opinions here, and as such any investor would be wise not to pay too much attention to any analyst (including me), but rather dig deep and do your own due diligence to uncover the opportunity.
Conclusion
While no stock is without risk it seems when you look at the data, the recent 20% price decline and reversal in sentiment and stock movement is based more than anything on highly speculative "ideas"; that one component loss means multiple component losses without offsetting wins, future margins will be heavily compromised further, and CRUS will have little positive happen outside of this. As positive quarterlies occur and the impending demise of CRUS as an Apple supplier subsides, one would expect the Apple Tracking / Value Gap (shown above) to tighten and the stock to return to its previous value levels and tracking trajectory.
Disclosure: I am long CRUS, AAPL. I wrote this article myself, and it expresses my own opinions. I am not receiving compensation for it (other than from Seeking Alpha). I have no business relationship with any company whose stock is mentioned in this article.