(Editors' Note: This article covers a micro-cap stock. Please be aware of the risks associated with these stocks.)
My Top 5 Picks for 2013 outperformed nicely. I'm happy to make these lists until that is no longer the case. Below are the results:
S&P 500 returned 13.41% over the same period.
S&P 500 has returned 25.23% over the same period (thus far).
I continue to use the S&P 500 as the benchmark because in 2012 I picked 2 constituents, one from the TSX 60, and then 2 midcaps. In 2013 I again picked 2 constituents, 1 Chinese large cap listed on the NASDAQ, a South Korean micro cap also listed on the NASDAQ, and then 1 midcap. I could try to do a blended benchmark but the result would be less meaningful. For the past few years the S&P 500 has obviously been the hardest index to beat, so I will continue to use if until a major developed market has a better year. If the TSX has a monstrous 2014 (who knows) and I miss out, then I will use that as the benchmark for 2014's Top 5.
A couple notes regarding 2013's list. The only company I never bought (unfortunately) was Baidu (BIDU) - it moved too quickly on one report essentially whereas the others crept up slowly. I sold American International Group (AIG) in early April $40s (left some on the table there for sure!), GM (GM) at $37 in late July, and I traded Gentex (GNTX) so my cash return was far less than the 80% it posted. Gravity (GRVY) I suffered on for sure and that's part of the nature of these lists - a highly concentrated basket of high reward-risk companies, where diversification comes from the themes they represent as opposed to the # of picks. Obviously I want to get at least 3 of the 5 correct, but even if I don't, as was the case in 2012 where only 1 was a homerun, 1 was good, and 3 were underpeformers, the net effect is still outperformance. It sort of builds on the VC model of having your winners pay for your losers, the key is to make sure ahead of time that if good things happen and your bull case if born out, the upside isn't 10%, it's multiples of that.
So here are my Top 5 Picks for 2014. I've kept the comments brief as I encourage you to do your own due diligence, and I've given credit where credit is due (I steal ideas often and encourage you to do so as well):
1. Lindsay Corporation (LNN)
I originally discovered this fantastic company from Kerrisdale Capital which posted its thesis as an Alpha-Rich article on Seeking Alpha (here) which is also available on their website (here). I'm not going to steal their thunder but to summarize the key points: this is a highly profitable almost-pure play on irrigation that operates in essentially an oligopoly with Valmont (NYSE:VMI), being the more focused of the two and slowly stealing market share from this industry #1. It has a reputation for technological innovation and more importantly a dealer network that is hard to replicate and incredibly important to farmers that invest in these systems with payback periods of up to 15 years. Oh and Howard Buffett is on the board and was just renewed for this Omaha-based company. Hopefully he gets dad to take another look (he undoubtedly already has).
It has been used as a proxy for the price of corn (which has been decimated this year) and consequently has over 20% of its float short. If you go look at other companies of this size with that kind of short pressure, they are almost always in financial distress or in a secular industry decline. This company is debt-free in a fantastic growth market, and quite frankly they are the good guys! They're trying to help feed people - they're not cutting down forests or marketing drugs to kids; they're helping feed more people.
The debate about corn is an issue I've looked at carefully and so has Kerrisdale. The first chart below shows the visual correlation, and I've calculated correlations as low as 70% but as high as 95% depending on the method used. If the price of corn continues to be slaughtered this company will have a tough time, if it muddles through at current prices - the market has more than priced it in, if we see a rebound, this company will do incredibly well. To me it's a good reward-risk and I take comfort in knowing that Jeremy Grantham (of GMO LLC) agrees with me that corn has an implied 1 in 14,000 probability that the commodity is NOT going through a bullish paradigm shift (second image).
The stock popped a bit yesterday on news the Gabelli & Co initiated coverage with a Buy rating and price target of $110. Kerrisdale thinks it's closer to $120. I don't have a set PT but feel extremely confident that this won't be a $1B company for much longer.
2. EMC (EMC)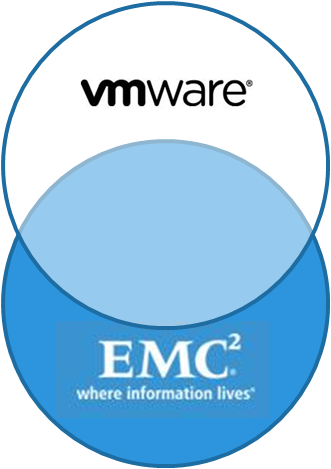 Not too much to say on this one. Extremely cheap and reminds me of eBay (EBAY) a couple years ago where the legacy business was restricting the multiple and then people woke up and said, "hey, this PayPal thing is pretty cool eh?" The market has already done this with VMW virtualization and cloud infrastructure) which is trading at over 22x fwd earnings compared to EMC at 11.5x, which would make sense if EMC didn't own almost 80% of it. It has significantly underperformed and is probably being lumped in the same camp as IBM (IBM) even though it has double its share of the external storage market and is the leader. They lock up pretty hefty contracts with S&P 500 corporations and this may be an issue of visibility to the next cycle especially given all the new options companies have for storing and analyzing their big data. There are a ton of smart people looking at this and arguing what happens next, and I don't know the first thing about it, but I do think this is a very good gamble and has all the signs of an undervalued company. It should be trading closer to $29 a share. All of this information was pitched as part of the Investors of Tomorrow Annual Stock Pitch Competition which I've been involved with for 3 years. The group that pitched EMC came 2nd and did a fantastic job and I'm happy to send you their deck and/or put you in touch with them if you are interested in hearing more.
3. Difference Capital Financial (DCF.TO) (OTC:TNTHF)
Bay streeters will know this one and I would be surprised to see any American recognition. For the latter please be introduced to Michael Wekerle with this old article describing his time building GMP (here) and for all still interested, please see his latest interview on BNN as he builds his new firm Difference Capital (here) as well as a detailed piece in Toronto Life (here).
So why would you want to invest alongside the guy with the, "balls of a cat burglar" to cite the first article. Well DCF is an interesting play that has been decimated this year despite rapid growth in its ability to raise financing at a reasonable cost (40% is partner's capital, Wek being over 26%, paper at 8% recently) and operates in the sweet spot of the VC market according to a lot of research on historical returns based on size/revenue data for startups (here). If you go to the 4th page you'll see that late-stage and expansion have 20yr+ returns that lag early and seed stage but that they've been far more consistent and stronger over the past decade and in more recent time frames. This may be in large part due to the evolution of startup investing since the 90s in particular.
Wek comments on this in his BNN interview and says something that caught my attention pretty significantly: that 10yrs ago the Canadian index was 50% tech and 2% commodities and they have now reversed today. I think most know this intuitively but it's great to be reminded. If we think about where growth is going to come from and where money is going to flow into over the next 5-10 years it's going to continue to be in TMT and the Wek has positioned himself with a good team to capitalize on this - there's not been a massive land grab among bigger players in VC in Canada yet and they will have the chance to leverage their respected reputation into first-access, in some cases, to premiere late-stage deals.
They have cumulative losses with tax value of $0.23/share and they calculate their NAV as being about $3.43 a share. If you assume a 10% rate of return on average across their stated capital employed, which is not high for this area, regardless of discounting risk and putting a 14.5x multiple on that you get to $4 a share. That's assuming they don't put more money to work, and they're only in their first real year of investment so that would be wrong to assume. So at $2.40/$2.50 a share the market is putting a pretty steep discount on this one. It's not a sure thing at all but given that shares were over $4 in May, it's entirely plausible to see them there again soon. He was also involved in a scandal unrelated to the firm or investing for that matter and it has impacted his credibility to some extent. I'm not going to discuss it but if that is at play in the valuation at all then that should be interpreted as a buying opportunity. The shares recently graduated from the TSX venture to the TSX and Wek disclosed buying some more shares in a block at $2.50 only a few days ago (here).
4. Sears Holdings Corp (SHLD)
Am I confident in this one? Not all that much. Is it pretty terrifying to put your money into a company chewing up cash like skittles and run by a madman like Eddy Lampert? A little. Do I have much faith in his track record or the changes he's tried to implement? Not a ton. On the other hand I do have a ton of respect for Bruce Berkowitz and love the way he looks at investing. He's been batting basically 100% for this bull market and just seems to be dialed into what the US is going through and placing his bets accordingly. I don't have much to add on top of the fantastic research done by Bishop Research and Analytics (here). The one chart I've gone back to probably a hundred times is from Berkowitz' case-study seen below:
As well as the data he provides on ownership/leasing. The Bishop research implies that this could be a 4 bagger to $18-$20B market cap using conservative inputs on a real estate valuation. I have no idea when or how this would unfold except to say that for this company to have 55% short float, be making progress on its cap structure every quarter, and yet have ESL (Lampert) be having record redemptions to me suggests that we're hitting a peak in fear while the stock hasn't broken through its support at $40. I think if you're accumulating it here your cost basis is better than Berkowitz and your time frame needs to be in excess of 18 months. Even though I'm trying to pick what outperforms in 2014 (not 2014 and a half!) I'm still willing to give this a try. Fingers crossed for sure.
5. Berkshire Hathaway (NYSE:BRK.A) (BRK.B)
This is weak and cop out but whatever! I honestly looked everywhere to try and find something of good quality with a bull case I could buy into and couldn't whip up much. Below is a list of companies that came close but no cigar:
Weight Watchers (NYSE:WTW) very cheap, decent quality, but hard to see how they right the ship.
General Motors thought about including it again this year as it still as further upside but for the same reason I sold AIG - the US government is now out, thus the dynamics of the trade have changed. As well, it is now over-owned by hedge funds and my worry is that this marks a time to be contrarian and not a time to follow the herd.
General Mills (NYSE:GIS) I love this company. It is very fairly priced but in a market where you can't find much I would prefer this to many companies 9 times out of 10 and still think it could be re-rated higher given its quality. See my views on it here.
The Buckle (NYSE:BKE) a Nebraska retailer with an unbelievable track record and almost unparalleled profitability. I've been interested in it for a while but the valuation looks pretty fair at the moment and I've had a tough time discerning what exactly is the nature of their competitive advantage (though quantitatively there's little doubt in my mind that it has one).
Sirius XM (NASDAQ:SIRI) love the growth, don't think the multiple is overbearing at all especially from a free-cash flow generation perspective they really don't need to invest that much incrementally yet they're still a solid play on the auto-renaissance in the US. What discouraged me was a call to a friend who used to bring their Sirius XM device everywhere when they were changing cars and on the road for long trips, but he said he rarely uses it anymore given all the free options (Songza, 8tracks, etc.) and is probably going to cancel his subscription. One review, I know, but enough for me to take a pass.
DirectCash Payments (DCI.TO) (OTC:DCTFF) having worked in the ATM industry I'm confident that a company with the quality and network that DC has isn't going anywhere for a long time and all the hype about mobile payment platforms and the "death of cash" has been incredibly overhyped. That being said, on a zero-growth basis the valuation gave me a reasonable range with 45% upside and about 10% downside. That's a good r:r and I would recommend it to some but at this point it doesn't make this year's Top 5.
It wanted to mention some of the other firms I looked at just to show you that it was not my intention to put Berkshire on this list. I don't love seeing it in hedge fund portfolios because to me it suggests a lack of creativity. That being said, I do think we're at a point where the shares are undervalued relative to their normalized earnings power over the past decade. I calculate downside (for the B shares) at $99, base case of $152, and a bull case of $162. That may sound ridiculous but I'm very confident in those numbers. They are actually very easy to value and guys like Whitney Tilson have PTs that are very similar to my base case.
Yes Buffett and Munger are old, but given the diversity of their individual holdings as well as the investments Combs and Weschler have made [some of which, like DirecTv (DTV) and DaVita Healthcare Partners (DVA)] I think are brilliant and almost put the former on this list) I think Berkshire has a very visible 2-3 years of success and a reasonable chance of another decade, therefore making it perfect for this list.
Conclusion
In conclusion I'd just want to say that one of the best lessons I've ever been taught came from taking some music lessons as a kid. I wanted to be able to create new licks and write my own songs well before having the required skill. I think this carries over to investing in realizing that no one (not even Buffett) has enough hours in the day to be an expert and research every company out there. So instead of hiring people or paying for expensive research, it just makes sense to follow some gurus and always be open to new possibilities.
Remember to do your own due diligence and happy holidays!
Disclosure: I am long LNN. I wrote this article myself, and it expresses my own opinions. I am not receiving compensation for it (other than from Seeking Alpha). I have no business relationship with any company whose stock is mentioned in this article. I may initiate a position in any or all of the companies mentioned. Please always do your own due diligence.