By Brad Zigler
Well, you've got to give the American Petroleum Institute credit: It was pretty much on the money with its number. It just got the signage wrong. The industry-supported API forecast a 3.1- million-barrel drawdown in domestic crude oil stocks—the largest decline in nearly two months—while sell-side analysts called for a 1.9-million- to 2-million-barrel build.
The U.S. Energy Department reported inventories actually rising by 3 million barrels this morning, along with a 900,000-barrel decline in gasoline stocks. The API had predicted a 1.7-million-barrel increase in gasoline supplies vs. Street estimates for a 400,000-barrel build.
The government also reported distillate fuel stocks decreasing by 600,000 barrels, less than the 800,000-barrel drawdown expected by analysts and well below the API's 1.6-million-barrel call.
Refineries operated at 81.2 percent of capacity, according to Energy Department figures, up sharply from the previous week's 79.1 percent utilization rate.
Government data also show gasoline demand down 0.3 percent from year-ago levels, while consumption of distillate fuels is off by 6.8 percent.
Trading Data
This week, crude prices gave up 2 percent, while gasoline slumped 2.2 percent and heating oil lost 1.8 percent. Margins for gasoline-rich 3-2-1 refiners, at 13.6 percent, bettered those obtained by distillate-heavy 2-1-1 operations by more than 100 basis points.
NYMEX Product Cracks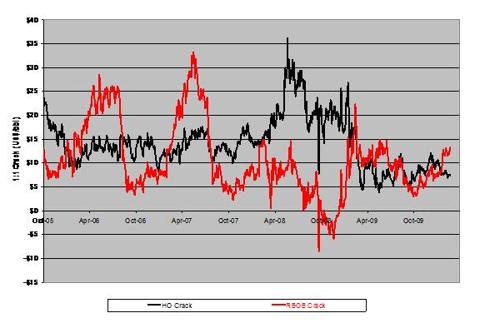 West Texas Intermediate crude cheapened in relation to the heavier North Sea Brent grade this week. WTI's premium was trimmed from $3.01 a barrel to $2.35.
The NYMEX three-month roll came in from $1.42 a barrel last week to $1.18 this week. Average daily volume slipped 7 percent to 561,100 contracts, while open interest eased 3.8 percent to average 1.29 million contracts.
Crude oil prices were weaker in the overnight market Wednesday, as profit-taking rolled over from Tuesday. Fresh short selling was also noted yesterday. The April NYMEX contract has cleared and retested the 62 percent retracement level for its January-February decline. Support can be expected at the contract's 10-day moving average of $79.17, while resistance rests at Monday's $80.78 high. Bulls are eyeing the $80.70 level, a congestion area from last year.
Author's Disclosure: none