DryShips, Inc. (NASDAQ:DRYS) is a company which provides mostly water based transportation for all kinds of cargo. From DryShip's website:
DryShips Inc. is an owner of drybulk carriers and tankers that operate worldwide.

Through its majority owned subsidiary, Ocean Rig UDW Inc., DryShips owns and operates 10 offshore ultra deepwater drilling units, comprising of 2 ultra deepwater semisubmersible drilling rigs and 8 ultra deepwater drillships, 3 of which remain to be delivered to Ocean Rig during 2013 and 1 during 2015.

DryShips owns a fleet of 42 drybulk carriers (including newbuildings), comprising 10 Capesize, 28 Panamax, 2 Supramax and 2 newbuilding Very Large Ore Carriers (VLOC) with a combined deadweight tonnage of approximately 4.4 million tons, and 10 tankers, comprising 4 Suezmax and 6 Aframax, with a combined deadweight tonnage of over 1.3 million tons
Ignoring the checkered past of the company, where it once traded at a far less diluted clip of over $100 share, the 6 month chart seems to be promising. In the past 12 months, DryShips has been up over 100% - astronomical returns for shareholders who were in when we rolled into 2013.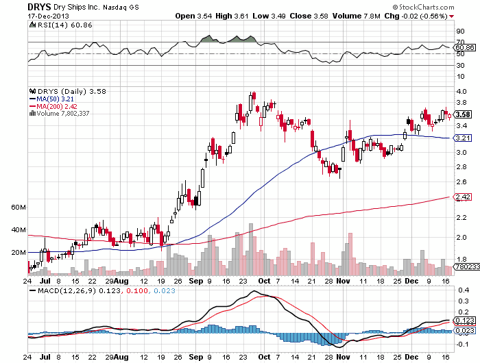 DryShips had gotten off to a stagnant start in the fourth quarter of 2013, based on a mixed Q3 earnings report. However, since early November when that took place, they are up over 30%.
The Baltic Dry Index is an index that provides, according to the Baltic Exchange, "an assessment of the price of moving the major raw materials by sea. Taking in 23 shipping routes measured on a timecharter basis, the index covers Handysize, Supramax, Panamax, and Capesize dry bulk carriers carrying a range of commodities including coal, iron ore and grain."
DryShips has been notorious for tracking the Baltic Dry Index, as you can see by comparing the two charts. In looking at the handy chart I've provided below, you can see that the Baltic Dry Index is up, paralleling the bullish move in DryShips - and seemingly continuing to point towards bullish sentiment going forward.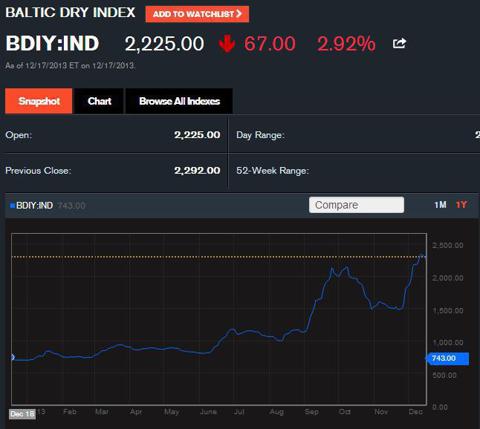 The bullishness doesn't stop with the performance of the past years - many think this run up is an allusion to a coming major turnaround in the dry shipping market, after the entire industry pulled itself out of a major recession in 2008, and a poor last few years.

In other bullish sign news, DryShips announced earlier in December that they would be holding off on an equity offering that was to take place - one that would have cost shareholders money in the form of dilution.
While the company remains in shaky territory from a cash standpoint, hanging its equity offering on the shelf shows that the $20 MM that the company had already raised could potentially be enough to support operations until a sector-wide turnaround.

I am bullish on DryShips from here on out. As a company valued below its book value in the midst of a coming dry ship turnaround, it's worth the risk to stake a long position in DryShips.
Additionally, if you're looking to take advantage of a bullish move in dry shipping, you can look at other dry shippers like Diana Shipping (NYSE:DSX) and DryShips' subsidiary Ocean Rig (NASDAQ:ORIG).
Disclosure: I have no positions in any stocks mentioned, and no plans to initiate any positions within the next 72 hours. I wrote this article myself, and it expresses my own opinions. I am not receiving compensation for it (other than from Seeking Alpha). I have no business relationship with any company whose stock is mentioned in this article.