Shares of Comtech Telecommunications (NASDAQ:CMTL) have been on a tear since October, which comes on the back of a series of earnings beats and increased buybacks and dividends. However, shares are still up only 25% over the past twelve months, which is in line with the S&P 500. Its market cap of only $525 million helps make it one of the telecom's underfollowed gems, with only two articles on SeekingAlpha over the in the past two years and only two analysts present on this month's earnings call.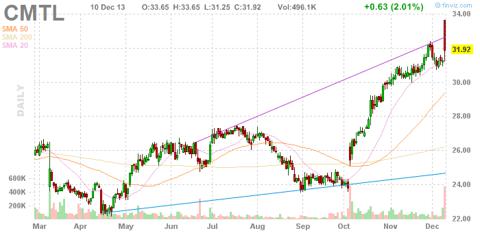 A telecom leader poised to break out
Comtech operates in three separate, but complementary segments, telecommunications transmission, RF microwave amplifiers and mobile data communications. What we really like is that Comtech is the technological leader in its operating segments. Highlights include:
Number one position in SCPC satellite earth station modems
Number one position in over-the-horizon microwave systems
Leading provider of TWTA amplifiers for communications applications
Leading provider of solid-state, high-power broadband amplifiers
The real story is that the company has quietly turned into a turnaround story. Revenues for fiscal 2013 came in nearly 60% below its 2010 all time high. That comes as the company has seen a sharp pullback in U.S. government spending and as the company looks to reposition itself for higher growth opportunities.
The revenue slide from 2012 to 2013 was driven by the mobile data communications segment, which saw sales decline by 66% in 2013 Y/Y. This comes as Comtech continues its pullback of sales of its MT and BFT-1 products to the U.S. Army. However, there are positives and this is all part of its restructuring plan that it introduced back in 2012 to wind down its microsatellite product line and cease selling microsatellite products.
The winding down of sales to the U.S. Army have been the biggest drag on sales, with mobile data communications sales going from nearly $250 million in 2011 to just $29 million in 2013. Now, mobile data communications makes up just 9% of sales, versus 40% in 2011. This has forced the company to turn to faster growing international markets for more revenues, while also greatly reducing its exposure to the U.S. government.

Despite earnings and revenues being at decade lows for fiscal 2013, investors are beginning to wake up to the long-term growth prospects, hence the reason for the recent jump in the stock price. However, we feel that overall, Mr. Market is still underappreciating Comtech. Analysts expect Comtech to grow EPS at a 35% five year CAGR, well above major peers.
While defense department demand remains questionable, Comtech is still invaluable to the sector
Although it's repositioning its segments for higher growth, the company still has exposure to the U.S. defense markets. 2011 revenues from the U.S. government made up 60% of total revenues, and in 2013 it was down to 35%. However, Comtech remains invaluable to defense departments, particularly with the U.S. military and its war operations in Afghanistan and Iraq. The U.S. military relies on Comtech's information and communications technology to provide critical advantages in battlefield and for support operations.
Situational awareness is the knowledge of the location and strength of friendly and unfriendly forces during battle. This can increase greatly increase the likelihood of success during a conflict. That's one such advantage that Comtech's products provide tos to the military. The military uses satellite-based (including mobile satellite-based) and over-the-horizon microwave communications solutions to span distances that normal radio communications, such as terrestrial-based systems, are unable to cover.
Comtech's solutions have been installed on a variety of U.S. military vehicles including Abrams tanks, Bradley Fighting Vehicles, helicopters such as the Apache, Black Hawk and Chinook and High Mobility Multipurpose Wheeled Vehicles. When equipped with this technology, soldiers operating these vehicles are able to be continually tracked and, at the same time, are able to maintain communications with a command center and fellow soldiers in the field.
However, with all that said, the problem is that the U.S. military is looking to scale back its operations in Iraq, and as a result, we will likely see reduced demand for communications systems from Comtech. However, we still see the military as needing to keep their communications systems up-to-date with the latest and we also see demand from other countries that are looking to beef up their military communication systems.
On the positive side, outside of warfare, there's demand for Comtech's mobile data satellite transceiver products that can also be used to facilitate communications in the event that natural disasters or other situations, such as a terrorist attack, disable or limit existing terrestrial communications. In the past, the Army National Guard has purchased mobile data communication products to better prepare for and react to disaster recovery operations at the local, state and national levels.
Market demand is still strong in an unlikely place
The demand for reliable communications systems is rapidly rising, and is poised to continue increasing over the long-term. This is particularly true for governments, which need the systems for their commercial and defense purposes, and developing countries will drive demand due to their need to upgrade systems. This is where Comtech comes into play.
Comtech's satellite-based and over-the-horizon microwave technologies provide affordable and effective solutions, whereas land-based networks are more costly. This is true for countries with large geographical areas and uneven terrain. That means that Comtech's solutions will also be needed in emerging markets, particularly Africa. To date, the largest single end-customer for Comtech's over-the-horizon microwave systems has been a North African country.
Over the past two fiscal years, Comtech was awarded approximately $110.0 million of business (a big deal for a company that generates just under $400 million per year in revenue) to design and furnish a telecommunications system for use in the North African country's communications network. To-date and over the course of the past 15 years, Comtech has been awarded over $340.0 million of business related to this end-customer. CEO Fred Kornberg discussed this customer on the company's earnings call.
"There are also additional large opportunities with this end customer that we believe will materialize in the years ahead. And more importantly, we hope to duplicate this type of relationship with other countries in the next few years."
Granted, there is some level of customer risk related the size of the contracts (related to the percentage of Comtech revenues they make up) and geopolitical risk, the North African countries are generally more developed than the rest of sub-Saharan Africa.
Additional market demand is also coming from communications providers that are required to invest in new and updated satellite-based transmission systems in order to maintain the quality and availability of their services. Their focus is also on the bottom-line and Comtech's solutions increase the efficiency of their networks and reduces operating costs at the same time.
Transitioning to high growth revenue opportunities
Gaining more exposure to countries, such as Africa, is just one move to offset the expected slowdown in U.S. government spending. As a result, international sales now make up 50% of revenues as of 2013, compared to 30% in 2011. Although this transition has come, in part, out of necessity, it's still a long-term positive, regardless.
We believe that the biggest overhang for the stock, and what has kept investors away from Comtech, is the reduction in defense spending by the U.S. government. The good news is that the most significant of these cuts have already occurred. It is because of these cutbacks that Comtech is a completely different company today. Here is the effect defense spending cuts have had on Comtech.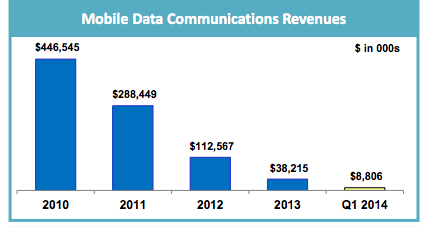 Source: Company Presentation
Again, as you can see, what was once a $446 million a year business in 2010 supplying mobile data communications to the U.S. military is now a $38 million a year business. In three short years, the mobile data communications segment is producing $408 million less in revenues. Yet, Comtech has survived, repurchased shares and now has a rock solid balance sheet that it can use to make to further drive growth.
As mentioned, Comtech just completed the repositioning of its mobile datacom segment. The company reduced headcount from 1,484 in July 2010 to 1,035 in July 2013. SG&A expenses have been reduced 35% since 2010. All in all, we're very pleased with the progress the company is making. The headcount should help the company get margins back in line with historical levels. SG&A was up to decade highs in 2012 and 2013, eating up nearly 20% of revenues. Headcount reductions and other expense cuts should help get that number back in line with historical standards of around 16%, ultimately helping rightsize operating and net margins.
Thanks to a more contract wins and margin expansion, Comtech recently guided its FY14 to be better than expected.

Source: Company Presentation
We see several reasons why Comtech is guiding higher. A big reason is that there is currently an embedded base of 250,000 modems. The fact remains that many of these modems need to be upgraded. The two products that will drive sales in this segment are the CDM-760 and SLM-5650A modems. The CDM-760 modem is designed to be the most efficient, highest throughput, and point-to-point trucking modem available. The SLM-5650A modem is a rugged military modem with FIPS 140-2 security and an advanced network processor.
During fiscal 4Q 2013, the company posted the highest backlog of the fiscal year, coming in at $180 million. The company will also benefit from contracts for its over-the-horizon microwave systems. Comtech will benefit from its 3-year $58.6 million contract and 4-year $57.4 million contract to design and supply over-the-horizon microwave systems and equipment for use in a North African government's communications network. CFO Michael Porcelain discussed this on the company's earnings call.
"Based on our expected performance on both of these contracts and other contracts currently in our backlog, as well as other contracts that we anticipate receiving, we expect net sales for this product line to be significantly higher than the level we achieved in fiscal 2013 with higher sales in the second half of fiscal 2014 as compared to the first half of fiscal 2014."
Cheap valuation, share buybacks and dividends make Comtech compelling
To date, the company has returned approximately $450 million to shareholders. Of this, $379 million has been through share repurchases and $70 million in dividends. The company currently has $346 million in cash and $200 million in 3% convertible senior notes that may be redeemed in May. The company also has an untapped line of credit to $100 million. Nearly $22/share in cash, or 70% of its market cap. Its net current asset value per share makes up nearly 50% of its market cap.
Comtech also pays an annual dividend of $1.20 per share for a dividend yield of 3.8%. Comtech just raised its share repurchase authorization from $50 million to $100 million. There's currently $71 million left on this repurchase program.
One of the key drivers of the share price has been a strong of earnings beats. Comtech has beaten estimates in each of the last four quarters and done so by a wide margin.

Source: Yahoo! Finance
With the help of its robust backlog and accelerated expense reduction, earnings growth is expected to gas pedaled over the interim. While the company expects EPS for FY14 to come in between $1.12 and $1.25 (which is 21% Y/Y growth from 2013) , analysts expect the company to post EPS for FY15 of $1.72, with estimates ranging from $1.56 to $1.86. This puts shares trading at only 20x FY15 earnings.
As far as valuation goes, we see that the company is trading in line with a couple major peers on an EV/EBITDA basis, but the most notable thing is that Comtech is expected to grow EPS well above its major comps, except VSAT, which trades well above Comtech anyway.

Its larger competitor ViaSat (NASDAQ:VSAT), which fellow SA contributor Mike Arnold discussed in "ViaSat: A Wonderful Business That Can Be Bought For A Bargain Price", isn't quite as compelling from a value perspective as Comtech. ViaSat at trades 40x next year's earnings estimates. Meanwhile, its EV/EBITDA multiple is 20x. ViaSat's balance sheet is also not as attractive as Comtech's. ViaSat has only $67 million in cash and $621 million in debt, compared to Comtech's net cash position of $156 million.
In looking at the above comps, we believe a more justified P/E for Comtech is 25x. At 25x forward earnings, Comtech's forward PEG ratio would be 0.75, which is where VSAT and GCOM currently trade. HRS and GILT trade well above this. In any case, a 25x multiple on 2015E EPS suggests the stock should be trading at $43 in just over a year and a half, or 35% upside.
Digging deeper, Comtech trades in line with HRS, GCOM and GILT on an EV/EBITDA basis, despite having an expected growth rate that's over double the three's average. What's more impressive is that even if we don't see any multiples expansion in its EV/EBITDA (meaning it will trade at 7.7x for fiscal 2014), using 2014E EBITDA of $57 million, the upside is still to over $36.
Bottom line
Comtech is an underfollowed and undervalued play with a market leading position in each of its operating segments. We see modem upgrades and growth in over-the-horizon microwave systems as driving growth going forward, especially with the company now no longer reliant on U.S. military spending. Couple its shareholder-friendly initiatives and impressive upside potential, and Comtech is a solid turnaround play in telecom.
Disclosure: I have no positions in any stocks mentioned, and no plans to initiate any positions within the next 72 hours. I wrote this article myself, and it expresses my own opinions. I am not receiving compensation for it (other than from Seeking Alpha). I have no business relationship with any company whose stock is mentioned in this article.