Ford (NYSE:F) is pulling back in early trading on Wednesday morning as the company's CFO, Bob Shanks, is in the midst of offering a year end update to media and analysts. After Ford started the morning up about half a percent, it quickly pulled back and is trading red to the tune of almost 5.5%.
Two words: buying opportunity.
Nothing that was pointed out in the presentation this morning was catastrophic enough for anyone to start to give up on Ford's short term (through 2014) and long term (beyond 2014-15) prospects. This company remains in great position to be an investment vehicle that will return value to its shareholders as it continues its "rebirth". The market, unsure of Ford's recent trading, it taking some profits and engineering a chance for savvy investors to enter into a position in Ford.
Ford has returned, excluding dividends, 35.5% for shareholders over the last twelve months, and that's inclusive of the correction the stock is seeing today. You'd be hard pressed to find a Ford long that's been in since early 2013 that is not happy with their investment in the company. Still, the recent trading of the company (shown below) is likely be the culprit for having some trigger happy traders mowing down the bid today on news that isn't bad, but isn't amazing.
At the same time of the presentation this morning, Ford made several disclosures with regards to 2013 and 2014 guidance. From Ford's press release:
Ford expects 2013 to be one of the best full-year results in its history, with strong revenue growth, market share in all regions improved or equal to last year, total company pre-tax profit of about $8.5 billion, substantially higher Automotive operating-related cash flow than a year ago and a stronger balance sheet
2014 is expected to be another solid year and a critical next step in the One Ford plan as Ford launches the most vehicles in a single year in more than a century and invests across the business for profitable growth in the years ahead
Despite lowering its outlook for 2013, it's not to overshadow the amazing year the company has had - and the likely record year it is still going to have in 2014.
From Ford's own presentation, we see that they've done well to meet (albeit barely in some metrics) what they've been guiding. Ford gets a pass on not slam dunking these metrics based on the guidance due to the fact that the initial guidance issued was extremely bullish to begin with.
(All slides from Ford's presentation this morning)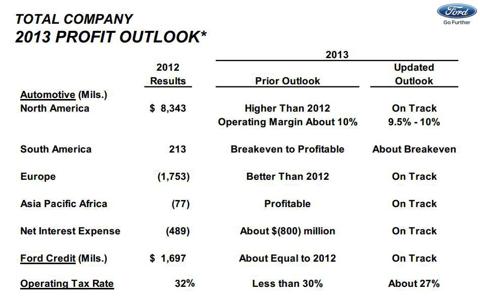 (Click to enlarge)
And, in the "patting myself on the back" department, Ford addresses below, in slide two, what I've argued to be the biggest bullish catalysts for the company: a European transformation and capital issued to shareholders. I argued in my last article that capital issued to shareholders is likely going to come in the form of a raised dividend in 2014. Ford and Bank of America (NYSE:BAC) remain my two biggest candidates for raising dividends in 2014.
Here's Ford's dividend history:
And I wrote in my last article:
Ford is hitting all of the bases and setting itself up for a blockbuster 2014 - I'm predicting a blowout year for the company based on the following catalysts, all potentially occurring in 2014:
Busiest production year in history.
Turnaround of European auto market.
Increase in dividends and/or another shareholder incentive.
Fusion giving Camry a run for its money as best sedan for 2014.
Continued positive macro economic trends in the U.S.
Judging from today's presentation, the company seems to have those same issues under the microscope for focus going forward. They will play crucial roles in what I still believe will be a blowout 2014 for Ford.
The company also worked wonders with its pension obligation over the past year, enticing former workers with a lump sum program that took almost half of the liability off the table for Ford.
Ford clearly is on the right track, with a big eye on the fundamentals - improving the cash position, taking advantage of a European turnaround, and improving shareholder value. I'll pay a much closer eye to Ford's 2014 guidance when we're well into the first quarter and the company decides it's going to update us then.
This news can best be described as, "we're still going to knock it out of the park in 2014 - just not 500 feet, as everyone thinks". Either way, a home run is a home run - and I'm sticking with and reaffirming my bullish sentiment on Ford into 2014. Enjoy this buying opportunity while it lasts.
Best of luck to all investors.
Disclosure: I have no positions in any stocks mentioned, but may initiate a long position in F over the next 72 hours. I wrote this article myself, and it expresses my own opinions. I am not receiving compensation for it (other than from Seeking Alpha). I have no business relationship with any company whose stock is mentioned in this article.