Transportation stocks are what started this rally as they moved strongly higher and flashed the buy signal to many market participants. Throughout this rally they have been one of the strongest constituent groups and have been quite accurate in predicting the growth of the US economy. In the past few quarters however there have been some cracks forming as bulk shippers, such as the railroads and truckers have continued to perform well while the courier/express services have run into headwinds as Corporate America has looked to cut expenses and done so via longer-term package deliveries as well as cutting back on international shipments.
Our view is that the transport stocks continue to lead the market higher in 2014 and as such we have a quick rundown of recent events and what certain analysts are now saying.
Chart of the Day:
Transports kicked off the rally in November of 2012 and we see no reason why their rally should end, even if the Fed decides to taper today.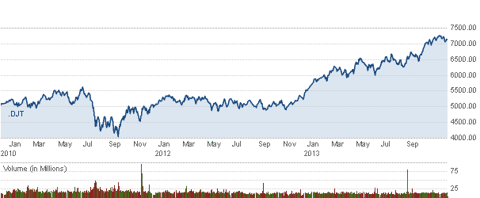 Source: CNBC
We have economic news today and it is as follows:
MBA Mortgage Index (7:00 a.m. EST): Est: N/A Actual: -5.5%
Housing Starts - Sept (8:30 a.m. EST): Est: 915k Actual: 873k
Housing Starts - Oct (8:30 a.m. EST): Est: 920k Actual: 889k
Housing Starts - Nov (8:30 a.m. EST): Est: 950k Actual: 1091k
Building Permits (8:30 a.m. EST): Est: 983k Actual: 1007k
Crude Inventories (10:30 a.m. EST): Est: N/A Actual: -2.941M
FOMC Rate Decision (2:00 p.m. EST): Est: 0.25%
Asian markets finished mixed today:
All Ordinaries -- down 0.14%
Shanghai Composite -- down 0.13%
Nikkei 225 -- up 2.02%
NZSE 50 -- UNCH
Seoul Composite -- up 0.45%
In Europe, markets are trading higher this morning:
CAC 40 -- up 0.82%
DAX -- up 0.97%
FTSE 100 -- up 0.19%
OSE -- up 1.01%
Earnings Miss...Again
Luckily a number of the hedge fund owners in FedEx (NYSE:FDX) shares have publicly stated that they were supports of Fred Smith, the company's CEO, because FedEx put together another weak quarter. The company missed their figures again, but did guide higher for the next quarter. There was a timing issue with the holidays and where certain key shipping dates fell as well as certain business events that the company could not predict, such as contract renewals.
Analysts were expecting EPS of $1.64 and FedEx reported EPS of $1.57 on revenues of $11.4 billion versus the consensus estimate of $11.43 billion. Total shipments are expected to rise for the year and so too is the company's growth, as FedEx raised its guidance for EPS growth for the year; a portion of that not attributable to operations but rather the company's share repurchase program.
Other Transports Looking Up
The other transports outside of FedEx are fairing much better. Yes, United Parcel Service (NYSE:UPS) is also having issues as it relates to customers 'shipping down' (the act of sending something via normal shipping rather than express) but it is largely viewed as a much more efficient entity. Both of those names will face headwinds until the corporate segment picks back up, but other transportation names still look good.
Our favorite is Union Pacific (NYSE:UNP) which is benefiting from numerous commodity bull markets in the central US, mostly agricultural products and oil and NGLs. Yes, added pipeline capacity might eventually put pressure on the company's margins, but right now rail is one of the ways producers are moving their oil production across the country. Readers should also look out for a rebound in coal shipments, something that should benefit not only Union Pacific but also Norfolk Southern (NYSE:NSC).
Swift Transportation has been one of the big winners of 2013 in the transportation industry. There are a number of analysts who have picked the company has their top pick for 2014 in the industry as well.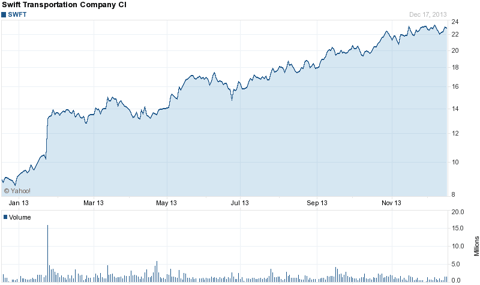 Source: Yahoo Finance
Another name we are seeing in many analyst reports and in the top picks for 2014 as it relates to transportation stocks is Swift Transportation (SWFT). The Arizona company is not only a trucking company and this is what many of the analysts see as a key catalyst for 2014 and beyond. Swift's exposure to other revenue streams with strong growth should insulate the company from future hiccups in the economy but also position it to sell services to other fleets and possibly be a consolidator in the industry. Managing a supply chain is key, and investors have seen what good supply chain management has done for the rails, the same could be true for trucking.
Disclosure: I have no positions in any stocks mentioned, and no plans to initiate any positions within the next 72 hours. I wrote this article myself, and it expresses my own opinions. I am not receiving compensation for it (other than from Seeking Alpha). I have no business relationship with any company whose stock is mentioned in this article.