(Author's note: This article is one in a series of articles I intend to publish over the final two weeks of 2013 in which I will review many of the companies I have written about over the past year in order to give an operational update to readers and determine if there has been any significant change to the original investment thesis. All companies covered in this will be ones I currently hold in my portfolio.)
Company Overview
Conrad Industries (OTCPK:CNRD) (referred to as "Conrad for the balance of this article) is a shipbuilding company that operates four shipyards located in the Gulf of Mexico. The company constructs a variety of vessels including tugs, barges, resupply vessels and ferries. These vessels are used in the energy industry and various other commercial maritime markets.
Conrad has a history dating back to 1948 and is run by founder J. Parker Conrad and his son John Conrad. The Conrad's and their immediate family continue to own significant portion of the business with a 47% ownership interest as of the end of 2012.
For a more in depth background on the company please reference my previous article published in November.
Operational Update
As expected, Conrad turned in another superb financial performance in Q3 2013 and topped it off by declaring a special dividend of $2/share. The company continues to pile up cash and ended the quarter with a balance of $60M. After we subtract out the $12M paid out as the special dividend we come to a net balance of $48M which constitutes ~25% of the company's current market capitalization. The company also continues to eschew any type of meaningful long term debt; combining this with the high cash balance makes Conrad's balance sheet one of the most pristine I have ever come across.
Another encouraging sign coming out of Q3 earnings is the record setting revenue that the company booked in the quarter. The company continues to invest a significant portion of their bountiful cash flow into increased construction capacity and this corporate investment is paying off with a growing topline.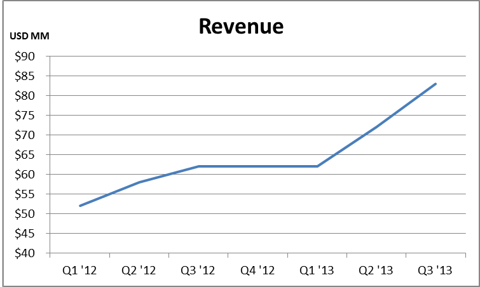 On a somewhat less encouraging note, we cannot fail to observe that the company's backlog has decreased from a Q2 ending balance of $185.6M to a $152.3M as of Q3. This 18% decrease in the company's order book could possibly be attributed to more selective pricing on the company's part given the high historical backlog - company management may be willing to sacrifice some volume to maintain higher margins.
While one data point does not make a trend, it does magnify the importance of Q4; investors will hope to see that the company is at least able to maintain current backlog levels. Should there be another decrease on the magnitude of Q2 to Q3 then this could be a sign that the industry is moving into a down cycle.
Q4 Outlook
I expect Q4 to look very similar to Q3 in terms of financial results. If we assume this to be true, below is what Conrad will end up with for 2013 financial results:
(USD, mm)

(Please note that we assume a $4M maintenance capex budget for the year. The company does not break out growth capex from maintenance capex so this is a best guess estimate based on company disclosures)
Obviously these are stellar results. However, despite all of the cash being generated the company may experience a net cash outflow in Q4 due to the aforementioned special dividend and the company's growth capital expenditure program. Conrad currently has a $22M approved capital expenditure program for 2013 and only $10M has been spent through the first three quarters.
Much of these expenditures are being used on a major expansion project at the "Conrad Deepwater" shipyard in Louisiana. This expansion includes adding an additional construction site to the facility along with refurbishing the existing building for manufacturing. If all goes well, these growth expenditures should result in an increase in company revenue upon completion.
(Conrad Deepwater Facility)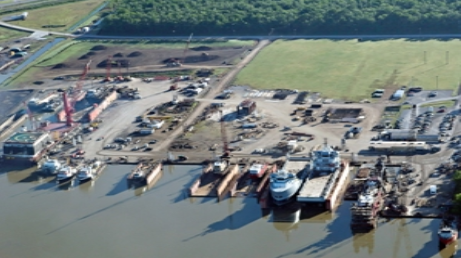 If we assume that the remaining $12M in the capital budget is utilized then Conrad will have a cash burn in Q4 of $24M against a projected free cash flow generation of $7M. Assuming that all balance sheet items remain static that brings us to an estimated ending cash balance of $43M; still an enviable position for a $220M market cap company.
(Updated estimated valuation, USD mm)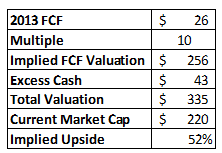 Finally, as we have discussed, Q4 will be a very important order generation quarter for Conrad. The company needs to prove that the backlog burn in Q3 was an outlier. In this matter, seasonality is on Conrad's side. For many companies selling big ticket items, Q4 is generally the biggest order generating quarter of the year for the simple reason that customers need to spend their capital budgets before the end of the current year.
Having worked in such a business in the past, I know firsthand that businesses and their customers will generally play a game of chicken up until the end of the year with each party hoping to get the best price. In the end however, the orders are generally agreed to as the business wants to book the order before the end of the year and the customer is usually highly incented to spend their fiscal budget.
The incentives behind a customer needing to spend their capex budget before the end of the year is best illustrated with an example. Imagine you are a purchasing manager for a large energy company and you have been given a budget for $20M to purchase supply ships and coming into Q4 you have only spent $10M. You will most likely work to spend the remaining $10M on additional ships before year end to ensure that you will receive the same $20M budget in the following year. Furthermore, if you were given a budget of $20M and only spent $10M it begins to appear that you are not doing your job. You cannot have that. The money must be spent.
With this human behavior in mind I am relatively confident that Q4 will be a solid order generation quarter for Conrad.
Risks
Move into a Down Cycle Environment: As discussed ad nauseam by now, Q4 will be a very important indicator with regards to understanding if Conrad is moving into a down cycle environment. Should this shift occur, Conrad will most likely be impacted with lower topline and bottom line results which will in turn result in a lower share price unless the company's earnings multiple adjusts higher.
Liquidity: Liquidity is always more a trading risk than an investment risk in my eyes unless investors are entering or exiting positions that are many multiples of the current trading volume of 6,189 shares per day. In general if there are any large downward price movements based on blocks of shares going on sale then this merely signifies an opportunity to buy shares in Conrad at an even cheaper level.
It should go without saying that the low liquidity of the company's shares has nothing operationally to do with the company. Nevertheless investors must be cognizant of the possibility of large price swings based on larger than normal buy or sell orders.
Conclusion
Despite its low liquidity and small capitalization, Conrad continues to be one of the largest holdings in my portfolio. The management team continues to have plenty of skin in the game, maintains an extremely conservative balance sheet, and pays itself little in the way of normal compensation thereby ensuring that their priorities are completely aligned with their shareholders. The special dividends that have been paid over the past two years are a testament to this alignment.
Combining this shareholder friendly culture with a business that continues to grow its ability to generate an exorbitant amount of free cash flow makes this a company hard to criticize. While I will be watching Q4 results closely to determine if there has been any dramatic shift in the company's business cycle, I will most likely be buying on any significant dips in the share price.
Disclosure: I am long OTCPK:CNRD. I wrote this article myself, and it expresses my own opinions. I am not receiving compensation for it (other than from Seeking Alpha). I have no business relationship with any company whose stock is mentioned in this article.