Philip Morris (NYSE:PM) operates in an attractive industry, which enjoys fat profit margins and healthy free cash flows. PM has consistently experienced low double digit growth and has returned significant cash flow to shareholders, despite a difficult global economic environment. PM has markets around the world, enjoying significant geographical diversification, with large exposure to emerging and developed markets. The company provides future free cash flow growth visibility and is likely to maintain its impressive shareholder return policy. The stock has remained an attractive investment prospect for income-seeking investors as it offers a solid dividend yield of 4.4%.
The ongoing year, 2013, has so far been a tough year for the company, as it underperformed its global tobacco peers. The underperformance can be attributed to a weaker-than-expected sales volume, higher taxes in some important markets and foreign currency headwinds. Also, the company recently lowered its 2014 earnings guidance, which led to a pullback in the stock price. The following table shows the stock price performance YTD for PM, in contrast to its global peers, including Altria (NYSE:MO), Lorillard (NYSE:LO), Reynolds American (NYSE:RAI), British Tobacco (BAT) and Japan Tobacco.



Source: googlefinance.com
In the last five years, the company has consistently experienced a double digit adjusted ESP growth rate and expects to experience a long term EPS (currency neutral) growth rate of 10%-12% per year. However, in the upcoming year, 2014, the company expects to experience a slow adjusted EPS growth rate of 6%-8%, 4% below its long term earnings growth target, because of sluggish economic conditions in Europe, price pressures in Philippines, pricing concerns in Japan, and acceleration of investment towards its Next Generation Product initiatives.
Lately, foreign currency exposure has remained in investors' focus, as the company guided that it expects currency to have a negative impact of $0.40 in the upcoming year's EPS. Earlier this year, PM revised its EPS guidance several times because of currency movements. As the company has significant foreign currency exposure, currency will remain a headwind for bottom line growth in upcoming years, due to the expected strengthening of the dollar. Also, PM's currency hedge against the Japanese Yen rolls off next year, which will have an adverse impact on the bottom line. The company is expected to experience flat reported EPS (including currency impact) for 2014.
Recent Volume Trends and Developments in Important Markets
- Russia
Russia is a key market for the company, as it is the world's second largest cigarette market and accounts for 9% of the company's total operating profit. Volumes in the country have been experiencing a decline in recent years because of consistent hikes in excise taxes. The trend of increasing excise taxes is expected to continue in the upcoming years and will have a negative impact on volumes; ad valorem excise tax rate in Russia is set to increase by 50bps to 8.5% in 2014. The company is expecting that because of the excise tax increase, volumes will decline by 9%-11% in 2014.
As Russia is an important market of the world, the company has been making efforts to increase its exposure and strengthen its market share in the country. Earlier this month, PM acquired a 20% stake in Russian distributor, Megapolis Distribution BV, for $750 million. The transaction is expected to complete in 2013. PM, currently, is the second largest company and has a market share of almost 26.5% in Russia, lagging behind Japan Tobacco who has a market share of almost 35%.
- European Union and Philippines
Difficult economic conditions are likely to prevail in European Union as consumer spending remains weak and unemployment remains high, which has been having a negative impact on PM's volumes in the region. In the long term, the company expects sales volume to decline by 3%-4% per year; however, lately the volume decline has accelerated as volumes are down almost 7.5% YTD. In 2014, the unemployment rate in European Union is expected to be stay around 11%, and the company expects the volume decline for the year to be between 7%-8%. As economic conditions in the region stay weak, it will hamper PM's volumes and negatively affect the stock price. The European Union is an important market for the company, as it accounts for 26% and 29% of PM's total revenues and operating profit, respectively. The chart below displays volume and unemployment trends in the European Union.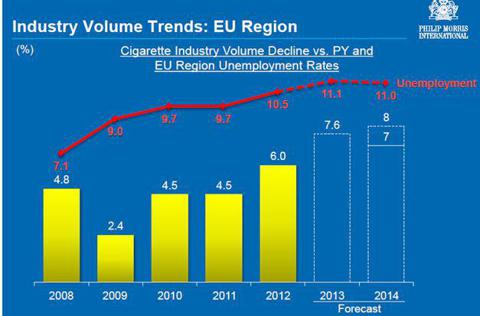 Source: PM Investor Presentation
The Philippines is another important market for the company, as the country accounts for almost 3% of global cigarette consumption (excluding the U.S. and China). Recent storms, an excise tax hike and underreporting of volume by a local competitor have been having a negative impact on the company's performance, and these headwinds are likely to prevail in the upcoming year. To strengthen its market share and bottom line results, the company recently filed a request with the Philippines Bureau of Internal Revenue to launch four low priced cigarette offerings. This step will help the company compete effectively with its largest rival, Mighty Corporation, in the country. However, I believe the ongoing concerns in the country will translate 2014 to be a tough year for PM in the Philippines.
Final Words
The company has been surrounded by a number of issues as of late, including excise tax hikes, a weak consumer spending environment and foreign currency headwinds, in several of its key markets, which is likely to have a negative impact of the company's earnings growth in the near term. Also, as cigarette volumes are declining for the company, I believe PM's alternate cigarette (Next Generation Products (NGP)) initiatives will be key to the company's long term earnings growth. Recently, the company announced to accelerate its efforts towards NGP, by increasing Capex and launching Platform 1 of NGP in 2015, as compared to the prior timeline of 2016-2017. NGP initiatives are important catalysts for the stock, and the success of these efforts will help fuel long term earnings growth. The ongoing issues will keep the stock price checkered in the short term, however, improving cigarette volumes and the success of NGP will have a positive impact on the stock price.
Disclosure: I have no positions in any stocks mentioned, and no plans to initiate any positions within the next 72 hours. I wrote this article myself, and it expresses my own opinions. I am not receiving compensation for it (other than from Seeking Alpha). I have no business relationship with any company whose stock is mentioned in this article.