Amylin Pharmaceuticals, Inc. (AMLN) and partner Takeda Pharmaceutical Company Limited recently announced that they intend to advance their obesity combination treatment of pramlintide and metreleptin into phase III studies.
The decision is based on encouraging 52-week results on the combination treatment from a blinded, placebo-controlled phase II extension study in which the combination succeeded in achieving the key target of sustained and robust weight loss.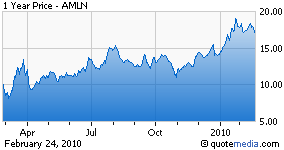 Results showed that patients who continued treatment with pramlintide/metreleptin for 52 weeks experienced sustained weight loss, while those on placebo regained almost all of their weight. The combination treatment was found to be most effective in patients with a body mass index (BMI) less than 35 kg/m2.
The combination treatment was generally well tolerated, with nausea and injection-site-adverse events being the most common side effects on initiation of treatment. Full results from this study will be presented at an upcoming medical meeting.
Meanwhile, Amylin and Takeda also provided an update on their development plans for another obesity candidate, davalintide. The partners announced that they do not intend to pursue further development of davalintide for the time being.
The decision is based on results from a phase II study which showed that the weight loss efficacy and tolerability profile of davalintide was not superior to pramlintide, and was inferior to the pramlintide/metreleptin combination.
While the decision to halt further development of davlintide is disappointing, we are encouraged to see that the pramlintide/metreleptin combination will move into phase III development.
Obesity is an attractive market that could be worth many billions of dollars. It is estimated that obesity affects over 400 million people worldwide. Moreover, obesity is linked to increased health risk of several medical conditions.
Given the huge unmet need in this market, the successful development of the obesity pipeline would help drive long-term growth at Amylin. However, we note that Amylin is not the only company seeking to develop a treatment for obesity. Companies like Arena Pharmaceuticals (NASDAQ:ARNA), Vivus Inc. (NASDAQ:VVUS) and Orexigen Therapeutics (NASDAQ:OREX) are all seeking to bring obesity treatments to market.
We currently have a Neutral recommendation on Amylin. We expect investor focus to remain on its key product, Byetta, and the approvability of exenatide once-weekly. A decision from the US Food and Drug Administration on exenatide once-weekly should be out by March 5, 2010.