Cisco Systems, Inc (NASDAQ:CSCO) dropped down closer to its price last year ($20.24 vs $19.74) after hitting $25 and $26 in the past months. The downfall continued even with the statement of Cisco Chairman and CEO John Chambers during the release of Q1 2014 earnings that the company's financials and strategy are strong, despite lower revenue growth than expected. The outlook is worse when we put the competitors in the picture. As we can see on the below graph, the stock prices of other networking giants Hewlett-Packard Company (NYSE:HPQ) and Alcatel-Lucent S.A. (ALU) are generally on an upward trend while Cisco hit record low in the past twelve months. The $15 billion stock repurchase program initiated by the company is a confirmation that this scenario is not likely to change. The repurchase program is served three things. It is a statement from the company that says it is still strong and that it will bounce back from its current state. It is also a way to lessen the number of stocks in the market and possibly make a gain when the conditions become more favorable. Lastly, it is a way to cushion institutional investors who hold 74.10% of the common stocks.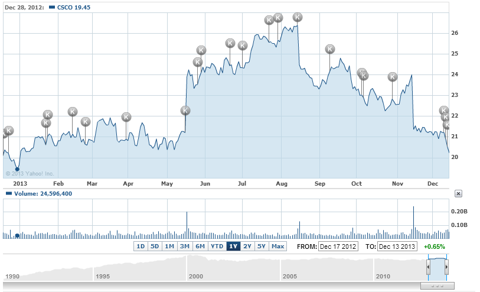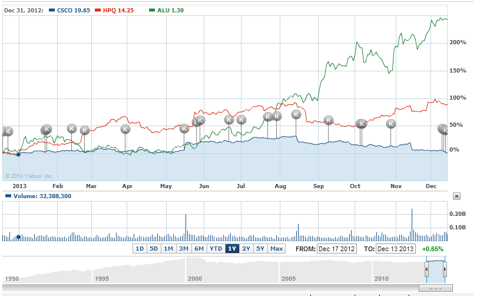 The company recorded a revenue growth of 2% for Q1 2014 versus last year but still resulted to a lower net income which is -4.6% of last year's. Among its eight product categories, Switching and NGN Routing contributed most to the revenue with 31% and 17%, respectively. The Services division also accounted for 22% of the total company's revenue for the quarter. The early months of 2013 was focused on closing acquisitions for Whiptail, Sourcefire Inc. and Composite Software, all of which are expected to further boost the company's innovative engine and profitability in the future.
Why I would HOLD on buying Cisco
A dropping stock price can cause either panic or celebration depending on the investors' strategy. For Cisco which has been providing products and services in the information technology industry since 1984, this will normally signal investors to celebrate rather than panic. The dropping stock price will be an opportunity to buy more and then profit for higher growth in the coming years. Cisco has an established name for providing high quality products and has recent acquisition deals which can fuel further growth. However, investing in Cisco needs to be done with some caution at this point.
The company has undergone a stock repurchase program and has recently cut down its long term revenue growth targets. This means that the company itself does not think it can solve its woes in the coming months. This also suggests that the stock price will go down further and is less likely have a rebound in a few months' time. The best that the stock repurchase program can do is to hold the price at a certain level but the price will still drop lower than $20. Cash flow from operations also dropped at $2.6 billion for the Q1 2014 versus $4.0 billion for Q4 2013 but it did not prevent the company from issuing dividends of $0.17 per share, totalling $914 million. This suggests that the company is serious about keeping its investors happy while it is cleaning up its mess.
What the Company Needs To Do Next
Amidst dropping stock price, investors are starting to lose trust that the company can deliver the value that they are looking for. The company, at this point, must be steadfast in delivering the lower targets of 3-6%. Hitting these targets will not cushion the stock price in the short term but will keep the long investors interested about the stock. The company has cited three main reasons for lowering the revenue targets including macroeconomic pressure, lower customer budgets and service provider market dynamics. All of these factors can be managed with good planning and strategy. Macroeconomic pressures are constant but certain exposures can be managed. Customer budgets on the other hand, do not really go down but are just reallocated to something else. The company should find out what it is or find a new customer niche to tap. Service provider market dynamics can be a little tricky since the company is already accustomed to its own way of providing its service. The company needs to find a way to find an opportunity in the complexity or work around it.
Disclosure: I have no positions in any stocks mentioned, and no plans to initiate any positions within the next 72 hours. I wrote this article myself, and it expresses my own opinions. I am not receiving compensation for it (other than from Seeking Alpha). I have no business relationship with any company whose stock is mentioned in this article.