Nuance Communications (NASDAQ:NUAN) is my favorite stock for 2014. Here I'll explore why I believe the bad news is behind the stock and why the future is as bright as ever.
Activist Onboard and On Board
Let's start with the obvious - Carl Icahn now owns 20% of the company. While this in itself is not sufficient reason to buy a stock, it's a good starting point. Further, an investor buying at current prices would be buying the stock at a 20% discount to Icahn's average price.
Interestingly some of the bad news now priced into the stock involves Icahn, that being that he does not seem to be pushing Apple or anyone else to buy the company for a quick flip. The most-of-the-year trading range between $18-$20 I believe reflected this speculation, and once it was tweeted by Icahn that he was in it for the long haul, the stock quickly dropped.
In the same tweet Icahn revealed that he had placed two people on the Nuance board, one being his son whom he credits with his Netflix success. This helps to remedy another piece of bad news priced into the stock….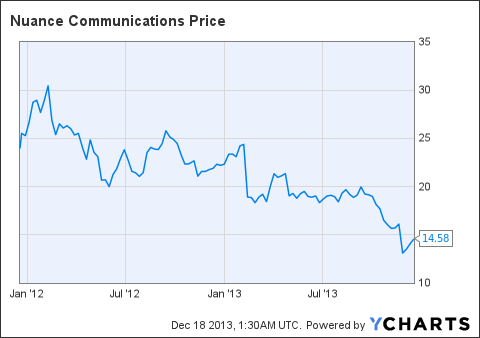 Executive Compensation
In a previous article on Seeking Alpha, For Investors To Stay, Nuance Must Cut CEO Pay, the author pointed out that in 2012 nearly half of Nuance's operating income was eaten up by executive compensation. Paul Ricci took home 37 million making him the 16th highest paid CEO that year. This all while the stock made its way from a high of nearly $30 two years ago to today's $14 level. The upside to this story is that shareholders will back Icahn in any effort to reign in this kind of comp which plays into my thesis of the bad news being priced in and bright days ahead.
Growth by Acquisition
On this point I will give Ricci some props. While many slam Ricci for a growth by acquisition strategy, I'll commend him for market dominance by acquisition. Nuance now sits in the enviable position of being on the forefront of a secular growth industry, and being the lead player from almost every angle. Nuance is poised for growth in healthcare, text to speech, speech to text, natural language understanding, clinical language understanding, voice biometrics, digital personal assistants, enterprise solutions, automotive, TVs, mobile devices, smart phones and more.
The bad news priced in here is the perception that Nuance wastes money on acquisitions, both in terms of the acquisitions themselves and the integrations costs thereof. Here again Icahn plays a role in leading the shareholder demand that the time for acquisitions is over and the current market dominance needs to now be capitalized upon. This would allow shareholders to no longer fret over the acquisition party, and focus instead on the benefits of the now-completed past acquisitions.
Revenue Transition
Just as a number of other software companies have or are experiencing, Nuance is transitioning from an upfront license revenue model, to a cloud based on-demand model, or SaaS. In the long run this is not a problem, but puts a dent in the numbers short term. This to me translates into a good company being temporarily on sale. This is not finally the point, however. The root problem here is that Nuance has not seen any organic revenue growth to speak of in the last number of quarters. This stalled growth has been reflected in many instances of downward guidance from one quarter to the next, which has ultimately sent the stock down in a big way on each occasion.
So if that is the bad news priced in, what's the upside that will turn that around? In a small way, it's the increase in on-demand services beginning to offset more and more the reduction in license fees. Another aspect is Nuance beginning to report a "bookings" metric that shows the growth in bookings of the on-demand contracts rather than the sole focus on revenues.
Far more important however is the wealth of opportunities Nuance has for entirely new revenue.
Voice Biometrics
In May it was announced that Barclays Wealth & Investment Management had deployed Nuance voice biometrics. In October it was announced that Barclays won the "Best Application of Technology" Award at the 2013 European Call Centre Awards as a result of Nuance technology.
The new process allows a bank or other entity to identify their customers through their voice alone. The process runs in the background allowing the customer service rep to get straight to the business at hand instead of spending time asking security questions. Barclays gave two rather stunning stats regarding the old system versus the new - one, that they saw a 90% reduction in complaints about their verification process - two, that the process was reduced from 2 minutes to 10 seconds.
Considering that this makes customers happy and saves time, it's not a stretch to see many institutions implementing this quickly. Additionally, voice biometrics has the potential to replace every security speed bump out there from pin numbers to passwords to security phrases and security questions. Any revenue generated in this domain would be new revenue, growing the top line for Nuance.
Voice Ads
In April Nuance announced Voice Ads. The first US based campaign to use the technology was Jet Blue in a campaign where users are taught to speak "pigeon." The interesting thing here is that voice ads can transition advertising from a one way conversation into a two way conversation, which is how sales works best. Think about any good salesperson, they begin with a question and engage. Additionally, it allows companies to collect data from customers, and potential customers, in many ways. While you or I may not immediately see all the possibilities, advertising pros are nothing if not creative.
Quoting Opera Mediaworks CEO Mahi de Silva, voice ads are a "natural step to how you can use the technology of smartphones and tablets. We're excited about voice, and we have a large number of campaigns that will be using this technology in Q4 this year."
Again, any revenue generated in the arena of voice ads is completely new revenue.
Conclusion
The market can be very shortsighted, and as a result can deeply discount very promising companies. I believe Nuance is being discounted for all the wrong reasons and the market will take notice in 2014. A combination of Icahn activism, new revenue streams, large growth potential from existing revenue streams, a new market outlook in terms of bookings growth rather than up front bulk payments, all look to be converging in the coming year.
Disclosure: I am long NUAN. I wrote this article myself, and it expresses my own opinions. I am not receiving compensation for it (other than from Seeking Alpha). I have no business relationship with any company whose stock is mentioned in this article.