Energy Fuels (NYSEMKT:UUUU) is a significant producer of uranium within the US and offers investors several unique attributes. It is listed on both the New York stock exchange and the Toronto Stock Exchange (EFR.TO).
Energy Fuels has two producing uranium mines located in Arizona, as well as the US' only uranium processing mill (located in Utah), six permitted mines that have been placed on standby, five permitted development projects and 22 additional exploration/development projects. It also has long term contracts to sell uranium at prices 60% above the current spot price and a substantial above ground inventory of uranium concentrate. In addition, Energy Fuels produces vanadium as a mining by-product which is primarily used to alloy steel.
My bullish thesis for Energy Fuels is derived primarily from five factors, which this article will discuss:
Favorable supply/demand dynamics within the uranium market suggest substantial price increases
Excessively discounted valuation, as Energy Fuels stock price is down 50% since August and down over 90% since its early 2011 peak.
Cash flow positive with healthy balance sheet
Favorable medium term contracts at a 60% premium to the spot price.
Insider buying
The Uranium Market is about to Head into Supply Deficit
For years the amount of primary uranium supply, uranium mined around the globe, has not been sufficient to meet reactor demand. This deficit has been made up for from above ground stocks. The HEU Agreement, also known as "Megatons to Megawatts" ends at the end of December, taking about 24 million lbs off of the market, or half the above ground supply. 2014 is forecast to go into supply deficit: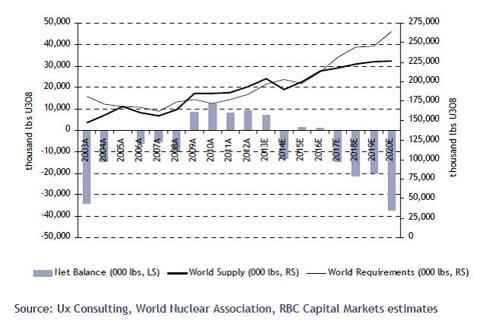 More detail on the coming supply deficit can be found in an article I recently published on Seeking Alpha titled "Two Near Term Catalysts to Push Uranium Prices Higher."
In addition, demand is growing with general trend for increased electricity consumption:
Excessively Discounted Valuation
The decline in the stock price of Energy Fuels has been precipitous and in my opinion, excessive.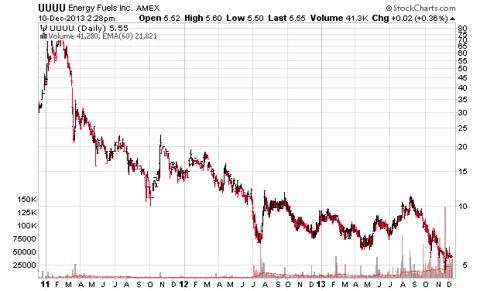 This has left Energy Fuels trading at a discount to book value and a discount to its US-based peer group.
| | | | | | |
| --- | --- | --- | --- | --- | --- |
| Producer/Developer | Share price | Enterprise Value (millions) | U3O8 M&I Resource (MMlbs) | EV/Resource | Price/Book |
| Uranium Energy Corp (NYSEMKT:UEC) | $1.86 | $160 | 32.4 | $4.92 | 2.34 |
| UR-Energy (NYSEMKT:URG) | $1.15 | $167 | 20.9 | $8.01 | 2.46 |
| Uranerz (NYSEMKT:URZ) | $1.15 | $97 | 15.7 | $6.17 | n/m |
| Uranium Resources Inc (URRE) | $3.39 | $67 | n/a | n/a | 1.6 |
| | | | | | |
| Energy Fuels | $5.40 | $112 | 88.8 | $1.26 | 0.75 |
(source: company presentation)
As the above table demonstrates, Energy Fuels trades at a substantial discount to its peers. Trading at only $1.26 of uranium in the ground is cheap on an absolute basis but is only 20% of the $6.36 peer group average. At 75% of book value, it trades at less than half the peer group average multiple of book value.
Further, I would contend that book value at Energy Fuels is understated. Inventories of $22 million are carried at the spot cost of uranium, presently $36. Energy Fuels has contracts running for another two years to supply uranium at $56, which puts the true value of those approximately $8 million or $0.40 per share higher.
Energy Fuels is Cash Flow Positive from Operations and Has a Healthy Balance Sheet
For the three and twelve months ending September 30, 2013, Energy Fuels generated cash from operations of $5,051 and $7,031 after changes in working capital and $2,858 and $2,199 before changes in working capital ($000s). While not cause for loud cheers, it is considerably better than each of the companies in the comparison table and the mid-tier mining sector as a whole. Energy Fuels has conducted two capital raises this year which leaves the company with $16.7 million of cash and $36.8 million of working capital as at 9/30/2013. Funded debt is modest, being a $22 million convertible debenture. Capex requirements have been modest; only $6.4 million was spent in the last 12 months as development expenditures on property, plant and equipment, which is roughly covered by operating cash. $12 million was spent on exploration, but this is a voluntary expense on growth, and can easily be cut to preserve cash. While doing two equity raises in a period of four months cannot please most shareholders due to the dilution it causes, it does leave the company well-financed and able to withstand some amount of continued low uranium prices.
Medium Term Contracts to Sell Uranium at Premium Prices
Energy Fuels has supply contracts in place to sell U3O8 at prices averaging $58.42 in fiscal 2014. This represents a 60%+ premium to the current spot price. These premium contract prices allow their two producing mines to produce and sell uranium at an expected profit. In addition, they can sell their already produced uranium inventory into the contract. Finally they can take advantage of the currently low spot prices and purchase spot uranium and sell it into the contract at a substantial margin.
Low Cash Costs; Good Strategy
Energy Fuels has put the majority of its mines on care and maintenance and is only producing at their two Arizona-based mines. In Q3, all of that production went to inventory so it is difficult to determine their cash cost for the quarter. However, the Q2 2013 MD&A reports "adjusted costs of production" at $32.66 per pound, net of vanadium credits. This compares favorably with costs of the two in-situ recovery producers, UEC and Uranerz, who reported cash costs of $33 and $35 per pound respectively. In-situ is thought (and touted) by many as being a much lower cost recovery method. While it certainly does have its advantages, cost does not appear to be a major price advantage, at least not in the North American context. Cameco, the clear major by a long shot, has cash costs of only $19.66 per pound. The majority of their production comes from Saskatchewan where they enjoy ore grades that are the envy of the industry.
Management has made an intelligent strategic decision to place much of their production capability on standby and keep the resource in the ground until the expected price recovery is underway. I can imagine this was a somewhat painful decision to make, but it is in the longer term best interest of the Company and its shareholders.
Energy Fuels Has The US' Only Uranium Ore Production Mill
A significant and unique attribute of Energy Fuels is its Utah-based White Mesa Mill which is licensed and capable to process up to 8 million pounds per year. The White Mesa Mill also processes the Company's vanadium ore.
A further attribute of this mill is that it also processes what Energy Fuels refers to as alternate sources of uranium. These are waste streams that are trucked to White Mesa at the former owner's expense and which contain quantities of uranium in them. The Mill pays nothing for the raw material and then is able to keep and sell the resulting uranium that White Mesa has processed. This is a unique-in-the-US, significant and profitable enterprise.
Insiders Have Been Buying
The equity raise in June of this year saw insiders purchase 1,643,429 shares at $0.135, pre-consolidation (32,869 @ $6.75 post-consolidation) and 500,000 shares @ $0.16, pre-consolidation (10,000 @ $8.00 post-consolidation) in the October raise. These purchases were spread over several insiders.
Then Why is Their Share Price So Low?
To be honest, that is a difficult question to answer. While I am bullish on Energy Fuels, and think that it is significantly under-valued, I do see certain attributes that may put off some investors. The first is that theirs is a relatively low grade of ore when viewed on a global basis, not when looked at strictly in the context of the US, and hence their higher cash costs than Cameco and higher than some other international players. This is a risk should uranium prices continue their decline. Second, they have grown through numerous acquisitions and paid for much of these acquisitions with their stock. As a result, it becomes more difficult to analyze their statements and get a true picture of the company because it has had so many moving parts. These acquisitions have created dilution of their stock, as has the previously mentioned two equity raises this year. On the flip side of that issue, they have been strategic and paid wisely for those acquisitions. Additionally, they have made several small, minority investments in other uranium mines, and have had to take substantial write-downs on those investments. They do not appear to be strategic in any meaningful way. This may make management appear to some investors like their eye is off of the ball. I raised this topic with management who pointed out to me that most of those minority investments came from the Strathmore acquisition and have now been disposed of. The one of significance remaining is their 16% stake (together with a board seat) in publicly traded Virginia Energy Resources (OTCPK:VEGYF) which owns what is believed to be the largest uranium deposit in the US. SG&A expenses have risen from $11.4 million in 2012 to $20.9 million in 2013. Q3 SG&A expenses were $8.3 million, but this contained one-time change of control provisions of $2.4 million. Per an SEC filing, "The increases in selling, general and administrative expenses were primarily due to the June 29, 2012 acquisition of the Denison US Mining Division, recognition of termination costs of certain Strathmore employees, and the additional costs related to the uranium sales contract amortization expense," which totaled $2.12 million for the quarter and $6.12 million for the year.These onetime and non-cash expenses within SG&A may be misleading investors into thinking that cost control is an issue and hence putting misplaced pressure on the stock.
Finally, Q3 saw Energy Fuels take impairment charges of $62 million or $3.16 per post-consolidation share. This is the result of re-evaluating assets at the present low price of uranium. The charge is one-time and is a non-cash expense. Fellow Seeking Alpha author Peter Epstein conducted an interview recently with Energy Fuels' CEO Steve Antony; Mr. Antony was very forthright in answering when Peter candidly asked him why the stock price had fallen so much. The interview is well worth reading.
Outlook for 2014 and Beyond
Energy Fuels has recently updated their investor presentation on their website. In that presentation they give 2014 guidance of production of 800,000 lbs of uranium. If we use an average selling price of $58 (as per their contracts) we get revenue of $46.4 million. If we bump adjusted production costs slightly to $38 (inflation seems to be a fact of life for all miners) we get mining costs of $30.4 million leaving a gross mining margin of $16 million. If we take the one time and non-cash charges out for SG&A, and add in interest and care and maintenance expenses and maintenance capex we can reasonably expect cash consumed of roughly$5 million for 2014. This is easily accommodated by their $16 million of cash and $36 million of working capital, after taking into consideration their recent bought deal financing.
Energy Fuels feels that their potential upside case is to eventually get up to 6 million pounds of annual production. When one reviews the Preliminary Economic Assessments for some of their properties not yet in production, such as Roca Honda and Sheep Mountain, this becomes a very attainable target. If uranium prices return to pre-Fukushima levels, this puts an enormous longer term upside potential on Energy Fuels' stock.
Bringing these mines on stream will require capex. The recently announced strategic relationship with South Korea's KEPCO, Energy Fuel's largest shareholder, provides a potential financial partner in moving those projects forward. While traditional North Americans may want to state that a strategic relationship agreement is not a binding contract and therefore conclude that it is more form over substance, that would be a significant difference to the traditional Asian point of view, where saving face, relationships and announcements of this sort have much greater meaning. Consider that KEPCO is effectively the Korean government (their majority owner) and that they signed the press release as well.
Conclusion
Energy Fuels is a substantially under-valued uranium producer with attractive midterm contracts at above spot prices, unique assets and a strong management team that is executing a very strategic business plan. Supply/demand fundamentals within the uranium industry look set to provide higher prices in 2014 and beyond. Excess processing capacity, producing mines that can quickly and inexpensively be taken off standby, large industry participant as a strategic relationship partner, strong, experienced management with strategic vision and significant exploration and development potential make Energy Fuels a valuable call on uranium prices.
Disclosure: I have no positions in any stocks mentioned, but may initiate a long position in UUUU over the next 72 hours. I wrote this article myself, and it expresses my own opinions. I am not receiving compensation for it (other than from Seeking Alpha). I have no business relationship with any company whose stock is mentioned in this article.