Betting on a company's turnaround can be a very lucrative investment, but it's equally risky as well. Since this is a high risk-high reward scenario, investors tend to get greedy and neglect the negatives, even if they outweigh the positives. I reckon there are three companies, Zynga (NASDAQ:ZNGA), J.C. Penney (NYSE:JCP), and DryShips (NASDAQ:DRYS), that fall under this category. Thus, I'd recommend investors to stay clear of them because I don't think that a turnaround is on the cards. Let's take a look at the aforementioned companies one by one.
Zynga
Ever since Zynga launched its IPO, it has been struggling to perform consistently. A couple of years ago, Zynga was a company that had great potential. But a series of missteps from the company's former CEO Mark Pincus twisted its fate and consequently, its share price is down 75% from all-time highs. The company's failure to develop blockbuster games in the last two years is the main reason why it has been losing millions of active users.
| | | | | |
| --- | --- | --- | --- | --- |
| | Q2 2012 (Million) | Q2 2013 (Million) | Q3 2012 (Million) | Q4 2013 (Million) |
| Daily Active Users | 72 | 39 | 60 | 30 |
| Monthly Active Users | 306 | 187 | 311 | 133 |
The arrival of new CEO, Don Mattrick, has instilled confidence amongst investors and their faith in Mattrick was rewarded when Zynga released its quarterly report. Zynga reported a loss of $0.03 per share significantly lower than the consensus estimate of a loss of $0.09. Also, the company reported revenues of $202 million, easily surpassing the consensus estimate of $148 million. Looking at these statistics may make you believe that Zynga is on the right path and will engineer a turnaround, but I don't think it's possible. There are a couple of good reasons for that.
Firstly, I think that the arrival of Mattrick is overestimated, primarily because he has a glorified reputation. It is broadly assumed that in his earlier tenures with Electronic Arts (NASDAQ:EA) and Microsoft, Mattrick was quite successful. During his time at EA, Mattrick was in the limelight for working on the development of chart-topping games such as Need for Speed, The Sims, and FIFA. Mattrick was widely praised for the development of these games, but these games were merely continued franchisees and Mattrick wasn't responsible for making any severe changes to these franchisees.
At Microsoft, Mattrick was overseeing the Xbox 360 and PC gaming. During his time, Xbox witnessed an increment of 66 million in its user base worldwide. Mattrick's tenure at Microsoft was quite good, but then he messed up the deployment of the next-generation console Xbox One. Xbox One has been bullied in sales by its primary rival- Sony's PlayStation 4 - and Mattrick's decision to impose five unwise features onto users was largely responsible for it. The bungled up launch of the new platform is considered as the primary reason why Mattrick jumped ship from Microsoft to Zynga.
Secondly, Zynga's notable quarterly performance was an outcome of Mattrick's cost cutting initiatives. While there's nothing bad in reducing losses, you can't expect these initiatives to drive long-term growth. Zynga will have to come up with chart-topping games in order to sustain growth, and as of now, it is failing to meet this goal.
Lastly, Mattrick is hell bent on migrating Zynga towards mobile games. While it may look like a good strategy, it is quite possible that the soaring sales of the next generation consoles will hurt the sales of mobile games. With gamers spending heavily on new consoles, and games, it is apparent that they will have less money to spend on mobile games. Obviously, this will hurt the mobile gaming market and therefore, Mattrick's plan may backfire. Hence, I think betting on Zynga's turnaround is a dead end.
J.C. Penney
I have been a J.C. Penney bear for a long time now and I was quite surprised when Penney's share price grew into double figures, especially after knowing the fact that its quarterly performance was miserable. Penney reported a loss of $489 million, while its revenue dropped from $2.93 billion in the year-ago quarter to $2.78 billion this time, missing analysts' estimates on both fronts.
However, upon doing further research I was able to figure out why investors were bidding up the stock. Firstly, a mere 0.9% increase in Penney's October same-store sales led many investors to believe that the retailer's fortunes are changing. In addition, after the release of these numbers Penney's CEO, Mark Ullman, said, "We are proud of our October sales improvement, which we achieved despite the federal government shutdown and a challenging consumer environment." Ullman has always been eager to convince investors that Penney is back from the dead and this quote quite probably tricked the investors into believing him.
I used the term "tricked" because Ullman's quote didn't paint the true picture of Penney's misery. Like many struggling retailers, Penney adds up its online store sales to its same-store sales, hence an increase in same-store sales doesn't always mean that more people are visiting their stores. This is evident by the fact that Penney's customer traffic declined in the month of October and its online sales rose 39%. What's worse is that the hike in online sales came at the cost of profit as the retailer amplified discounts and returned to couponing. As a result, Penney's gross margin plummeted 9% to 29.5% in the most recent quarter.
Also, Penney recently released its November sales number and affirmed a year-over-year increase of 10.1% in sales. However, this time, the company didn't mention anything about customer traffic or gross margin, which ultimately means that the increase in sales came at the cost of profit, yet again. This is not a good sign, especially if you consider the fact that the company has been posting huge losses.
DryShips
Despite being beaten down, DryShips is still regarded as a leading player in the shipping industry. DryShips has nearly doubled in 2013 due to optimism that the company is well set to benefit from the latest revival in shipping rates. Also, the recent suspension of the market equity offering has further added to its momentum.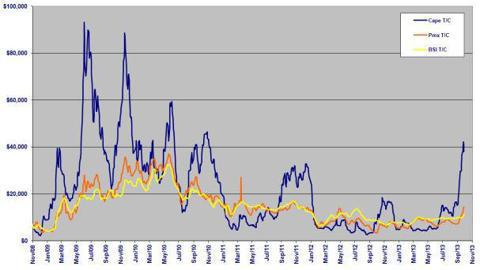 Though this news has pleased existing investors, it certainly doesn't mean that the company's problems have ended. The shipper reported a loss of $64 million in the previous quarter, and its debt-to-capitalization ratio jumped to 0.58 from 0.52. This clearly indicates that DryShips is struggling to manage its debt and may find it difficult to stay afloat in the future. Currently, DryShips' debt stands at a massive $5 billion while the company only has about $230 million in cash. This situation is frightening and I don't believe that the hike in shipping rates will generate enough money to compensate for the debt. To put into perspective, DryShips' shipping division loan payments were two-and-a-half times its adjusted EBITDA during the third quarter and it is highly unlikely that this situation will change anytime soon.
Moreover, many analysts and authors have stated that DryShips' precarious financial situation will get better because of the 59% stake it holds in Ocean Rig. However, this is not true as DryShips has no control over Ocean Rig's capital and resources. Lastly, DryShips has only suspended the dilution, and still has the choice to reactivate it and given the company's dilution history and poor management, I wouldn't be surprised if they choose that option.
Summing Up
Though all the 3 aforementioned companies are from different sectors and their business models have no similarity, they do possess a common denominator-- investors betting on a turnaround. However, because of the reasons cited above, I don't believe that they can engineer a turnaround anytime soon.
Disclosure: I have no positions in any stocks mentioned, and no plans to initiate any positions within the next 72 hours. I wrote this article myself, and it expresses my own opinions. I am not receiving compensation for it (other than from Seeking Alpha). I have no business relationship with any company whose stock is mentioned in this article.