By Bryan McCormick
The economic calendar is relatively light for today, though Federal Reserve Chairman Ben Bernanke will testify in Congress again. Before he begins his appearance at 9 a.m. ET, two key reports will be released.
Durable Goods will be released at 8:30 a.m. ET. The headline number is expected to show a rise of 1.5 percent. Durable goods are expected to rise 1 percent excluding defense and 1 percent without transportation.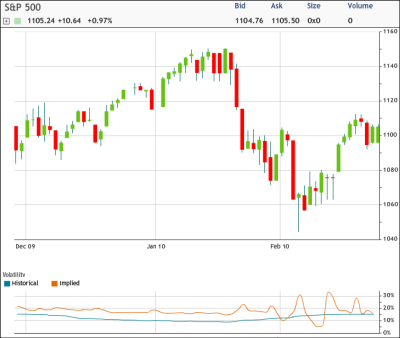 A higher reading than forecast gain, especially in the headline number, would be bullish. A lower-than-expected number would be bearish. It may be more difficult for this report to generate a surprise given that the range is very wide, from 0.4 percent to 3.6 percent.
Jobless Claims will also be reported at 8:30 a.m. ET. The forecast calls for a drop in initial claims to 455,000, down from the previous week's 473,000. Continuing claims are expected to come in virtually unchanged from last week's 4.56 million.
For initial claims, a reading higher than 473,000 would be particularly bearish. A reading that comes in below the four-week moving average, last at 467,500, would be bullish.
In addition to Bernanke, two other Fed officials are scheduled to speak today, which could make for some volatile trading conditions.
Sandra Pianalto, president of the Cleveland Federal Reserve Bank, will speak at the Dayton Area Chamber of Commerce Government Affairs Breakfast, starting at 8:35 a.m. ET. Her talk is likely to be overshadowed by Bernanke's Humphrey-Hawkins testimony before the Senate Committee on Banking, Housing, and Urban Affairs.
James Bullard, president of the St. Louis Federal Reserve Bank, will speak at 12:30 p.m. ET at Texas A&M University at Texarkana.
(Chart courtesy of tradeMONSTER)