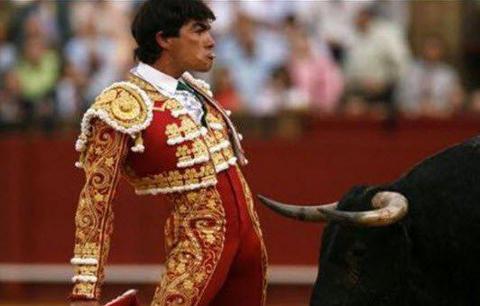 Follow our pithy comments on twitter and become a fan of ETF Digest on facebook
The Fed will engage in a token taper of bond and mortgage assets starting in January. At the same time they extended their commitment to keep interest rates low to 2016, especially if inflation remains tame and employment growth remains weak overall. Despite recent gains in the unemployment rate, Bernanke acknowledged in his news conference today that long-term unemployment is especially difficult including the weak participation rate.
What the Fed took away with a taper, they added back with a commitment to keep interest rates low beyond the previous 6.50% unemployment rate target. One thing few people are discussing is the increased costs, both fiscal and personal, of Obamacare beginning in January 2014. As the Supreme Court ruled, it's a tax. It should then act as a drain for consumer spending elsewhere in the economy.
" Lastly, we should remember the taper is merely symbolic as the Fed's balance sheet will continue to expand and QE will continue to go directly to the Primary Dealer network. These funds should then trickle down, as has been the pattern, to the stock market."
One thing Bernanke stated during his news conference was an acknowledgment that banks have adequate reserves currently. They're not making sufficient business and consumer loans, meaning that even if the Fed supplied them with more money they wouldn't be lending it. That was something striking that got little in the way of news or follow-up questions in my opinion.
The first move in the stocks after the Fed announcement was a sharp decline. But in keeping with the maxim, "the first moves the wrong move," stocks rallied back sharply nearly setting new highs as most indexes soared nearly 2%. Even if slightly reduced, QE would continue and so would low interest rates for a long time. The only fly in that ointment is bond vigilantes can always force a change in that theory.
All sectors were pedal to the metal and it's not worth highlighting these. Lagging sectors remained bonds (NYSEARCA:TLT), the Yen (NYSE:FXY), Gold Miners (NYSEARCA:GDX), Silver (NYSEARCA:SLV) and Gold (NYSEARCA:GLD). (Bitcoin crashed today if you care.)
There was some economic data with Housing Starts rising 1.09 million vs the expected 921K, and prior 889K. Not that bad news should clutter your thinking, but Mortgage Applications fell 5.5% vs up 1% previously.
Given Fed policies over the past few years, and especially with QE3, we've advised subscribers to stick with our long-term Growth & Income portfolio which is doing just fine.
Our staff puts together the daily top 20 ETF market movers by percentage change in volume for gainers, decliners and emerging volume. We also featured a short video today on the falling Yen and how to play it. .
Volume on the rally was exceptionally higher as the Santa Rally gets under way early. Breadth per the WSJ was quite positive.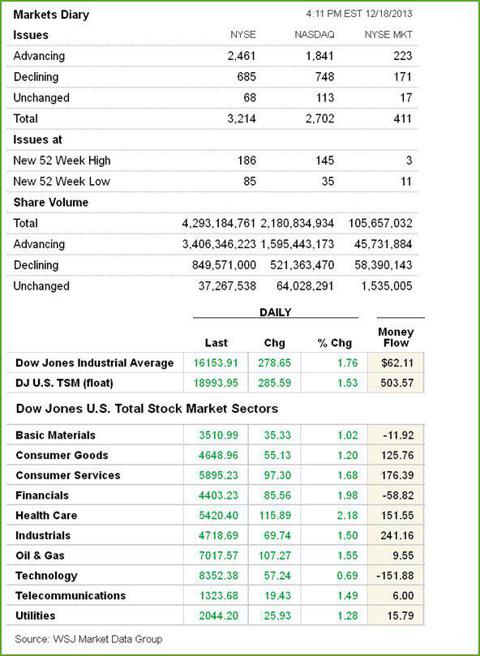 NYMO

The NYMO is a market breadth indicator that is based on the difference between the number of advancing and declining issues on the NYSE. When readings are +60/-60 markets are extended short-term.

NYSI

The McClellan Summation Index is a long-term version of the McClellan Oscillator. It is a market breadth indicator, and interpretation is similar to that of the McClellan Oscillator, except that it is more suited to major trends. I believe readings of +1000/-1000 reveal markets as much extended.

VIX

The VIX is a widely used measure of market risk and is often referred to as the "investor fear gauge". Our own interpretation is highlighted in the chart above. The VIX measures the level of put option activity over a 30-day period. Greater buying of put options (protection) causes the index to rise.

SPY 5 MINUTE

.SPX WEEKLY

INDU WEEKLY

RUT WEEKLY

.NDX WEEKLY

IBB WEEKLY

ITB WEEKLY

IYR WEEKLY

IYT WEEKLY

TAN WEEKLY

XLU WEEKLY

CVY WEEKLY

QQEW WEEKLY

FDN WEEKLY

SOXX WEEKLY

XLF WEEKLY

XLI WEEKLY

XLY WEEKLY

XLV WEEKLY

TLT WEEKLY

UUP WEEKLY

FXE WEEKLY

FXA WEEKLY

FXY WEEKLY

GLD WEEKLY

GDX WEEKLY

SLV WEEKLY

DBB WEEKLY

DBA WEEKLY

JO WEEKLY

GCC WEEKLY

USO WEEKLY

VEA WEEKLY

IEV WEEKLY

EEM WEEKLY

AAXJ WEEKLY

ILF WEEKLY

EWG WEEKLY

EWA WEEKLY

EPI WEEKLY

FXI WEEKLY
Closing Comments
...
The next two days feature plenty of potential market moving economic releases. Are these enough to alter the Fed rally? Maybe, let's look at the list.
Thursday is Jobless Claims, Philly Fed Survey, Existing Home Sales and Leading Indicators. Friday features, GDP, and Quadwitching.
Can these trump the Fed rally and seasonal rally? Probably not.
Let's see what happens.
Disclosure: I am long QQEW, FDN, XLI, XLY, IBB, CVY, JO. I wrote this article myself, and it expresses my own opinions. I am not receiving compensation for it. I have no business relationship with any company whose stock is mentioned in this article.