A lot of things set RPC Inc. (NYSE:RES), which for the purpose of this analysis will be referred to as RPC or "the company", apart from its peers in the Oil & Gas Services industry. The company yields sustainable free cash flow and maintains historical revenue and EBITDA trend. Over the years, RPC has increased shareholder value through its accretive acquisitions, share buybacks, consistent debt reduction and dividend payments.
Starting off with a market cap of approximately $52 million at spin-off in 1984, RPC has grown into a company with $3.8 billion market capitalization. A pure play in the industry it operates in, RPC is an asymmetric investment opportunity that has significantly outperformed its peers in the industry.
An overview of RPC Inc.
RPC is a Delaware corporation which was spun off its parent company, Rollins, Inc. in 1984 as a holding company for several oilfield services subsidiaries. These subsidiaries are Cudd Pressure Control, Patterson Services, and Bronco Oilfield Services. It first started with the name RPC Energy Services but due to management's interest in boating and waste management services, the company's name was changed to RPC Inc. in 1995.
Atlanta, Georgia-based RPC assists its customers with a wide range of oilfield and equipment services divided into two key segments, Technical Services and Support Services. Its services are offered to independent and major oilfield companies engaged in exploration, production and development of oil and gas properties. The services rendered by the company are needed by its customers throughout the life cycle of oil wells. While it has strong footing in the U.S., the company also operates in selected international markets.
The services and equipment provided by RPC include pressure pumping services, snubbing services, downhole tool services, nitrogen services, coiled tubing services, well control and rental of drill pipe and other specialized oilfield equipment.
Business segments overview
RPC's service lines are divided into two reportable segments-Technical Services and Support Services.
Technical Services: This segment offers value-added completion, production and maintenance services to the company's oil and gas company clients. The services offered in this segment are primarily made up of pressure pumping, coiled tubing, well control, nitrogen, downhole tools, snubbing, wireline and fishing. The segment's markets are primarily located in the United States, including the southwest, mid-continent, Gulf of Mexico, Rocky Mountain and Appalachian regions and in select international locations. The demand for services rendered in the Technical Services segment is driven by customers' decision to invest towards the initiation of production in new oil and natural gas wells, improvement of production flows in existing formations or to address well control concerns.
Support Services: This segment incorporates the company's oil and gas service lines that primarily provide equipment for customers' use. It also offers services to assist its customers' operations and includes pipe handling, drill pipe and related tools, pipe inspection and storage services, and oilfield training services. The segment's market is the same as Technical Service segment. Some of the international markets that have benefited from this segment's services include Latin America, Canada and the Middle East. Primary driver for demand of services rendered by this segment is the level of drilling-related activities. When such activities are on high level, it boosts the segment's top line.
RPC's acquisitions, establishments and divestitures
RPC has, since its spin-off, grown through acquisition. Its first acquisition was carried out in November, 1986. The previous year, RPC lost $1.4 million on revenues of $22.2 million due to the decline in oil and gas prices which in turn led to a significant drop in the demand for services rendered by companies in the oil & gas services industry. So in 1986, management decided to diversify in order to keep the company afloat in the face of the downturn.
It acquired a boat manufacturing company whose business was on the upswing. Chaparral Boats Inc. was acquired in a deal valued at approximately $23.4 million. This acquisition turned out to be a good management decision as it contributed towards returning RPC to a profitable company. In 1988, RPC reported income of $10.3 million on revenue of $75 million from the boat unit. This unit has since been spun off (February, 2001), so that RPC can fully focus on its core businesses. Chaparral now operates under a new business name, Marine Products Corporation.
Apart from Marine Interiors which was acquired through Chaparral in 1992, RPC acquired International Training Services and its well control school in 1996. The following year, it added Spindletop Tubular Services to its list of acquisitions. With its provision of torque-turning services, Spindletop was to complement the services rendered by the Patterson Service unit.
In 1999, it added Applied Snubbing Technology, Inc. In the same year, RPC created the Cudd Pumping Services unit and divested its Eco Waste Technologies unit. All these moves were geared towards creating pure-play companies in order to further attract investors' attention. In June 2000, through the Cudd Pumping Services unit, RPC Freemyer Technical Services, a well acid pumping services company. In February 2001, an Oklahoma-based pumping, production testing, and equipment rental company, Sooner Testing Inc., was added to the list. This acquisition was to complement the services rendered by the Cudd Pressure Control subsidiary, especially in the Oklahoma, south and east Texas markets.
In the later part of the same year, RPC acquired Matthews Energy Services, Inc. through Cudd Pumping Services. After the economic downturn experienced in 2002, the rebound in 2003 saw RPC completing the acquisition of Bronco Oilfield Services, Inc. in a deal valued at approximately $11 million. A surface pressure control services and equipment company, Bronco was to complement RPC's previous acquisition, Sooner Testing Inc. In 2004, Anchor Crane was divested, followed a year later by International Hammer and Spindletop Services.
Strong insider ownership of the company's equity
When insiders of a company (officers and directors) have real skin in the company's stock, it usually gives a positive outlook to investors. Insider ownership of RPC's shares is approximately 71.59% when its peers' average is 7.39%. This shows that key members of the company are strongly hopeful of the company's potentials.
Strong corporate leadership
RPC's management understands the cyclicality of the industry the company operates in and is always strategizing on maintaining solid and conservative capital structure. For example, with the decline in natural gas prices a couple of years back, which in turn impacted negatively on drilling activity levels, the management worked extensively on reducing its capital expenditure for last year. As a result of this excellent move, the company currently maintains a positive balance sheet unlike most of its peers.
Shareholder friendly management
It can be recalled that prior to 1984, the oilfield operations segment of Rollins, Inc. was experiencing declining profits which in turn impacted negatively on Rollins' stock. As a company with shareholders' interests at heart, the management chose to divide the company into three separate public businesses. This way, shareholder value was increased and at the same time, growth was stimulated within individual components of the parent company as each unit focused on its core businesses.
Historical financial trends
RPC has proven to be a well-managed company as its market cap at spin off in 1984 has grown from $52 million to $3.8 billion. The chart below shows that between 2001 and 2012, RPC has grown its revenue at 19.1% CAGR. In 2002, the company felt the worsening U.S. economy when its revenue declined to approximately $209 million, down from $284.5 million reported in 2011. The drop in 2009 revenue, $587.8 million versus $876.9 million in 2008, was attributed to the deep recession experienced within the period.
This chart below shows that the company grew its EBITDA at 28.0% CAGR, with the levels almost unchanged between 2011 and 2012. The decline in revenues in 2002 and 2009 also impacted on EBITDA for the periods.

Source: company presentation
From the graph below, it is evident that management paid maximum attention to debt reduction in order to further boost shareholder value. Debt as a percentage of total cap reduced from 28.0% in 2008 to 10.6% in 2012. Year to date, the company's debt as a percentage of total cap is below 6% which is a good thing for the company and investors since minimal or zero debt will create room for possible share repurchases, strategic acquisitions and dividend payments.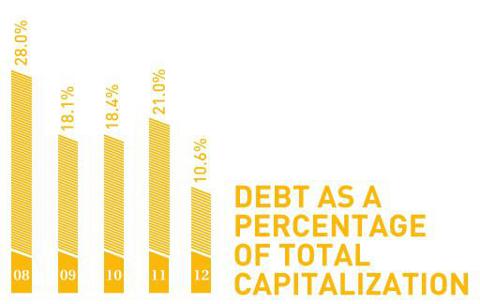 Source: 2012 Annual Report
The next graph shows growth of annual dividends per share. This portrays RPC as a company that is focused on continually returning money to its shareholders.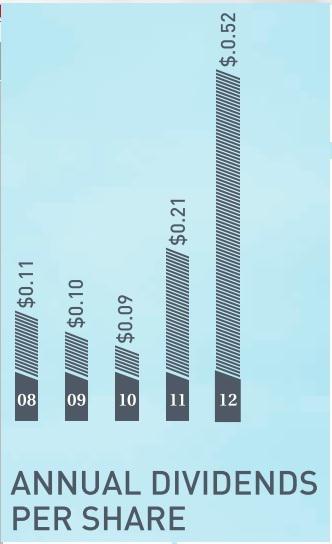 Source: 2012 Annual Report
Well established in attractive markets
When it comes to the significant markets in the oil & gas industry, especially the liquids-rich plays, RPC is a name to reckon with. From the long-standing cornerstone of domestic oil supply, Permian Basin in West Texas to Eagle Ford, Marcellus, Haynesville and Bakken, RPC maintains significant presence. The sweetest part of the pot is the Permian Basin play with the accelerating drilling activities going on and a large number of conventional and unconventional plays for the drilling companies to choose from. At the onset, I pointed out that what drives demand for the services and equipment offered by RPC and its peers is the rise in the price of oil and gas which influences extraction level and in turn, allows RPC and its peers to increase their day rates.
What is currently playing out in West Texas will continue to generate revenue for RPC in the long term. According to a report by IBISWorld, oil prices will increase at an average rate of 4.3% between 2013 and 2017 to reach a price of $128 per barrel. Within the same period, gas prices will increase at a rate of 6% to reach $11.62 per thousand cubic feet. The continued growth in U.S. shale extraction will fully support RPC's revenue and earnings growth.
It can be recalled that the Bakken shale was all the rage but the tune has changed now with the Permian Basin garnering the most activity as far as drilling and production activities are concerned. It is estimated that approximately half of all the drills rigs in Texas are operating in the Permian Basin with its approximately eight solid plays. RPC is already established there with its CUDD Pressure Control, Patterson, and ThruTubing Solutions subsidiaries.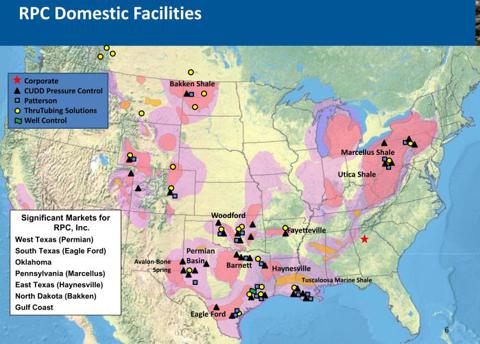 Source: company presentation
RPC not being a company to lag behind, is fully prepared to benefit from the increasing activities in the industry it serves. As at first half of 2013, the number of active rigs in the Permian Basin was put at 455, almost double of the average rig count in 2010. In 2012, there was a 65% increase in drilling permits issued in comparison to the U.S. drilling "peak" of 2008. In the past three years, oil production in the basin has increased by an average of 17.3 million barrels. This has led to a significant increase in the demand for the services and equipment offered by RPC, especially in the service-intensive Shale plays. How has RPC responded to this trend? The chart below says it all: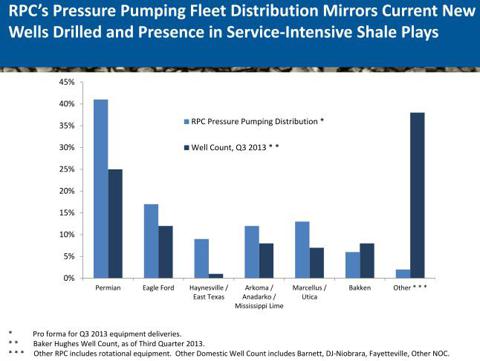 Source: company presentation
The management's foresight of transforming and maintaining RPC as a pure play in the industry it operates in has paid off as shown on the following chart. The company's Pressure Pumping business has experienced significant and steady growth from 2000 till date.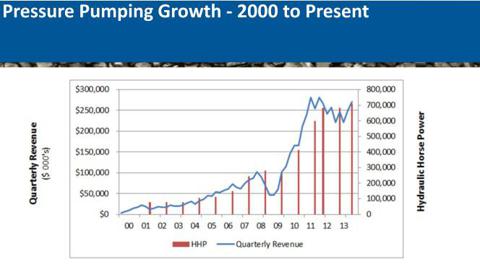 Source: company presentation
Presently, Pressure Pumping accounts for approximately 54% of the company's total annual revenues, followed by Thru Tubing Solutions. See chart below for a breakdown of the company's service line revenue as a percentage of consolidated annual revenue.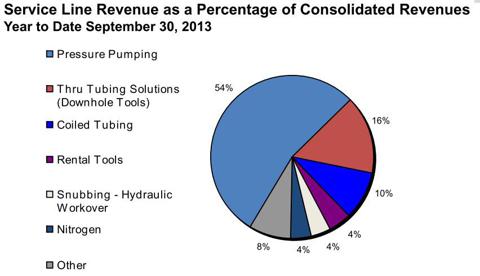 Source: company presentation
Below is a summary of the company's income statement for third quarter 2013.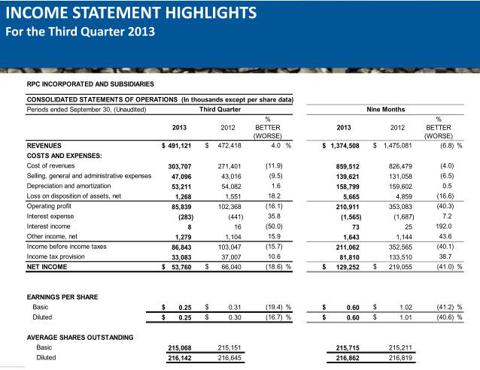 Peer comparison and valuation
The industry RPC operates in is highly competitive and apart from its competitors with larger market caps, the company also has several comparable peers. The first among them is its closest peer based on market capitalization, Superior Energy Services, Inc. (NYSE:SPN). With a market cap of $3.99 billion, Superior Energy Services currently trades within $25 range with a trailing P/E of 14.37x. It trades at EV/EBITDA of 5.12x. This shows that RPC is trading at a premium to Superior Energy Services but it is justified considering that RPC is more profitable as a company with higher management effectiveness.
The second peer is Key Energy Services, Inc. (NYSE:KEG). With a market cap of $1.14 billion, this company trades within $7 range at a mind-boggling trailing P/E of 266.79x. Key Energy is neck-deep in debt with less than 1% profitability and as such, its trailing P/E is not justified. The next is Basic Energy Services, Inc. (NYSE:BAS). With a market cap of $574.37, Basic Energy is also neck-deep in debt like Key Energy. Its trailing profit margin is also negative.
The table below compares the three companies on certain valuation metrics:
RPC Valuation Premium
| | | | |
| --- | --- | --- | --- |
| Valuation Metric | Peer Average | RPC | RPC Valuation Premium (%) |
| TTM P/S | 0.66 | 2.11 | 219.69% |
| TTM P/B | 1.15 | 4.11 | 257.39% |
| TTM P/E | 141.11 | 20.57 | (85.42%) |
| Next FY P/E | 18.71 | 16.61 | (11.22%) |
| TTM EV/EBITDA | 6.14 | 7.85 | 27.85% |
Excluding P/B and P/S, which RPC is trading at a significant premium to its peers and EV/EBITDA which it is trading on slight premium with its peers, other valuation multiples do not reflect RPC's huge-gap 5- year growth (2008-2012) in FCF, EPS, EBITDA and Stockholders' equity as displayed in the table below. Although it is a clear fact that past performance is not an assurance of future performance but then, it goes a long way to show how much a company is valued or undervalued. If the market is such that valuation multiples are correlated to a significant portion of a company's growth in several areas, RPC's stock should be trading at more than 400% above its current price.
However, based on the average of the above multiples, I am valuing RPC's shares at $33.55 which implies an upside of 88% in comparison to its closing price of $17.84 on December 16, 2013.
RPC Growth Premium
| | | | |
| --- | --- | --- | --- |
| Growth Metric | Peer Average | RPC | RPC Growth Premium (%) |
| 5-Year EPS Growth | -66.04% | 234.21% | 454.64% |
| 5-Year EBITDA Growth | 28.64% | 152.28% | 431.70% |
| 5-Year FCF Growth | -88.78% | 816% | 1019.12% |
| 5-Year Stockholders' Equity Growth | 86.37 | 100.22 | 16.03% |
Comparing RPC's other financial performance with its peers
| | | |
| --- | --- | --- |
| Performance Metric | Peer Average | RPC |
| Profit Margin | 0.83% | 10.01% |
| ROE | -1.91%% | 19.91% |
| Debt as a percentage of Capitalization | 119.02% | 5.43% |
Catalysts to fuel further growth
These include:
Increased drilling activities in markets where RPC maintains significant presence.
Management's commitment to increasing shareholder value.
Steady decrease of the company's debt.
Lower price volatility in comparison to its peers.
Focus on core businesses.
Significant presence in the major liquids-rich plays, especially those in the Permian Basin.
Appropriate distribution of company's fleet in service-intensive plays.
Maintenance of a conservative capital structure.
Continued strategic acquisitions that will further complement the services rendered by the company.
Expectations that oil and gas prices would continue at high levels thereby creating strong demand for RPC's services and equipment.
Downside to the investment
As with any other business, there are risks associated with investing in RPC but they are currently mitigated by the yield currently paid by the company and solid balance sheet. One of such risks is that the company operates in a cyclical industry and as such, revenues and earnings are prone to fluctuations.
Another risk is that each time there is a downturn in the economy, it results in decline in the prices of the products offered by the company's customers. When this happens, it reduces drilling activities which in turn dampens demand for the company's services and equipment which is not good for revenue and earnings. The company's multiple service lines to a large extent, mitigates the risk of revenue and earnings loss. For example, when gas prices peaked in 1994 and drilling activity plummeted, RPC maintained its growth streak since other service areas like the Well Workover services made up the difference.
Conclusion
RPC maintains a wide range of high-margin service lines which positions it to benefit from ongoing and future high levels of exploration and production activities. With its capital position, the company is positioned to further pursue viable and attractive growth opportunities. Also, as the company's customers extend their promising plays and increase drilling activities, the rig count is expected to continue its upward trajectory, especially as the CEO of one of the major independents pointed out that "The quality of the Permian basin keeps getting better and better as we gather more data".
Even with the prevailing uncertainty over oil supplies in the Middle East where the company's Support Services segment offers its services and equipment, there are high expectations that oil and gas prices would continue their upward streak which will further boost the demand for RPC's services and equipment. In consideration of all these and the fact that RPC's EPS, EBITDA, FCF and Shareholder equity growth is above its peers' average, I strongly believe that the company's shares are not fairly valued as they trade on levels that are not related to RPC's growth.
I repeat that RPC is well positioned for the 2013 through 2017 growth in the oil and gas industry. With more U.S. shales being drilled, investors who take positions now stand to benefit both in the short term and long term. Although RPC is a good addition to any diversified investment portfolio, it is always a good idea for investors to carry out further research prior to investing in a given company or stock.
Disclosure: I have no positions in any stocks mentioned, and no plans to initiate any positions within the next 72 hours. I wrote this article myself, and it expresses my own opinions. I am not receiving compensation for it (other than from Seeking Alpha). I have no business relationship with any company whose stock is mentioned in this article.