General Motors (NYSE:GM) dealers delivered 212,060 vehicles in November in the US alone. GM's US delivery report shows that the company delivered 2,555,921 vehicles from January to November 2013; an average of 232,356 per month. November 2013 sales were up 14% compared to November 2012 and marked the highest November sales in six years. General Motors currently trades at less than 8.88 times forward earnings and 0.37 times sales. The US Treasury just recently announced that it sold its remaining stake in GM making the car manufacturer free of government influence.
Ford Motor (NYSE:F) had the best November US retail performance since 2004. A related press release read as follows:
DEARBORN, Mich., Dec. 3, 2013 - Ford Motor Company's November U.S. sales of 190,449 vehicles are up 7 percent overall compared with last year. Retail sales are up 9 percent, for the best November performance since 2004.

The November retail sales performance of 147,021 vehicles reflects broad-based gains, with passenger cars up 6 percent, utilities up 3 percent and trucks up 17 percent. Ford passenger cars achieved the best November retail sales result since 2002, with Ford Fusion and Ford Fiesta both posting records.

Fusion sales of 22,839 vehicles for the month are up 51 percent year over year, for the car's best-ever November sales performance. Fusion sales continue to expand fastest in the western U.S., where retail sales are up 79 percent - including a 101 percent increase in California. Fiesta also had its best-ever November sales performance with 4,642 vehicles sold.

Ford F-Series continued its pace of selling more than 60,000 trucks for the seventh straight month, strengthening its position as America's best-selling pickup and best-selling vehicle for another consecutive year. Sales of 65,501 F-Series trucks in November represents an increase of 16 percent compared with a year ago.
Ford also announced that 2013 is going to be the best year in history with a total pre-tax profit of $8.5 billion. The company also gave an optimistic outlook for 2014 and expects significant sales momentum to carry forward as Ford prepares to launch 'the most vehicles in a single year in more than a century'.
Just like General Motors, Ford posted fantastic 2013 sales results. Sales for a variety of products increased by high double-digit percentages and some product lines even achieved all-time record results. Ford, which has a market-leading position with its F-Series, currently trades at 8.55 times forward earnings and 0.42 times sales. Cash positions on the balance sheets of General Motors and Ford Motor are also substantial and add to the appeal of large-scale car manufacturers.
Tesla (NASDAQ:TSLA), on the other hand, has quarterly deliveries of 5,000-6,000 of its much hyped Model S (the model that made news because it went up in flames). Tesla produced a 2013 nine month net loss of $58 million and a third quarter net loss of $38 million. At the same time, Tesla reported a nine month negative free cash flow of $32 million and the company presently trades at a P/E ratio of 98.65 and a P/S ratio of 10.58.
Bubble-like price appreciation
Tesla has shot up explosively in 2013. Shares of the electric car manufacturer have ballooned all the way up to $195 before retreating back to the $120 territory. Nonetheless, shares are up 328% over the last year.
To put things more into perspective to other, more successful, car manufacturers, I am comparing Tesla's performance to the share performance of General Motors, Ford Motor and Toyota Motor (NYSE:TM).
While shares of General Motors and Toyota Motor are more or less flat since 2010, Ford managed better than everyone else to launch an impressive comeback and Ford's share performance reflects its underlying financial results as described above. Tesla exploded under high volume in April and managed to deliver a return of almost 900% before a forceful correction started in October. Tesla's share price declined as quickly as it previously rose and high volume indicates that the marginal investor is a speculator which in itself is a defining characteristic of a bubble.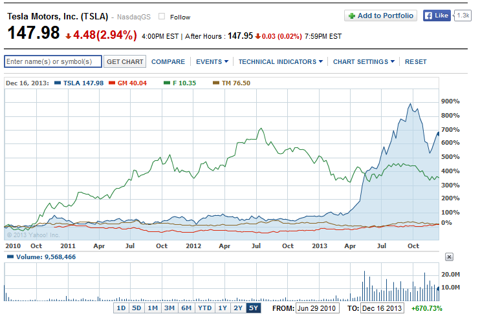 First-mover advantage imaginary?
Bullish investors usually mention that electric cars are the future of the car industry, are environmentally friendly and because Tesla has a first-mover advantage, this will allow the company to gain substantial market share and to boost production and sales in the coming years.
However, auto companies with decades of experience in manufacturing cars are unlikely to be surprised by a sudden change in consumer taste and demand for electric vehicles. The determining rationale of bullish investors seems to be that Tesla will have the entire electric car market for itself or at least will have an advantage over other companies because it can market itself as an environmentally friendly car company.
First of all, I doubt that a large-scale transition to electric cars will happen. Pick-up trucks, SUVs, crossovers and other traditional car brands are deeply loved by Americans and romanticized in American culture. In addition, America is not necessarily known for its environmental conscience and political resistance, especially from the Republican side, will likely benefit well-connected players like GM and Ford which run conventional product portfolios.
Even if the most attractive auto market in the world, the US, would transition to electric car models, it is naive to think that other car companies are sleeping at the wheel. Companies like BMW, Nissan and Hyundai are directing massive R&D expenditures toward the development of fuel efficient vehicles which will compete against Tesla's Model S in the segment of clean energy automobiles. The following product list of top-tier car manufacturers shows that these companies are just as well positioned as Tesla to satisfy market demand for fuel efficient, clean energy transportation:
The BMWi series
Toyota with its fleet of hybrid, plug-in hybrid and electric vehicles
Hyundai's electric hybrid Sonata
Mercedes B-class electric drive
Nissan's Leaf.
Valuation in a league of its own
Tesla's valuation is about as detached from its fundamentals (low production figures, low sales volume, low earnings relative to market capitalization, negative free cash flows) as other darling companies in other sectors. Netflix (NASDAQ:NFLX) trades at 93x forward earnings, Amazon (NASDAQ:AMZN) at 148x and Salesforce at 107x. All companies have in common that their investors overvalue earnings prospects and pay gigantic upfront growth premiums in hopes of further speculative gains down the road. Correspondingly, high valuations and high volatility make it more likely that vast segments of buyers will be disappointed by their realized return.
More realistic multiples for large-cap manufacturers
Established, profitable, large-cap car manufacturers are actually quite undervalued as the following two charts suggest. General Motors trades at only 8.88 forward earnings while Ford commands a P/E ratio of 8.55. Both companies currently report record profits in the billions. The peer group average ratio of 31.43 is biased upwards by Tesla's out-of-touch P/E ratio of 98.65. Without Tesla, the peer group average P/E ratio would stand at 9.03. As a result, Tesla trades at 11 times the ex-Tesla peer group average P/E ratio.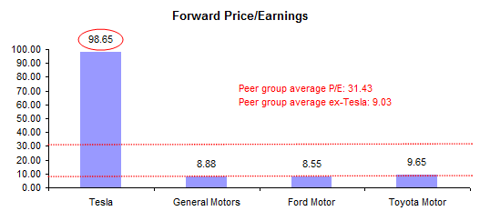 Tesla's overvaluation can also be seen by looking at the P/S ratio. Tesla commands a P/S multiple of 10.58 while the average company in the peer group (ex-Tesla) is valued at 0.54 times sales. In other words, Tesla trades at 20 times the average ex-Tesla P/S ratio of 0.54.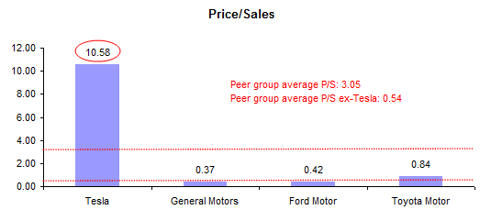 Conclusion
General Motors' and Ford's valuation metrics reflect the underlying fundamentals. Strong y-o-y sales performance, high cash balances and record profits underpin the valuation of these large-cap car manufacturers. General Motors and Ford are free cash flow positive companies with substantial cash balances which limits valuation- and downside risk. Furthermore, their product portfolios are much more diversified which make them more able to withstand economic setbacks and unsuccessful product launches.
Tesla's bull case rests on the idea that Tesla has unrivaled technology leadership and an electric car market to serve for itself. Nothing can be further from the truth. Deep-pocketed car companies with decades of car manufacturing experience are up to the task and are developing their own competitive electric- and hybrid car models. In addition, electric cars are still comparatively expensive, have expensive electric vehicle batteries, take long to recharge and have limited driving ranges. All these issues show that electric car technology still has to evolve to find broad-based market acceptance.
Given the relatively unimpressive financial results from Tesla, competition from established, cash rich players in the clean energy car segment that is ramping up and an out-of-touch valuation, I would recommend investors who seek auto sector exposure to do further due diligence with respect to General Motors and Ford. Both companies are trading extremely cheaply compared to their fundamentals as opposed to Tesla which trades more on extreme optimism.
Disclosure: I am short TSLA. I wrote this article myself, and it expresses my own opinions. I am not receiving compensation for it (other than from Seeking Alpha). I have no business relationship with any company whose stock is mentioned in this article.