The last time I wrote about General Electric Company (NYSE:GE) I stated, that I was going to buy a small batch in the stock because I felt the stock could get a bit cheaper. It did drop about 2.5% about a week later, but started moving up and has never looked back. Since the last article it has risen 11.63% versus the 5.4% gain the S&P 500 (NYSEARCA:SPY) posted. General Electric is a diversified technology and financial services company operating in the segments of aircraft engines, power generation, industrial products, water processing, household appliances, medical imagine, and business and consumer financing.
On October 18, 2013, the company reported third-quarter earnings of $0.36 per share, which was in line with the consensus of analysts' estimates. In the past year the company's stock is up 24.79% excluding dividends (up 28.08% including dividends), and is beating the S&P 500, which has gained 26.37% in the same time frame. With all this in mind, I'd like to take a moment to evaluate the stock on a fundamental, financial, and technical basis to see if it's worth buying more shares of the company right now for the industrial goods sector of my dividend portfolio.
Fundamentals
The company currently trades at a trailing 12-month P/E ratio of 19.27, which is fairly priced, but I mainly like to purchase a stock based on where the company is going in the future as opposed to what it has done in the past. On that note, the 1-year forward-looking P/E ratio of 15.51 is currently fairly priced for the future in terms of the right here, right now. The 1-year PEG ratio (3.06), which measures the ratio of the price you're currently paying for the trailing 12-month earnings on the stock while dividing it by the earnings growth of the company for a specified amount of time (I like looking at a 1-year horizon), tells me that the company is expensively priced based on a 1-year EPS growth rate of 6.3%. Below is a comparison table of the fundamentals metrics for the company for when I wrote all articles pertaining to the company.
| | | | | | | | |
| --- | --- | --- | --- | --- | --- | --- | --- |
| Article Date | Price ($) | TTM P/E | Fwd P/E | EPS Next YR ($) | Target Price ($) | PEG | EPS next YR (%) |
| 02Oct13 | 24.17 | 17.26 | 13.36 | 1.81 | 27 | 1.92 | 8.98 |
| 16Dec13 | 26.98 | 19.27 | 15.51 | 1.74 | 26 | 3.06 | 6.30 |
Financials
On a financial basis, the things I look for are the dividend payouts, return on assets, equity and investment. The company pays a dividend of 3.26% with a payout ratio of 62.8% of trailing 12-month earnings while sporting return on assets, equity and investment values of 2.1%, 11.3% and 2.8%, respectively, which are all respectable values. Because I believe the market may get a bit choppy here and would like a safety play, I believe the 3.26% yield of this company is good enough for me to take shelter in for the time being. Below is a comparison table of the financial metrics for the company for when I wrote all articles pertaining to the company.
| | | | | | |
| --- | --- | --- | --- | --- | --- |
| Article Date | Yield (%) | Payout TTM (%) | ROA (%) | ROE (%) | ROI (%) |
| 02Oct13 | 3.14 | 54.0 | 2.1 | 11.5 | 2.8 |
| 16Dec13 | 3.26 | 62.8 | 2.1 | 11.3 | 2.8 |
Technicals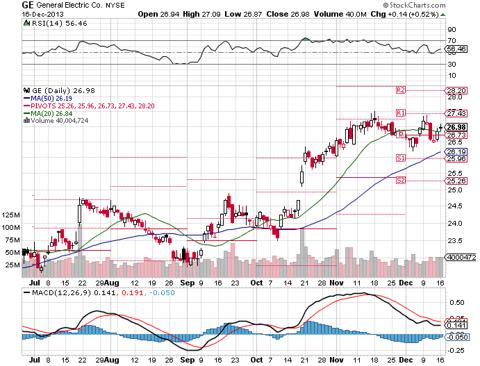 Looking first at the relative strength index chart [RSI] at the top, I see the stock in middle-ground territory with no real trajectory and a value of 56.46. I will look at the moving average convergence-divergence [MACD] chart next. I see that the black line is below the red line with the divergence bars increasing in height, indicating some bullish momentum. As for the stock price itself ($26.98), I'm looking at $27.43 to act as resistance and $26.73 to act as support for a risk/reward ratio which plays out to be -0.92% to 1.67%.
Recent News
VietJet Air has inked an $800 million engine deal with a GE joint venture firm. VietJet Air will buy forty engines: 28 for Airbus A320's and 12 for A321's. The aviation portion of GE continues to hit on all cylinders and is no doubt the best segment of the industrial conglomerate in my opinion. If the board is looking for ways to make shareholders like them, they should spin-off this crown jewel into its own high-growth company. Check out Josh Arnold's assessment of the stand-alone aviation portion of the company he penned a few weeks ago.
The company declared a $0.22 per share quarterly dividend with an ex-date of 19Dec13 and pay date of 27Jan14. This quarterly dividend marks a 16% increase from the prior dividend.
The company will proceed with a Brazilian port manufacturing facility at the Acu Superport near Rio. The facilities will ideally produce equipment for the oil and gas industry along with the marine industry. This shows GE's willingness to expand its industrial sector by allocating the capital for this build-out in a growth country.
Conclusion
General Electric keeps edging higher with all the good news it has been announcing of late; with an increase to the dividend, an IPO of GE Capital and acquisition of Lufkin just to name a few. But honestly, I believe all the good news is priced in and the stock is fully valued. Fundamentally the stock is fairly valued on future earnings but expensive on future growth prospects. Financially the dividend is higher with the 16% boost we just received. Technically I see the stock waffling around at this price level. The company has become fairly valued based on earnings, has lowered earnings expectations for next year from the previous time I wrote about it, and I believe it to be more than fully valued with respect to growth; it is for these reasons I'm not going to layer into my position.
Disclaimer: This article is meant to serve as a journal for myself as to the rationale of why I bought/sold this stock when I look back on it in the future. These are only my personal opinions and you should do your own homework. Only you are responsible for what you trade and happy investing!
Disclosure: I am long GE, SPY. I wrote this article myself, and it expresses my own opinions. I am not receiving compensation for it (other than from Seeking Alpha). I have no business relationship with any company whose stock is mentioned in this article.