Last summer I started hearing about the amount of cash 'sitting on the sidelines' of the market. Multiple articles have been written about this phenomenon. Here is one from Forbes, and one from The Atlantic. Many investors were scared out of the market in 2009 and 2010, and have been reluctant to get back in. Now that we have had a stellar year, money seems to be flowing back into the markets. This same market rise is causing other investors concern and reactionary articles advising holding large percentages of cash are rampant.
I am not so reactionary. Even so, I also have been generally moving out of 'second string' companies into larger, 'safer', companies with strong dividend-growth and dividend histories. As a newer investor in aggressive acquisition mode, with a long time horizon, I am not willing to sit on the sidelines and miss out on the opportunity to establish a growing dividend stream. I have specific goals and targets and the only purpose of my investing is to fund retirement, not a lifestyle. I do not need to pick winning stocks, though a winner here or there never hurts. I need to create a balanced portfolio that will produce an average total return of about 5% a year in capital gain, and 4% in dividends. Whenever I have investable cash, I search about for great opportunities and invest it.
I am not a value investor, but I am not opposed to picking up a quality company that has fallen on challenging times. (Telecoms this summer and REIT's recently and going forward). I am not a momentum investor, but I am not opposed to jumping into a quality company when it is on a roll (such as Visa (NYSE:V), Canadian National Railway (NYSE:CNI), and the Canadian Banks (NYSE:TD), (NYSE:RY))
Financials have done very well and will continue to do well in a rising interest rate environment and the market story of money flowing into the markets this fall has made me look further at who will profit from this.
Exchange Traded Funds began in Canada in 1990, and in the interim 23 years have blossomed to number several thousand. They represent a wide variety of products from whole indexes to varied, specialized corners of the market. Most average people have now heard of them and many retail investors prefer them over mutual funds for their lower MER and tradability and over individual stocks for the diversification. The fear of the unproven product has worn off and ETF's are an area that I think will benefit significant from money flowing back into the markets.
There are many companies and banks who offer ETF's, but two companies stand out as being large, popular and investable: WisdomTree Investments Inc (NASDAQ:WETF) and BlackRock Inc (NYSE:BLK).
WisdomTree is a pure play on ETF's. They currently offer eighty-four ETF's covering a wide spectrum of the market. Money is certainly flowing into their funds with their organic growth outpacing their competitors as shown in this table.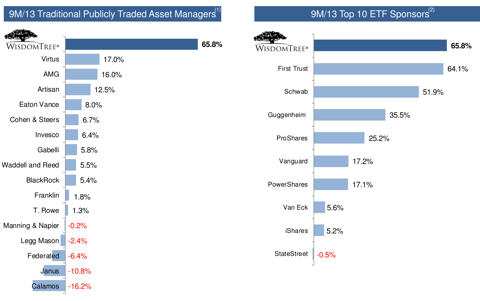 This next table shows their standing on the inflow rating compared to competitors. Sadly, Vanguard is not a publicly-traded company.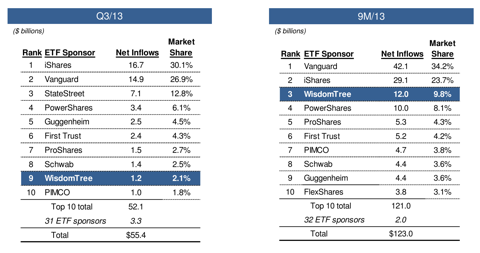 Charts above are from WETF investor website.
The major drawback with WETF for me is that it does not pay a dividend. As an investor who focuses on dividend, and growing my future dividend stream, it is rare that I would consider a non-dividend paying company to invest in. However, as with value investing, and momentum investing, I would also not consider myself a growth investor, but an occasional measured branching out into a growth company is not out of the realm of possibility for me.
The major attraction for me to WETF is the FAST Graph (used with permission from Chuck Carnevale). Even though the P/E is a spectacular 56, the earnings have substantially outpaced the price. The sidebar notes that the operating earnings growth is 236.4%.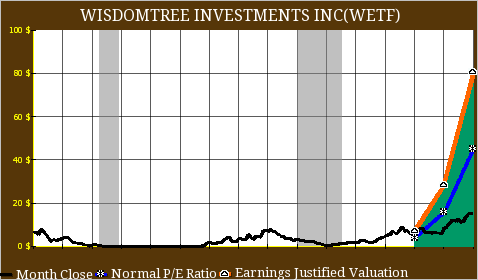 The 5 year estimated total return is 20.5%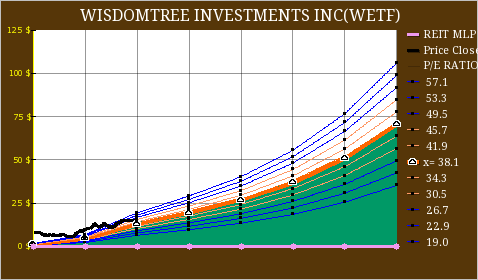 BlackRock is a much more diversified investment management company. BlackRock owns iShares which also offers ETF's. But the rest of their business crosses the entire wealth management spectrum. It is a much more moderate, mature business. The quarterly dividend is 2.2% with a 5 year dividend growth average of 18% (12% for this year) and a payout ratio of 43%. The debt to long term capital invested is also low, at 21%. Analysts are quite happy with this company, with S&P rating it a five star strong buy. The dividend-growth is not the only thing to like about this company. Its operating earnings growth is around 20% and the FASTGraph demonstrates that despite the run over the last couple years, there is room for some more yet. The average rate of return over the past 10 years is 19.3%.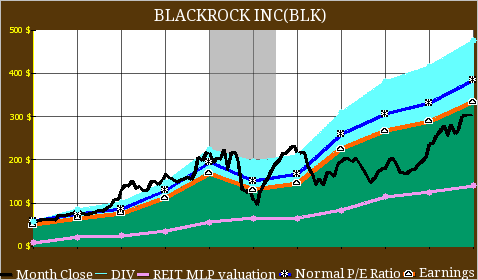 The 5 year estimated total return is 14.4%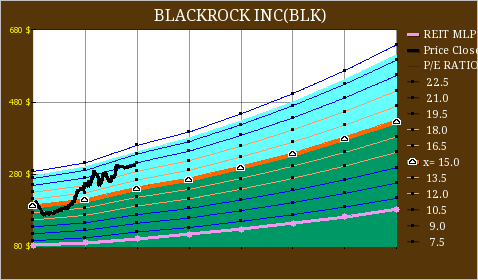 As a dividend-growth investor, BLK has the basic characteristics desirable for investing, but the growth, being a large, best of breed company, and the market story, move it to the top of the list for me.
I wrestled with the question of which of these companies to invest in and last month and after days of comparing and contrasting, decided to initiate a position in each of WETF and BLK. In contrast to my usual averaging in, I piled right in with a full position in both.
It is important to note that WETF is not necessarily a long-term hold for me, but an opportunity to grow my contribution pile and roll the gains over to dividend payers. So far, I have gains of about 15%, and I fully understand those could vanish or double at any time. Unlike my former technical trading days when I would not bother to look at company's fundamentals, I am walking into this 'trade' with my eyes wide open.
BLK remains flat for me so far, but I look forward to seeing where this company heads over the next few quarters and throughout 2013.
Are companies active in ETF's attractive to you?
Disclosure: I am long WETF, BLK, V, CNI, RY, TD. I wrote this article myself, and it expresses my own opinions. I am not receiving compensation for it (other than from Seeking Alpha). I have no business relationship with any company whose stock is mentioned in this article.