The $300 pair of jeans is alive and well according to the fourth quarter results of True Religion Apparel (NASDAQ:TRLG). Quarterly earnings came in $.59 per share which was four cents better than Wall Street expected. The better than anticipated earnings came on sales of $92.8 million which was far exceeded the estimates and was 27.1% higher than last year. As for guidance for the year ahead, True Religion was mixed as they predicted earnings of $2 to $2.10 per share or slightly less than analysts' expectations of $2.12. However, revenue guidance called for $360 million which exceeds consensus estimates of $347.7 million. The market shook off the slightly less positive earnings guidance and TRLG soared more than 18% on Thursday.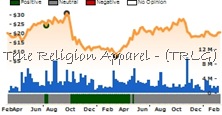 True Religion is striking while the iron is hot as they plan to open 27 new stores in the US and one in Canada in fiscal 2010, which adds to the 28 stores they opened over the past year. These direct to consumer stores are a key piece of True Religion's growth goals, as formerly they were sold mainly through the sales channels of high-end department stores and boutiques. At the end of last year, they had a total of just 70 stores, so there would seem to be plenty of room for growth, but a product like this does run the risk at a certain point of losing the "boutique appeal" and cache.
Consumers' tastes are notoriously fickle, so a brand that charges a premium price for their products must justify that status in the eyes of their customers. It is a slippery slope for a business that can grow aggressively in near term, but it may in fact hurt their long term prospects. For now, they are by all indications still one of the top brands for celebrities and the well-to-do, and I won't suppose that I know much about fashion or how to run a clothing line. As of the end of January, the stock had more than 30% of float shorted by the market, so some of today's performance was spurred by short covering. However, the analyst community is not siding with the bearish case, as stock has become somewhat of a Wall Street darling as the average analyst is quite bullish (average rating 1.3 on 1 to 5 scale according to Yahoo finance).
Financially speaking, True Religion's growth has been outstanding since its humble beginnings as a public company in 2003. Sales more than tripled between fiscal years 2005 and 2009, but growth rates have slowed as the company has matured. At Ockham, we are reiterating our Fairly Valued stance on TRLG as of the most recent quarter's results and the ensuing share price advance. The stock is trading near the middle of its historically normal ranges of price-to-sales and price-to-cash earnings. Based on current fundamentals and the company's moderating growth, we believe a price of $29 would be a reasonable valuation.