We were surprised that the Federal Reserve moved to taper yesterday, as they announced that they would reduce their bond buying program by $10 billion in January of 2014. It starts the taper a few months before we thought it would begin, but also puts into perspective for the market how healthy the economy is. Also import is that it gives the Fed a tool to use in order to keep the markets in line and will be a good measuring tool for investors to use in order to gauge how the economy is doing. If the Fed does not continue to lower the amount they purchase each month, then we will all know that the data is indicating some headwinds.
Learning that the Fed is easing their easy money policy but wanting to keep rates low for the foreseeable future has us bullish of the energy names as well as the base metal names, specifically those with copper exposure such as Freeport-McMoRan (NYSE:FCX). These names will probably lag the general market into the close of the year, but we would expect January and February to deliver fresh gains to commodities across the board.
Chart of the Day:
Gold is once again nearing its lows for 2013 and more importantly the $1,200/ounce level. If this level is breached it could spell big trouble for the gold bulls, especially if the bears are feeling emboldened by the Federal Reserve decision from yesterday.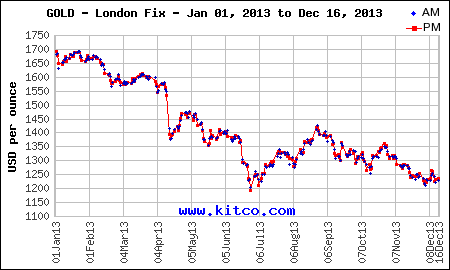 Source: Kitco
Commodity prices this morning are as follows:
Gold: $1,203.90/ounce, down by $31.10/ounce
Silver: $19.24/ounce, down by $0.819/ounce
Oil: $97.81/barrel, up by $0.01/barrel
RBOB Gas: $2.6977/gallon, up by $0.0004/gallon
Natural Gas: $4.338/MMbtu, up by $0.087/MMbtu
Copper: $3.298/pound, down by $0.021/pound
Platinum: $1,317.80/ounce, down by $24.90/ounce
The Bakken
Over the years we have made no secret of our bullishness on the Bakken in North Dakota. We have been bullish of oil and natural gas names in the shale play when others were either not bullish enough or bearish of those companies and it is something that we have taken great pride in. We have led readers in and out of Kodiak Oil & Gas (NYSE:KOG) numerous times over the years and had some pretty accurate calls as it relates to floors and ceilings on the stock price.
The gains for investors have not been limited to the oil patch though. US Silica Holdings (NYSE:SLCA) has been a big winner due to the shale boom taking place across the country, especially with what is occurring in Colorado and North Dakota. The stock has backed off from recent highs due to investor and analyst concerns about margins and growth, but with current drilling techniques and the continued growth in domestic drilling we think this name continues to outperform heading forward.
MDU Resources saw a sideways year in 2012, but 2013 has been quite strong and we think 2014 shall be as well. Although the dividend is somewhat low at 2.40%, it does consistently grow each year.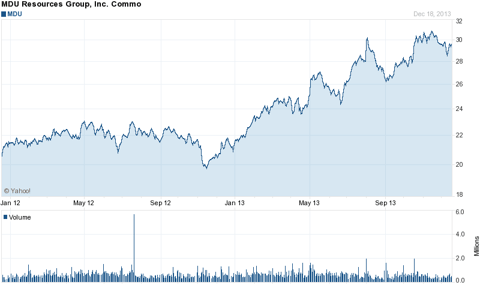 Source: Yahoo Finance
The name that we continue to remain excited about however is MDU Resources (NYSE:MDU) which came out and raised their guidance for EPS in 2014. Long-time readers will remember this name as a play on the success of the Bakken as the company runs an E&P business, multi-state utility, regional natural gas distribution company and materials entity. The $5 billion+ market capitalization company has seen its stock rise from $22/share when we were initially interested in it to around $30/share now. The yield is low for a utility, but then again the MDU Resources is not just a utility but a conglomerate. Our view is that the company will continue to benefit from the strong North Dakota economy and could look to ways of finding further growth by potentially gathering more gas from the area for distribution or building new pipelines. As far as utility-type stocks go, we think that MDU Resources is a top pick for 2014 as we see gains carrying over from 2013.
Disclosure: I have no positions in any stocks mentioned, and no plans to initiate any positions within the next 72 hours. I wrote this article myself, and it expresses my own opinions. I am not receiving compensation for it (other than from Seeking Alpha). I have no business relationship with any company whose stock is mentioned in this article.