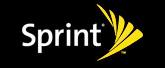 Sprint (NYSE:
S
) recently reported
Q409 earnings
that fell short of Street expectations. This sent share prices tumbling with investors trying to gauge when S's long awaited turnaround will materialize. Given the competitive landscape S faces, a number of Street analysts have written S off and have continued to beat the drums of the Company's demise. The stock is also reflecting significant investor apathy and skepticism regarding S. However, if one takes a closer look, a compelling bull case could be made for the Company. Rather than first cover the merits of S, it may make sense to review why the Street and investors are negative on the stock. While some of the bear case on S is clearly valid, there are also some misconceptions regarding the Company and once those are highlighted, S may become a more attractive investment.
Bear Case Highlights:
1) Sprint's key operating metrics are worst in class: Bears are quick to point out that S significantly lags its peer group in terms of key operating metrics. As Tables I and II illustrate, this is true. The Company has lagged its peers for years, particularly the two dominant players Verizon Wireless (NYSE:VZ) and AT&T Mobility (NYSE:T). However, one should note that from a free cash flow perspective, S is free cash flow positive and while its free cash flow margin ("FCFM") lags VW and ATM, it exceeds, and has exceeded, pre-paid peers Leap Wireless (LEAP) and MetroPCS (PCS) for years.
Click all images to enlarge
TABLE I: S vs. PEERS



TABLE II: S POSTPAID CHURN vs. PEERS



S lagging its peers has been widely known for years and may not be as important a factor as the fact that S has been cash flow positive in recent years with its free cash flow reaching record levels in fiscal 2009. This is particularly interesting because S has achieved this without having a signature phone as ATM has had with the Apple (NASDAQ:AAPL) iPhone or nationwide coverage to boast about like VW. Better phone options tied to the Company's first-mover advantage in 4G coverage could be positive catalysts for S (discussed in the Bull case).

2) VW and ATM pricing wars will crush Sprint: In January 2010, VW and ATM both announced plans to reduce the monthly rates they charge. Pricing wars can be brutal and many Street analysts and investors expect that the pricing changes will crush S. I don't see this as very likely for a number of reasons. The first is that VW and ATM price cuts mainly target the voice component of plans with both carriers reducing unlimited voice plans from $99.99 to $69.99. "Voice" is the key word as adding text and data increases these plans considerably. For example, after announcing the reduced voice plans, VW expanded the number of 3G Multimedia phones under its plans that require additional monthly fees for data. More so, the fact is that S plans are still cheaper than what is offered by VW and ATM. For example, both carriers offer unlimited family plans for roughly $120 per month which includes 1400 minutes over 2 lines. In comparison, S offers its Sprint Simply Everything plan for $100 which includes 2 lines and 1500 minutes. The same results hold when comparing similar plans across voice, text, and data between the three carriers with S offering more for less.

If one cannot be assuaged to remain on a carrier even if that carrier has one of the best smartphones around or the broadest national coverage, then price may be the biggest factor. Additionally, at that point, price elasticity may be irrelevant. A consumer may not be willing to stay with VW for a $30 discount when a competitor like S still offers a better bargain. While VW and ATM are viewed as "premium" carriers that can therefore charge more, customer views may be changing in this regard and the moves by VW and ATM seem to support this view.

So as it stands, VW and ATM plans, despite significant discounts, are still above S's comparable plans. Another reason why these price cuts may not harm S is because of the increased adoption of smartphones and commensurate data usage. To be clear, while VW and ATM may have curried some consumer favor by these initiatives, this is really a bait and switch designed to ultimately isolate data charges which will be going up across the industry as smartphone adoption increases.

The game plan is to upsell customers into smartphones which carry data fees and ultimately make the move to implement data "metering" plans. This is another reason why this pricing move by VW and ATM may be more flash than substance. As mentioned, the pricing of their plans are not superior to S despite the cuts. In fact, the new pricing plans may have consumers refocus on comparing all of the major carriers and they may be surprised with the findings. For example, while ATM may have the most sought after phone, it has arguably the worst network for the iPhone based on the 3G coverage.
EXHIBIT I: 3G COVERAGE (source VW)

Note: Blue (ATM), Green (S), Purple (T-Mobile), Red (VW)
Another reason current pricing plan discounts may matter less is as industry and consumer adoption of smartphones increases, higher data consumption will yield better economics for all carriers, especially on 4G networks where delivering data is actually cheaper compared to existing 3G networks. Since 4G rollouts are happening now with S, and broader 4G adoption could occur in the next 18-24 months, carriers may be in a position to charge much more once new phones are unveiled with stronger data usage.

3) Sprint is over levered and on the brink of bankruptcy: Many bears point to the large debt load carried by S and suggest this is far too much for the Company and it will lead to bankruptcy. This does not seem very likely due to the Company's cash flow production and its maturity schedule. While S carries $21.8B in debt, the Company also has roughly $3.9B in cash, yielding $17.1B in net debt. S generated $6.0B in EBITDA in 2009, resulting in a Net Debt/EBITDA ratio of just 2.8x. This is not a highly leveraged company. Capital expenditures were $2.2B in 2009 and are expected to be just $2.0B in 2010 while interest expenses will run about $1.5B in 2010. After these funding needs, S could have over $2.0B in excess cash flow.

S also faces little refinancing risk as shown in Table III. In 2010, S will need to refinance just $750MM in debt. S has $3.9B in cash on hand as well as an additional $2.7B in capacity under its revolver, making this refinancing a non-event. Other refinancing amounts are also very manageable in the coming years given the Company's cash flow production capabilities. Most importantly, a significant portion of S's debt is due well after 2016. In fact, over $5.0B in debt or nearly 30% of the Company's net debt, is due after 2020. While S is facing challenges, high leverage does not appear to be one of them.
TABLE III: S MATURITY SCHEDULE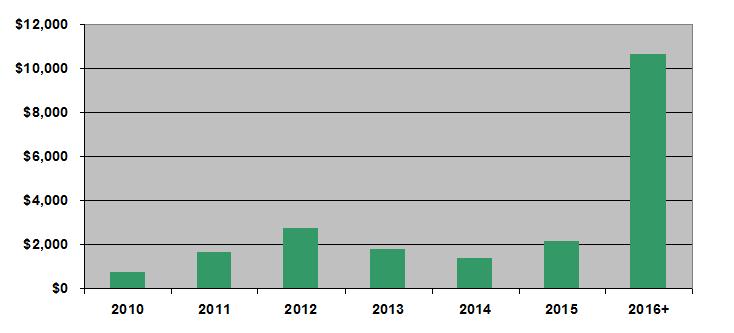 Without a doubt, S faces some challenges but some of the key aspects of the bear case are not as pronounced once one takes a closer look at them. Now let's cover the reasons why S may be an attractive long.

Bull Case Highlights:
1) Churn and customer losses appear to be moderating: S is a turnaround play and it's been a business that has for years struggled to "turn", but recent data suggests that the Company may finally be turning a corner. In Q4 09, the Company's postpaid churn improved from 2.16% to 2.11% year over year. In addition, postpaid gross and net adds seem to have bottomed in H1 09 and have been improving since then as illustrated in Table IV. Rather than focus on the absolute numbers, the strength in terms of the trend reversal may be the most important factor (denoted in growth comparisons).

TABLE IV: POSTPAID GROSS AND NET ADDS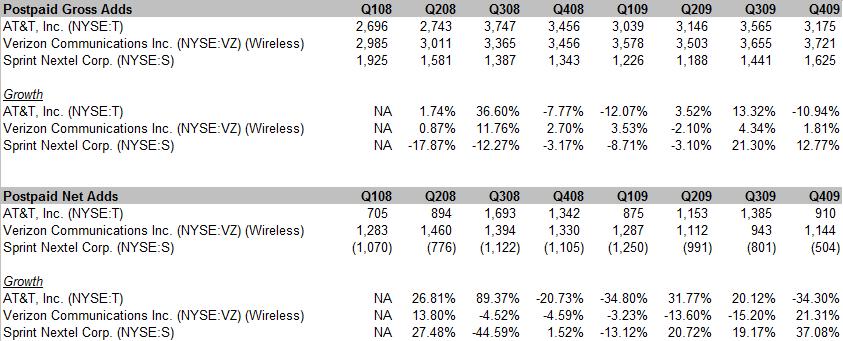 2) Improved customer service: The Company's customer service is improving and this will have a direct positive benefit on future earnings. S customer satisfaction has improved for seven sequential quarters and fewer customer issues have allowed S to shutter 27 call centers in the past two years. This has yielded annualized cost savings of $350MM per year and further improvements should also allow S to improve the middle part of its income statement. To put that in context, in 2009 S recognized $17.2B in operating expenses or roughly 53% of total revenues. The $350MM in annualized savings would yield an 80 basis point margin improvement on the same level of sales. As the Company continues to improve customer service, further cost improvements should be realized.

3) Next generation/4G and Smartphone operating systems ("OS") innovations will benefit S: S has had no signature phone in recent years while its peers benefited from either having broad geographic coverage (VW) or an exclusive deal with the iPhone (ATM). As a result, S and other carriers have had difficulty in competing with the two largest players whose broad geographic coverage appealed to users - in the case of VW - or exclusivity of the best phone drove consumers to ATM. However, increased interest in smartphones and the development of powerful competing OS should benefit S.
This doesn't mean that S will suddenly have the popular iPhone under its network. For S investors that are hopeful that someday S will have the iPhone, it is highly unlikely to happen. Aside from its exclusive deal with ATM, AAPL seems interested in sticking only with GSM as opposed to CDMA for its current generation of iPhones. This rules out S, and given that VW never struck a deal early on with AAPL during the developmental phase (VW uses CDMA), until 4G is fully rolled out, AAPL will most likely be sticking with ATM.

Nonetheless, increased proliferation of smartphones should benefit S as a number of very interesting devices are being released in 2010 that are not the iPhone. In recent years, Research in Motion (RIMM) and Apple dominated the smartphone market in good part due to their application software market. Windows Mobile has been a weak competitor and not widely used by the top US smartphones, so RIMM's Blackberry Market and AAPL's App Store were really the only place developers could focus on in terms of programs, "app candy," and other software that made the user experience that much better. By doing this, the overall moat for these devices only strengthened with hundreds of thousands of applications for these phones relative to a fraction of those for competing phones.

In 2009, Palm (PALM) reminded everyone about WebOS with the release of the Palm Pre. While there are many fans of WebOS, the operating system lacks the marketing and financial muscle to compete with the Blackberry market and App Store. Consequently, with a smaller user base, there's little incentive to offer programs on WebOS relative to the App Store which makes further improvements and software enhancements to PALM phones more difficult. This once again makes it difficult to drive device interest when competing phones have a much larger base of OS programmers and applications.

However, Google (NASDAQ:GOOG) made a big splash into mobile operating systems with its Android system and GOOG has the financial firepower and vested interest to make Android a big success. More importantly, while the App Store has tighter programmer controls, Android is open source which should attract a number of developers. Android developers get the backing of an innovative company like GOOG and open source which should be a win-win for them. So how does this help S? In recent years, it was the combination of form factor and OS that made the iPhone and Blackberry so attractive. The form factor of the iPhone could be copied but the lack of a powerful competing OS made the user interface generally less attractive.

However, with Android there's a viable open source OS that will give the App Store and Blackberry Market a big-time run for their money. Programmers and consumers have both received Android very well with positive reviews by both key groups. In fact, technology research firm Gartner predicts that Android will be the second most popular smartphone platform in 2012, supplanting Blackberry and iPhone OS (Nokia's (NYSE:NOK) Symbian OS would still be #1 due to its reach outside of the US). Again, so why will this benefit S?

Prior to Android, phone manufacturers could offer phones that were similar in design to the iPhone but fell very short in terms in offering smooth, computer-like media, graphics, and user interface. The advent of Android and its open source nature make it very attractive to phone manufacturers to easily adopt and for software providers to utilize and develop a deep library that can be used across Android phones. With the introduction of more advanced smartphones with a robust OS, there are legitimate iPhone competitors whereby those that want a solid phone will have other devices and ultimately other networks like S to choose from. As it currently stands, if one wants an iPhone, they are locked into ATM even though ATM's network can't always keep up with the iPhone (especially in the New York City area).

What this means in the long-term is that the dominance of the iPhone and Blackberry may start to show some vulnerability. This was partly seen in the latter half of 2009 when Motorola (MOT) partnered with VZ to release its exclusive and popular DROID device. In H2 2009, S partnered with HTC to release the Android-powered Hero. These are very attractive phones and HTC is getting more aggressive with the US market. Anyone that takes a look at their device lineup will see that HTC is the real deal. The Company's partnership with HTC on future phones could lead to an eventual big hit.

Another reason that increased user demand for smartphones could benefit S is due to its head start in 4G deployment via Clearwire (CLWR). S owns 57% of CLWR and other strategic investors include Intel (NASDAQ:INTC), Comcast (NASDAQ:CMCSA), Google, and Time Warner Cable (TWC). One problem users of smartphones experience is that they stretch the data capabilities of current networks so they may essentially have a phone/data experience that is similar to a Ferrari that is always stuck in second gear. CLWR offers WiMax, with this format capable of higher data transfer capabilities than current 3G networks (10 Mbps at WiMax vs 1-3 Mbps at 3G). This addresses the "clogging of the pipes" 3G smartphone users face.

CLWR has rolled its network out to 30 large cities in the US while VZ and T will start deploying their 4G network under the Long Term Evolution ("LTE") format over the course of the next two years. Some observers believe that WiMax and LTE is a format war where there can only be one survivor and since VZ, T, and other companies are backing LTE, WiMax will eventually fizzle. This would contradict statements by CLWR CEO Bill Morrow, who has indicated that CLWR's hardware can adjust from WiMax to LTE relatively easily, requiring mostly just a software update.

Additionally, CLWR will be available in New York, Boston, Washington DC, Houston, San Francisco, Denver, Minneapolis, and Kansas City by 2010. Due to the head start S has through CLWR in deploying 4G, phone manufacturers may have an incentive to get ahead of RIMM and AAPL in deploying 4G phones faster and thus have a strong incentive to partner with S. This window of opportunity may also allow S to finally have a signature phone. In Q3 09, VW rebounded with the introduction of the DROID while ATM has always had the iPhone.

Recent news reports suggest S will have a 4G (3G compatible) phone ready by H1 2010 with speculation that the 4G phone will be the rumored HTC Supersonic. If management does in fact partner with a company like HTC, which has made some amazing phones of late, then S could take advantage of an open field in terms of having the only 4G phone utilizing a network that will cover 120MM people in the US capable of much more impressive feats in terms of data and user experience when other carriers will still be rolling out their 4G networks.

3) Valuation: S is a turnaround story and faces a challenging uphill battle. The prior points cover some interesting angles and potential catalysts for S but would have little value if not for the fact that S appears to be grossly undervalued across a number of metrics. Against its main peers, S is significantly undervalued. As Table V demonstrates, S trades at a substantial discount to its peers with low EV/Revenue, EV/EBITDA, P/TBV, Free Cash Flow Yield metrics.
TABLE V: S PUBLIC COMPS



The quick response to the Company's valuation discount is that S is an operational laggard relative to VZ and T. But in comparison to its prepaid rivals, S generates free cash flow while LEAP and PCS do not. Yet these businesses both trade at healthy valuation multiples. Further, price competition in the prepaid space is likely to crimp the performance of PCS and LEAP in future years, leading to reduced earnings in future years. LEAP and PCS both appear to realize this which is why they are considering merging. In addition, LEAP and PCS have both been experiencing increasing churn rates (prepaid) over the past two years. In contrast, S's prepaid churn has been improving over this time, which would suggest there's value in its strong brands such as Boost and Virgin Mobile. At the very least, LEAP, PCS, and S should have some level of valuation convergence given that S maintains two very strong prepaid brands like LEAP and PCS but also generates positive cash flow, unlike PCS and LEAP.
TABLE VI: PREPAID CHURN

S is also attractive from the perspective of P/BV and P/TBV. As is the case when a business is viewed as healthy, it tends to be valued well over book value and tangible book value. This is the case with both T and VZ, which carry significant levels of goodwill and intangible assets (excluding FCC licenses) and trade for industry leading P/TBV multiples. PCS and LEAP also trade at significant premiums to S in terms of P/BV and P/TBV.
While S has its challenges, this valuation discount seems pretty steep. For example, one can review the Company's latest balance sheet and conduct a quick liquidation analysis which seems to indicate that S is trading at just 25% above a reasonable liquidation value. Currently, S has about $18.1B in book equity, which equates to $6.24 per share in book value. In a liquidation, a number of these assets would be written down and Table VII presents a reasonable reduction in book values. S appears to have some assets that will have "sticky" value such as the $19.9B in FCC licenses it controls.
TABLE VII: S LIQUIDATION ANALYSIS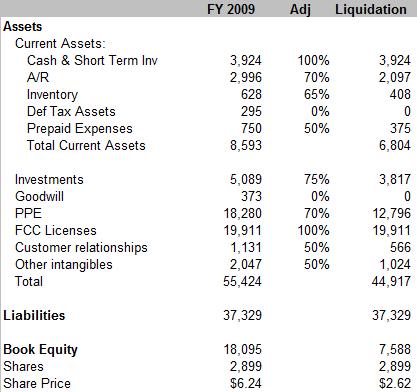 Even in a liquidation, S would likely command strong demand for this asset as the International Telecommunications Unions recently found that the US needs to have 800 MHz in spectrum available by 2010 for mobile voice and data. It took a decade to get 700 MHz in spectrum auctioned off and more importantly, the past decade has seen a greater number of participants in the market in terms of spectrum buyers. There are the typical incumbents such as the traditional telecoms but technology companies such as GOOG will also be hungry for spectrum. As a result, the value of the Company's FCC licenses could hold up very well in a liquidation given the frequencies of these licenses are in the sweet spot for mobile transmission. The Company's PPE consists of network infrastructure which is also likely to retain value.

Carrying out the liquidation analysis in Table VII yields a liquidation share price of $2.62 with current share prices just 25% above this level. If S was bleeding cash and financially crippled, this valuation could makes sense but S has been free cash flow positive for years. More importantly, free cash flow grew from 2008 to 2009, yielding a very attractive free cash flow yield of 29%.

While S has its share of challenges, these valuation levels seem to be too tempting to ignore. At current prices, S is attractive as a standalone investment or a potential buyout by a strategic investor such as Deutsche Telekom (DT) (controls T-Mobile). As indicated earlier, S is making progress in turning around its postpaid trends as customer attrition has been improving rapidly in each quarter. Customer service has been improving as well which will reduce future operating expenses. S has made the bulk of its major network upgrades whereby 2010 capital expenditures will be roughly $2.0B. This suggests that the Company's operations are bouncing along a possible bottom while the broader telecom industry gears up for 4G. This should yield improved pricing power and lower costs, as consumers will want to use high powered smartphones on this network that can accommodate higher data needs, benefiting carriers that will be charging more for this usage (higher subscriptions) but have lower delivery costs as 4G is more efficient for data delivery than 3G.

Improvements in churn are a huge margin opportunity for S and if the Company can make additional progress on churn, there should be an immediate benefit to the Company. Taking advantage of relatively open skies in 2010 is another "must do" for S in terms of securing a signature phone paired with its expanding and first mover 4G network. Last, broader adoption of smartphones and the 4G networks to accommodate the data needs of increasingly advanced mobile devices in the coming years could also usher in a new environment where revenues and margins can expand for the industry including S.
DISCLOSURE: Author manages a hedge fund and managed accounts Long S.