2013 has not been a star year for the greenback. It started at 1.3262 against the euro and it's now at 1.3749 (latest official value: December 18th ). We have seen a significant volatility during the year, but the most interesting ups and downs can be related to specific events (chart no. 1).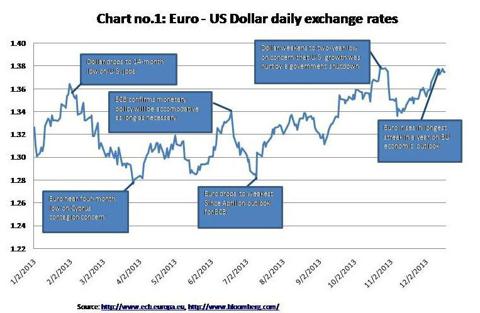 According to some experts, the current dollar value is incorporating the effect of tapering and US fiscal debt. While it's true that tapering is a form of restrictive monetary policy, it has mainly been interpreted as a negative signal by investors. I think in this case the behavioral view has prevailed on macroeconomic analysis. When tapering takes effect, the Fed will have enough elements to rely on a more robust growth. By "robust" I mean a consistent and steady improvement of GDP, together with a recovery of unemployment rates. According to the latest OECD economic outlook, the US are expected to close 2013 with a positive change in GDP (+1.685%), vs. a decrease in Euro Area (-0.435%).
In 2014 the US economy is expected to grow by more than 2.8%, while Euro Countries will reach a feeble +1.02%. More interestingly, according to OECD data, growth is mainly coming from the private sector, thanks to inventory recovery, fixed investments and households. The latest numbers also show a decrease in public spending, from 6.2 trillion dollars in 2010 to 6.1 trillion dollars expected at the end of 2013. From 2014 total spending will increase at 6.5 trillion dollars, but pension costs and healthcare will be flat at 38% (chart. no. 2) and will reach 40% in 2016 (chart no. 3).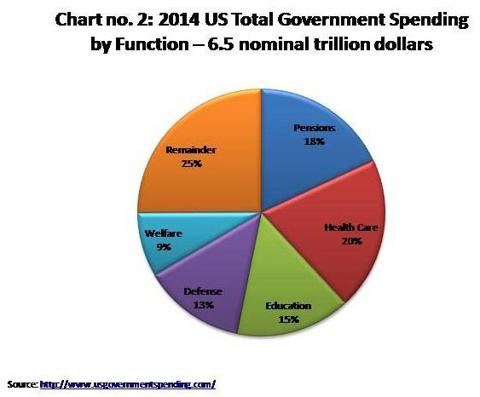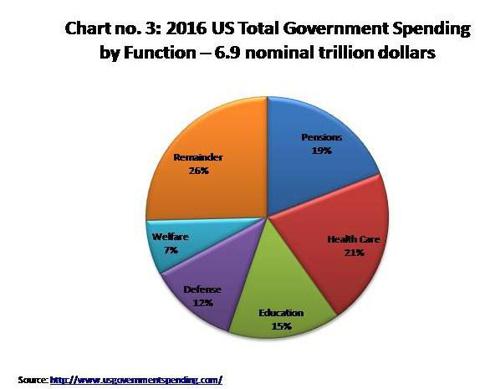 The good news is that the US population is still growing: +0.9% in 2013, with a birth rate of 13.66/1000, a median age of 37.2 years and an elderly dependency ratio of 21%. This sharply contrasts with the population statistics of Germany, the biggest EU country: growth rate is negative (-0.19%), the median age is 45.7, the birth rate is 8.37/1000 and the elderly dependency ratio is 32.1%. In other advanced countries the difference is even more dramatic. So, the US is in good shape to face an increase in pension and healthcare costs, thanks to a young and growing population.
From an international trade perspective, the US current account balance is also improving (chart no.4), thanks to the recent increase in exports (chart no.5).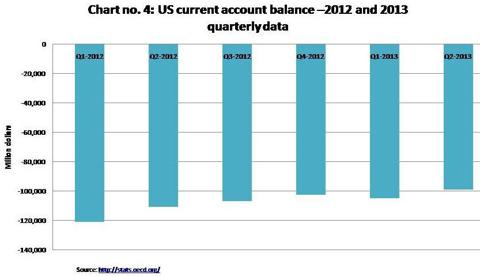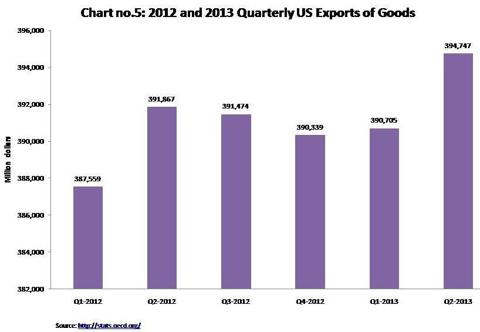 Imports, which peaked at the beginning of the year, are now retracting because of the higher price of foreign goods, due to the dollar devaluation (chart no.6). In addition, during the crisis many corporations started reversing the outsourcing process, moving production back to US.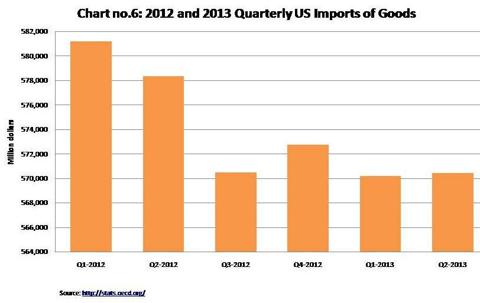 Other events should have a favorable impact on the greenback. In terms of interest rates, the ECB is expected to further decrease the cost of money, moving it into negative territory if necessary. In addition, the European Union will run a bank stress test in the first half of 2014. We should be prepared for some bad news from this side: government bonds and companies' non-performing loans are two potential areas of investigation. In fact, EU banks heavily invested (and are still investing) to finance the public debt of weak economies, while the mounting financial crisis and the mortality rates of companies in the Euro area are exposing the bank sector to additional risks. IMF has recently stated that "In the stressed economies of Italy, Spain and Portugal, heavy corporate sector debt load and financial fragmentation remain challenging". This means that if the economic and financial conditions don't improve, some banks in these economies will need to increase provisions and/or writedown.
And finally, don't forget the positive "Yellen effect": Ms. Yellen will start her mandate to the Fed next January. During her confirmation hearing last November, she assured that she will keep the current policies until "strong recovery" permits the bank to scale back monetary accommodation. Good news for the behavioral effect on the greenback too.
So, how to take advantage from the expected dollar revaluation?
If you are a European Union investor, you should consider increasing your allocation to US stocks and bonds now. Even though you may be bearish on the US market due to the current P/E and fears on US public debt, the uncertain European scenario is not providing rosier perspectives on European stocks and bonds.
If you are a US investor, hedging your exposure to euro-denominated stocks and bonds would be recommended. If you want to be more risk-aggressive, you may open speculative short positions on euro (i.e. short euro forward).
In both cases, if you are going to invest in emerging markets, select dollar-denominated bonds.
At least until the first half of 2014, when the results of European Union stress tests should be known, a long strategy on dollar-denominated investments should be rewarding.
Disclosure: I have no positions in any stocks mentioned, and no plans to initiate any positions within the next 72 hours. I wrote this article myself, and it expresses my own opinions. I am not receiving compensation for it. I have no business relationship with any company whose stock is mentioned in this article.
Additional disclosure: I have a small part of my portfolio invested in US $