Lithium and China
Over the last decade, China has led the world in battery exports for laptop computers, cell phones, and other electronic devices. In China there are hundreds of companies, both small and large, that are involved in development of Ni-MH, lead-acid, and lithium-ion batteries. In the past 3 to 4 years, many multinational companies have brought advanced battery technologies to China and set up partnerships and/or joint ventures to manufacture batteries for these and other applications (such as electric bikes, electric vehicles, and hybrids) to take advantage of low labor costs in China and incentives provided by the Chinese government.
While China does have domestic sources of lithium, the country does not have sufficient reserves to cope with the expected demand of consumer electronics, hybrids and electric vehicles. It therefore has no choice but to import lithium. In 2008 China imported roughly 4,300 tons of lithium (mainly from Chile).


What many people don't realize is that next to Chile, Argentina and Bolivia, China is one of the countries with the largest lithium reserves in the world. China's lithium reserve base is 2.7 million tons (other estimates peg it at 3.35 million tons), ranking the country 3rd in the world in terms of salt lake brine lithium reserves, and 4th in terms of total lithium ore resources.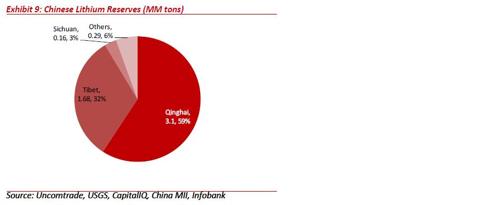 China has three major salt lake deposits: (a) Taijinaier Salt Lake (Qinghai Province), (b) Dangxiongcuo, or DXC (Tibet), and (c) Zhabuye (Tibet). The Qaidan Basin, where Tiaijinaier is located is supposedly the largest salt bed lithium reserve in China. The main operator in the area is CITIC Guoan, who is purportedly building the largest lithium carbonate plant in the world.
One issue facing Chinese lithium deposits is a lack of infrastructure. Similar to their Andean counterparts, the dry salt lakes in China are in very remote and inhospitable places. Trains and highways are crucial if the lithium is to be transported to end users at the right price.
The bottom line is that China does not want to be left behind. If it wants to be the leader in consumer electronics, electric vehicles, and by extension batteries, it needs to do several things: further develop its domestic lithium deposits, beef up the physical infrastructure that lead to those deposits (i.e. roads, rail), and opportunistically look for acquisitions abroad.
Conclusion
Latin America and China have a special bond when it comes to lithium. While China does have reserves of lithium in Qinghai and Tibet, the growth of the hybrid and electrical vehicle markets will dwarf current global production (an electric automobile uses a quantity of lithium equivalent to 700 cell phones). Latin America, especially Chile, Argentina and Bolivia may hold a key.
China is the world's largest auto market but the country lags the United States and Europe in technology for gas-powered vehicles. As a result, Chinese leaders are now focusing on electric cars. They plan to turn China into one of the leading global producers of hybrid and all-electric vehicles in the next few years. A clear winner could be BYD (OTCPK:BYDDF), a firm relatively unknown outside of China. BYD is the world's 2nd largest cell phone Li-ion battery manufacturer and in 2008 it received $230 million for a 10% stake from Warren Buffett's MidAmerican Energy Holdings. David Sokol, Chairman of MidAmerican, said he thought that BYD's technology was a "potential game changer if we're serious about reducing carbon-dioxide emissions." Today BYD has roughly 12,000 engineers working on battery technology in the southern Chinese city of Shenzhen.
From our vantage point in Shanghai, we think that the "road to riches" in the 21st century may not necessarily be paved with gold, but with a silvery metal known as lithium. And as fate would have it, this road to riches may also inexorably bind two regions of the world that have a lot to gain from each other: China and Latin America.
Disclosure: None