North American Palladium (PAL) is the beleaguered Canadian palladium producer that has seen its stock price fall 60% this year and fall over 30% since I published my article about their liquidity squeeze one month ago. Since writing that article I have had numerous communications with many investors about PAL and whether to continue to hold their shares or potentially buy more. Interestingly, no one was entertaining the prospect of selling. I won't go into much of the back-story here as my assumed audience is those who already know the PAL story, are or have been shareholders, and have probably read my other articles on it.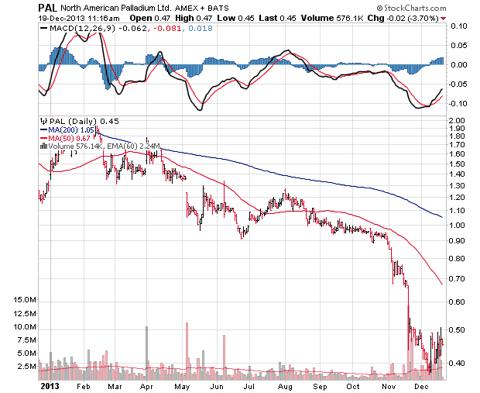 The critical issue with North American Palladium is liquidity: they have none. As of their September 30, 2013 quarterly report, cash had declined to $18 million and working capital had fallen to a dangerously low $1.5 million. Since the quarter end, PAL raised another $21.4 million from Brookfield Asset Management (NYSE:BAM), their incumbent term lender who had previously provided $130 million at 15% interest. The $21.4 million was a refund of $6.4 million in interest previously paid and a further advance of $15 million. This action reset the interest rate on the loan to 19%, going back to the time of issue. It also cost PAL $8.1 million in fees to amend the loan which have been capitalized and added to the loan principal. Expensive? You got that right. But desperate times call for desperate measures and PAL had to take the money.
The increase in the BAM loan was only a temporary measure to give PAL some time to raise more equity and not run out of cash. I take the $8.1 million amendment fee as a loud signal from BAM to not come back and ask them for more money. At the quarter-end PAL stated they would need to spend another $37 million on capital to complete the transition to mining their newer Offset Zone underground mine which PAL believes will increase production and significantly lower costs. In addition to the Offset Zone capex, PAL needs some sort of balance sheet repair; at the very least they require something to restore working capital. The critical questions for investors then become: How much money do they need to raise? What will that do in terms of dilution? Can they raise the money? I will attempt to shed some light on those three issues in the balance of this article.
I see the bare minimum that PAL can get away with in terms of raising equity as being the $37 million for capex and $16 million in working capital (computed by taking 1.2 as a minimally acceptable working capital ratio). That totals $53 million, less the $21 million from BAM recently drawn, gives you $32 million, net needed to be raised. If they were to raise that at $0.40, a roughly 12% discount to the market at time of writing, that would add 80 million shares to the 197 million shares currently outstanding, an increase of 40%. This I see as the bare minimum and frankly I would think that would have them back in the equity market again sometime in 2014. Completion of the transition could easily take more money and more time than management has contemplated. Without being disrespectful, under-estimating needs has been the history of financing PAL for quite a while now. Raising $50 million seems a much better target to me, one that would give them some cushion and allow for contingencies. That would increase the share count by 125 million or a whopping 63%. But, again, desperate times call for desperate measures.
Can they raise the equity? On December 2, PAL issued a press release providing the details of the BAM loan amendment and also stating "The Company recognizes that there are further funding needs required to achieve sustainable operations that are expected to be breakeven or cash flow positive during 2014. Accordingly, the Company is currently actively engaged in discussions about securing additional financing. While NAP has been successful at securing financings in the past, there is no certainty that the required financing will be available, or if available, on acceptable terms." The entire investment banking community was then officially put on notice that PAL was looking for equity. It would not take a rocket scientist to figure that out prior to the announcement. It has now been almost 3 weeks since that announcement but still no word of a deal.
Time is never the ally of any deal. PAL needs to find someone to provide them with the equity required to allow them to complete their transition to the Offset Zone. And they need to do so quickly. PAL is not in a strong negotiating position and any equity raise is likely to be highly dilutive with the purchasers driving the deal terms. The longer PAL waits, the closer they come to the end of their cash, the less is their bargaining position. There may be brighter days for PAL stock, as the Company's Preliminary Economic Assessment indicates production could rise to 250,000 ounces and cash costs could drop to $300, significant feats by any standard. But in my opinion those benefits cannot come until they have adequate equity financing. Given the balance of negotiating strength, I expect any raise to be done below the market and therefore I am bearish on the stock until that financing has been completed.
Lest anyone think that I am a perma-bear on PAL, let me dispel that notion. I first came to this story after doing research for an article on platinum and palladium which I happen to be bullish on. This lead me to a search for North American producers that could potentially become investments as a way of executing on my bullish platinum group metals thesis. Initially, PAL looked like a good mine with lots of pounds in the ground. I wanted to get long the stock. But as I did more diligence the liquidity issues became apparent and this has prevented me from going long so far. I continue to follow the story, looking for the appropriate entry point. Once PAL gets adequately financed and is able to announce production increases and cash cost reductions as per their plan, I will seriously consider joining the longs. And I don't really care how much higher a price I have to pay at that time. There is likely to be plenty of upside if that story unfolds. Until then I have a small short position in the stock, which I expect to cover upon the announcement of a financing.
Desperate times call for desperate measures.
Disclosure: I am short PAL. I wrote this article myself, and it expresses my own opinions. I am not receiving compensation for it (other than from Seeking Alpha). I have no business relationship with any company whose stock is mentioned in this article.