Editors' Note: This article covers a stock trading at less than $1 per share and/or with less than a $100 million market cap. Please be aware of the risks associated with these stocks.
Shares of Immunocellular Therapeutics (NYSEMKT:IMUC) have been among the top downside movers for several days in a row since the company reported results a week ago from its placebo-controlled, double-blind, randomized phase II trial of its dendritic cell-based vaccine, ICT-107 in newly diagnosed patients with glioblastoma multiforme (GBM) following resection and chemo-radiation. After a 63% gap-down to $1.00 at market-open the day after the announcement, shares have dropped every day, hitting a low of 65c in early morning trading yesterday, December 18th, before closing the day at 74c. At its current price, shares are now off more than 80% from the all-time high of $4 that they hit just days before the announcement after both Roth and Maxim provided positive coverage based on their expectation of a positive outcome to the phase II trial.
On the day after the announcement, on December 12th, Roth and MLV & Co. lowered their price target, with Roth lowering it from $9 to $2, and MLV & Co. lowering it from $6 to $1.25. IMUC shares, however, have fallen well below both of these price targets, by between 40% and 65%. At today's closing price, at a market-cap of just $44 mill., it is as if the company has been left for dead. It is our contention that market pessimism, while justified, has been over-done to the downside, and that the shares are setting up for a quick rebound to the $1 range, before consolidating there as the market awaits more development news and new data analysis that will be coming out next year.
Results from the phase II trial demonstrated that ICT-107 had a statistically significant increase in progression-free survival (PFS) in GBM patients, with the difference in the median PFS times between ICT-107 and placebo being two months in favor of ICT-107 in the intent-to-treat population of all 124 randomized patients, and with that rising to three months in favor of ICT-107 in the per-protocol population subset of 117 GBM patients. However, PFS is a secondary end-point, with the phase II trial failing to achieve the primary endpoint of a statistically significant difference in the overall survival (OS) in both the intent-to-treat and per-protocol populations. It is this disappointment that the market reacted to severely, punishing shares in five back-to-back down sessions, and down on the sixth trading day so far today.
GBM is an aggressive malignant brain tumor in humans, that is rare but exceptionally fatal with a median survival time without treatment of just 3-4 months, that improves to 15 months under current standard-of-care radiation and chemotherapy with temozolomide, marketed by Merck & Co. (NYSE:MRK). Temozolomide, the most recently approved drug for this indication, in 2005, showed a two and a half month improvement in median survival between newly diagnosed GBM patients, from 12.1 months to 14.6 months. It was approved mostly because so few treatment options were available, even though the improvement was on the lower end of what is desirable. Temozolomide is sold worldwide, with annual sales of about $1 bill.
The two and a half month improvement in median survival with temozolomide is similar to the numerical differences, although not statistically significant, in the median survivals favoring ICT-107 of two months in the intent-to-treat population and three months in the per-protocol population. It is conceivable that as the data matures, i.e., more death events are recorded, and the number of events rises from the 67 reported in the announcement closer to the possible 124 patients enrolled in the trial that significance could improve. This is because the p-value associated with OS is an estimated value because the complete data sets are not in, and as more events are added, the signal-to-noise ratio could change, and that could change the p-value to a statistically significant value.
Mind it, we are not saying here that it will change. But that it could change, in contrast to what the market seems to be factoring, based on the price action. While not in any way conclusive, this is supported also by later results from the earlier phase I trial in which eight of the sixteen patients who participated have survived more than five years post-diagnosis, with seven of the eight still living, as of November, with length of survival ranging from 60.7 to 82.7 months. Furthermore, six of the patients were "progression free" for more than five years, and four of them still remain free, meaning that the tumors did not return or require more treatment. This is in contrast to the current standard of care, with median length of survival of 15 months after diagnosis, with only ten percent surviving for more than five years.
The company believes that while the results did not show a statistically significant OS benefit, that based on the observed biological effect of ICT-107 on GBM patients, and the meaningful effect on several clinical endpoints, and the improved safety profile of ICT-107 vs. current standard of care, that there is enough here in the data pointing to a long-term survival benefit for the FDA to allow them to proceed to a phase III trial. Were that to happen, and it seems reasonable, the first negative impact from the poor OS data would be that the timeline would be pushed out by about a year or two, as the company will wait for the data to mature (i.e., more death events), in the hope that it shows better significance as it matures, before scheduling an end-of-phase-II meeting with the FDA. Also, there would be the incremental additional cost of running the company, which amounts to about $8 mill. to $16 mill., based on the cash burn rate of about $2 mill. per quarter. The additional cost of a phase III trial estimated at about $30 mill. to $50 mill., based on 300-500 patients enrolled and $100,000 per patient cost, would be the same, even if phase II OS data was significant.
Other factors to consider include the following:
while the FDA requires OS as the most reliable endpoint for cancer drug approval, it has acknowledged and indeed approved drugs based on tumor assessment endpoints such as PFS, such as Genentech's Avastin in breast cancer;
the European Medicines Agency (EMEA) has long used PFS as an acceptable endpoint for the approval of first-line cancer drugs, so even if ICT-107 is not approved in the U.S., if OS data continues to be non-significant in future trials, it might still find success overseas;
the company is still analyzing the results of the trial, and there might be a subset that may have promising significance data;
per the company, this is the first time that a placebo-controlled immunotherapy trial in glioblastoma has demonstrated a statistically significant improvement in a clinically relevant measure, such as progression-free survival, which may have an influence on FDA decisions;
IMUC shares may have been over-sold to the downside due to year-end tax-loss selling, setting them up for a quick rebound near year-end and next year;
Also, just as we are writing this article, IMUC's President/CEO Andrew Gengos disclosed a 27,000 share purchase at an average price of $0.7171/share that were bought just earlier yesterday, on December 18th.
We are not contending here at all on how negative the results were, or with the fact that IMUC shares were justly punished for that disappointment. However, what we are asserting is that the downside has been fully played out, perhaps a bit too much. The market seems to be factoring almost a zero likelihood of ICT-107 proceeding to later stage trials and succeeding. Based on the factors mentioned above, we believe that it still remains a possibility, albeit a lower probability than could be estimated before last week's announcement. Assigning even a ten percent likelihood would lead us to a value in the $1 to $1.50 range, based on the general expectation before the news that price could rise to the double digits if phase II was successful. This would also be more in line with the price targets of $1.25 and $2 put on IMUC shares by MLV & Co. and Roth following the announcement.
We believe that IMUC shares are set to rise to $1 or slightly above in a year-end rally, and there is a strong likelihood that they will trade in the $1 to $1.50 range until more information is available on trial result details, more mature data, and the outcome of an end-of-phase-II meeting with the FDA.
Leading Funds Were Bearish on IMUC Prior To Last Week's Fall
For anyone invested in the markets, it is common knowledge that biotech crashes like we saw on IMUC are all too common. An interest of ours is using the buying & selling data of leading fund managers, as reported in their latest quarterly 13-F and daily SC 13D/G SEC filings, as an additional data-point to inform us on the probability of event outcomes, both positive and negative, and not just for biotech clinical trials, but for all stocks in the overall market. Our findings have revealed a strong correlation between leading fund manager activity and the price direction for a stock over subsequent quarters, the most notable of which is the net selling we saw in Apple shares in the quarters preceding the decline.
So our question in retrospect was how good was leading fund data in this case, in predicting the debacle in IMUC shares. Once again, our thesis was confirmed, and we found that leading fund managers have been bearish on IMUC, either by virtue of their selling or not having any position in the company prior to last week's fall. Specifically, 27 of the world's largest or mega fund managers, with total assets under management (AUM) well over $30 Trill., have been selling IMUC for each of the last three quarters, effectively cutting their position by almost 60% from 5.00 mill. shares at the end of 1Q/2013 (March quarter) to 2.14 mill. shares at the end of 3Q/2013 (Sept. quarter). In our list of 25 healthcare-sector focused funds, none of them held any position in the stock, and neither did New Masters or Tiger fund managers hold any position in the stock at the end of 3Q/2013. Among our list of 78 legendary or Guru fund managers, that are notable because of their market-beating long-term returns, only one guru, Citadel Advisors (click here for their summarized 13-F), led by guru Kenneth Griffin, held a very minor position in the stock.
While at first glance, it might seem that IMUC's market-cap status of being in the $200 mill. range prior to last week's plunge, would preclude leading fund managers from buying, it is worth noting that from our database of almost 200 nano-cap biotech companies (defined as market-cap less than $300 mill.), about half of them have higher ownership than IMUC, and the numbers are similar for healthcare sector-focused funds as well. So, for investors that look for confirmation of their thesis from top fund managers, their overall selling and the lack of ownership among guru and healthcare sector-focused funds could have provided a clue as to what value these leading managers may have assigned to this biotech company's pipeline.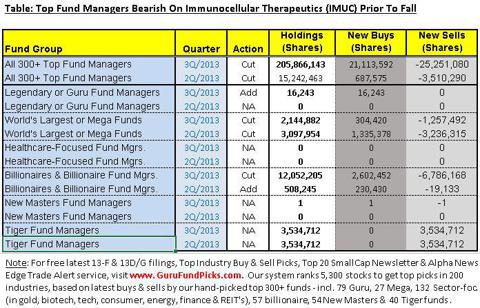 As a side note, there has been much talk about the similarity of Northwest Biotherapeutics (NASDAQ:NWBO) DCVax vaccine with ICT-107, and what it means for NWBO shares. Indeed, the market has been quick to drop NWBO as well, falling in tandem with IMUC shares, and approaching multi-year lows. We will not talk here about the relative merits or comparisons between the two, as that has been flushed out quite well by others, but what we would like to mention here is that like IMUC, NWBO also has no ownership among Guru & healthcare sector-focused fund managers, but in contrast it does have net buying by mega funds over the last couple of quarters.
Investment Risks Associated With IMUC
IMUC is a micro-cap biotech stock, and there are unique risks associated with that. For one, like most other development-stage biotech companies, it has been incurring losses since inception, and in IMUC's case, is expected to do so, for the foreseeable future, until one of its development-stage products is FDA approved and sold in the marketplace. This appears to be at least three years away, at a minimum. IMUC does have $29 mill. in cash right now, and a cash burn rate of about $2 mill. per quarter, so while the need for financing is not urgent, it will need to raise cash sometime in the next two years, if it decides to proceed with a phase III trial of ICT-107, as has been indicated by management. Additionally, the company and its management is also under investigation by shareholder rights law firm Johnson & Weaver, LLP, filed by them the day after the phase II trial results announcement, investigating whether any state or federal laws were violated in misleading investors about the potential concerning ICT-107.
Disclosure: I am long IMUC.
Business relationship disclosure: Business Relationship Disclosure: The article has been written by the Hedge and Mutual Fund Analyst at GuruFundPicks.com. GuruFundPicks.com is not receiving compensation for it (other than from Seeking Alpha). GuruFundPicks.com has no business relationship with any company whose stock is mentioned in this article.
Additional disclosure: Use of GuruFundPicks' research is at your own risk. You should do your own research and due diligence before making any investment decision with respect to securities covered herein. You should assume that as of the publication date of any report or letter, GuruFundPicks, LLC, has a position in all stocks (and/or options of the stock) covered herein that is consistent with the position set forth in our research report. Following publication of any report or letter, GuruFundPicks intends to continue transacting in the securities covered herein, and we may be long, short, or neutral at any time hereafter regardless of our initial recommendation. To the best of our knowledge and belief, all information contained herein is accurate and reliable, and has been obtained from public sources we believe to be accurate and reliable, and not from company insiders or persons who have a relationship with company insiders.