2010 is likely to be one of those years in which traders who participate on both sides of the tape (both long and short) will have a better chance of succeeding. Investors in the Sound Counsel Investment Advisers absolute return model are currently weighted with significant short exposure due to the high market valuation and the potential for a second bear market in equities. One of my highest conviction short positions is Salesforce.com (NYSE:CRM) which reported earnings earlier this week.
Salesforce.com is one of the leaders in cloud computing technology which helps IT administrators make more efficient use of their resources. In the past, companies would need to own a server for every major function or individual operating system. The result was often a room full of dozens of servers which were all running at 20% to 30% capacity. The situation was an incredible waste until cloud computing technology allowed servers to run multiple systems and efficiently allocated resources between the servers.
It's easy to see how this exciting technology could lead to growing sales. After all, large and small corporations could save on IT costs by using the technology. And that's why Salesforce.com has been able to grow revenues at a steady clip for several years. Most recently, the fourth quarter revenue was up 22% to 354 million and for the full year the company collected $1.306 billion in revenue which is up 21% year over year. Earnings were strong with the company posting GAAP earnings per share of 63 cents for the year – an 80% increase over 2008. But while these figures appear very favorable, it looks like investors have bid the price of shares too high and may be ignoring some of the dramatic risks in the stock.
One of the biggest red flags that I saw when reading the quarterly report was the deferred revenue item. For companies like CRM which receives 92% of its revenue from subscription and support, much of the revenue is received well ahead of time because of long-term contracts which are paid in advance. Due to accounting rules, the company is not allowed to record the revenue until service has been rendered – so revenue for future quarters gets allocated to an account called "deferred revenue."
At the end of the quarter, CRM had deferred revenues of $704 million – which was only up 19% year-over-year. While positive movement is certainly a good thing, the company will need to attract a significant amount of new business in order to keep up with its recent sales growth. The company has 73,500 paying customers which is up 4,600 during the quarter and that performance will have to continue to justify the share price.
For 2010, the company is guiding GAAP earnings between 58 and 60 cents per share. I found it a little disturbing that CRM offered "non-GAAP" guidance of $1.25 to $1.27 in earnings when it appears that this figure simply does not account for stock-based compensation (there are a few smaller items as well). To the non-suspecting investor, it might look like the company is really generating $1.25 to $1.27 in additional value for shareholders but stock based compensation truly is an expense and should be treated as such. Although the company does not have to pay cash for this compensation, the additional shares issued has the very real effect of diluting current shareholders.
Finally, if you look at the current price of the stock ($66.75 as I write), and compare it to the earnings expected for this year, you can easily see that investors are paying 111 times earnings to own the company. Despite the fact that CRM is growing, the multiple is ridiculous and will almost certainly lead to a sharp decline in the stock sometime in the next year. I am completely astounded at the valuation and hope to profit when the stock trades back to a more reasonable level.
Thursday's trade offered some mixed signals for short-term traders. Initially, the stock gapped down well below the 50 day average as investors digested the earnings report. But by the end of the day, CRM followed the market back higher to recover much of its losses. Still, the stock was down on the day on volume that was well above average. My suggestion would be to buy some out of the money puts on this stock (which are actually relatively expensive) or watch for a clear break lower on volume to set up a short position. Keep your stop levels tight and don't be afraid to stop out and then try another short trade when the stock breaks down again.
My sense is that eventually this stock will run significantly lower, and while the price action will be sharp, it may take several weeks to a few months before CRM finds any significant support. Damage control remains an important part of investing, but wise and careful shorting of this high-flying Wall Street darling could turn out to be very profitable.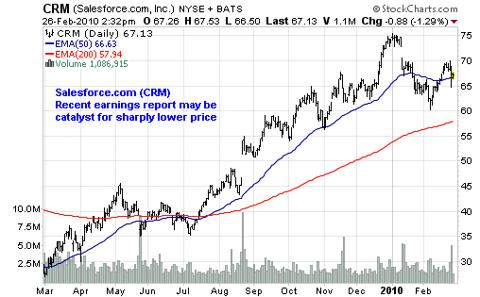 Full disclosure: Author has a short position in Sound Counsel Investment Advisers accounts