By Adam Fleck
Dry-bulk shipping stocks remain some of the most volatile names in our coverage universe, as evidenced below by Capital Link's dry-bulk equity index, a composite of 14 U.S.-listed shipping companies. The industry has underperformed the S&P 500 (gaining 52% from March 2009 lows compared with a 64% climb in the broader market), but we don't believe the names we cover are particularly cheap.
Shipping rates rebounded in late 2009 and the beginning of 2010, returning to profitable levels for most dry-bulk ship owners. However, these prices are still heavily reduced from record levels seen in 2008. Many shippers' credit situations have improved markedly since our last dive into the industry, but we continue to believe that structural oversupply will threaten industry participants' profitability as the year progresses.
What's Next for Supply?
We think that the potential for outright cancellation within the industry's aggregate vessel order book has greatly waned, suggesting that there is an enormous amount of ships scheduled for delivery. Some of these ships will likely face continued shipyard delays--about a third of scheduled 2009 deliveries have been pushed into 2010--but the massive 30%-40% cancellation rates estimated by some industry participants a year ago don't seem likely due to profitable pricing levels and greater access to financing. Last year, only about 6% of scheduled orders were deleted from backlog, even lower than our 10%-20% expectations. Even with additional delays, we forecast double-digit growth in total vessel capacity. (Click charts to enlarge)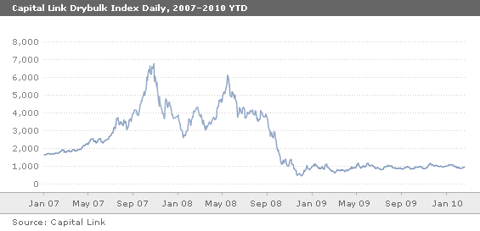 Demand: China's Next Move
With the supply side more predictable than in the recent past, our forecasting must rely more-heavily on demand fundamentals. Over the past several years, China has driven most dry-bulk shipping demand due to the country's seemingly insatiable appetite for iron ore, a key commodity in steel production. As a positive, a recovering global economy creates steel demand for construction and infrastructure projects, and China will undoubtedly play a part as it is the world's largest steel manufacturer. Nevertheless, even if the country's recently announced monetary-tightening policies still allow for solid economic growth, we believe high-single-digit shipping demand growth will not match double-digit vessel supply growth, hampering utilization levels for dry-bulk ship owners. Moreover, recent data from China suggest that the country's iron-ore imports fell sharply in January from December levels. Price negotiations with Australian and Brazilian miners will likely lead to further swings in monthly imports, but we don't believe the spike in late 2009 is sustainable.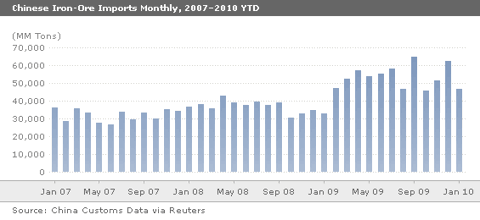 Short-Term Uncertainty Remains
Although our long-term thinking remains pessimistic, we believe short-term volatility is likely to continue, as port congestion--which has provided a recent floor for shipping rates--will remain a critical factor given the large amount of ships on order and limited expected port improvements. In addition, other commodity movements such as minerals and coal have boosted pricing for smaller ships; though likely a short-term factor, it again highlights the quick pace at which pricing can change.
It's also important to highlight the potential impact of India's iron-ore export tax, rumored to be in the 15%-20% range. We think that this strategy will eventually cause China to shift its imports to Brazil from India--which, as a longer route that reduces available shipping supply, will be a boon for vessel owners. However, it appears that China and Brazil have again begun silently negotiating iron-ore costs, with China reducing Brazilian imports in an effort to dissuade miner Vale (NYSE:VALE) from greatly increasing prices. This posturing can have detrimental effects on dry-bulk shipping rates, and we expect short-run uncertainty to continue as a result.
Coverage Summary
As an update to our coverage universe, we examined each dry-bulk shipping company we cover on a basis of four key metrics.
Fleet Coverage: Measure of available shipping days booked on long-term contract.
Daily Gross Margin: Calculation of gross profits as a percentage of time-charter equivalent revenue, or TCE, an industry measurement of fuel-neutral revenue.
Debt/MV of Fleet: Total debt, less cash and vessel deposits, divided by estimated market value of fleet.
Five-Year Fleet Growth: Approximate increase in fleet over the next five years, excluding options on ships.
Generally, we prefer firms with broad fleet coverage, high gross margins, low debt as a percentage of our estimated fleet value, and limited fleet growth (due to financing concerns). While we don't think any of our names in this industry are currently cheap, we'd recommend investors keep Diana Shipping (NYSE:DSX) on their watchlists, as the company's financial flexibility should enable it to invest in distressed assets as shipping markets weaken.

Disclosure: Morningstar licenses its indexes to certain ETF and ETN providers, including Barclays Global Investors (BGI), First Trust, and ELEMENTS, for use in exchange-traded funds and notes. These ETFs and ETNs are not sponsored, issued, or sold by Morningstar. Morningstar does not make any representation regarding the advisability of investing in ETFs or ETNs that are based on Morningstar indexes.