Having set the stage for whether or not deflation (what I call "Market Forces") is about to grip the stock market in yesterday's essay, today we're reviewing where the market is from a technical analysis perspective (from a fundamental perspective this market is the most-overpriced of all time). If deflation is about to send us tumbling the charts should give us a clue of what's to come.
For starters, the correction that began January 19, 2010 took the market down to 1,060 which has proven a line of some significance during the corrections in October and November 2009.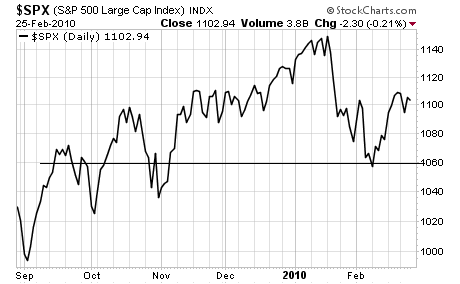 The market bounced hard off this level (not surprising, given how oversold it had become) courtesy of options expiration week gaming. It then slammed into its 50-DMA and has failed to break above it. Moreover, so far the rally has occurred on very low volume (with the exception of one day) which suggests this is a bounce, not the beginning of something bigger.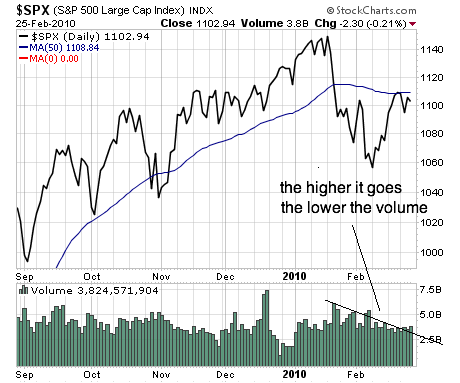 So why don't the bears take total control? Because the bulls jumped in at 1,090, which has been a line of major resistance in the past: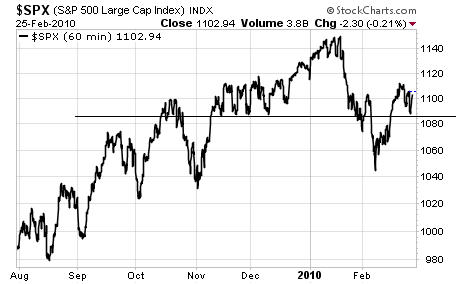 So now we're in the same market limbo we saw from November through December (1,090-1,110 on the S&P 500). Every time the market gets near 1,110 the bears smash it down. And every time it gets near 1,090, the bulls step in and prop it up.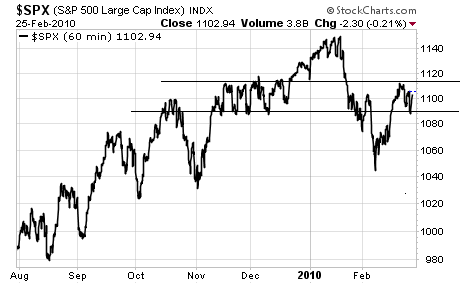 However, from a larger perspective, it's clear stocks are at a critical line this morning: the downtrend line since the market peak January 19. If they can break above this line, we may see the S&P 500 rise to challenge 1,120. But if the bulls can't make this happen, the downside of the channel is WAY down: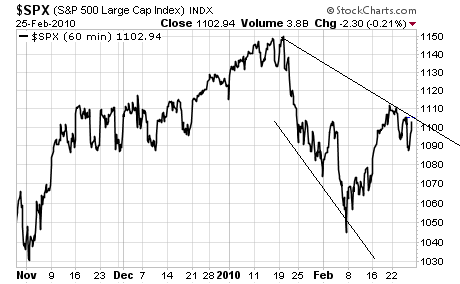 Tomorrow's action should give us a clue of what's to come. Yesterday's late day ramp job brought the market back to test its downtrend channel. The ball is now in the bears' court to slam this thing down. The series of lower lows we've established in the last week make this the likely outcome. But in today's market (where obvious ramp jobs occur without consequence) anything's possible.
Could deflation be about to raise its head? If the downtrend line holds, then the answer is "yes."