A good portion of the fundamental equity analysis populace on Wall Street spend their time trying to determine what EBITDA, and ultimately earnings, will be in hopes of determining future stock prices. The art, for those not in the know, is commonly referred to as income statement analysis, a branch of financial statement analysis. Determining EBITDA requires an analyst to predict: sales, cost of goods sold (COGS), and selling, general, and administrative expenses (SG&A) which ultimately lead to EBITDA. Thus, in finding EBITDA estimates, an analyst needs to predict three metrics. All of this said, it is hard not to wonder if getting sales right could prove a better mousetrap as companies that have atmospheric increases in sales tend to become very large (with associated stock price/market cap appreciation--think Apple). Predicting one metric (sales) would after all be a lot easier than predicting three (EBITDA). But just wondering isn't enough.
Examining sales, EBITDA, and market cap data using simple linear regression analysis allows the relative merits to be compared. For example, the following two charts show AAPL's (NASDAQ:AAPL) linear regression of sales to market cap and EBITDA to market cap back to 2000.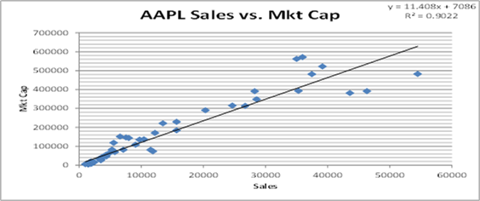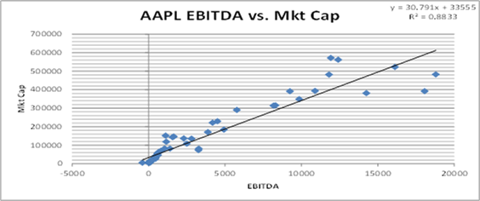 While they are near identical, the R squared is slightly higher for the sales to market cap relationship indicating sales has done a better job of predicting AAPL's cap.
Using the same approach above but examining the 100 largest reporting S&P 500 (NYSEARCA:SPY) companies generates some interesting results. The following table displays the aggregate outcomes.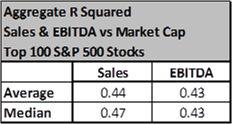 In terms of both average and median, sales is a better predictor of market cap than EBITDA as measured by R squared. So if you got sales right over the last ten plus years you did a better job of predicting related market cap than you did using EBITDA. Food for thought in future forecasting endeavors for those in the business of predicting stock prices.
Tickers: , (NYSE:XOM), (NASDAQ:GOOG), (NASDAQ:MSFT), (NYSE:GE), (NYSE:JNJ), (NYSE:WMT), (NYSE:CVX), (NYSE:PG), (NYSE:PFE), (NYSE:IBM), (NYSE:T), (NYSE:KO), (NASDAQ:AMZN), (NYSE:ORCL), etc
Disclosure: I am long SPY. I wrote this article myself, and it expresses my own opinions. I am not receiving compensation for it. I have no business relationship with any company whose stock is mentioned in this article.